If blogging isn't part of your marketing plan, you might want to reconsider. Here's why.
Blogs are like investments. One in 10 blog posts are compounding, meaning organic search increases their traffic over time (HubSpot)
Blogs build traffic. B2B companies that blogged 11+ times per month had almost three times more traffic than those blogging zero to one times per month (HubSpot)
And everybody's doing it. 60 percent of marketers say blog content creation is their top inbound marketing priority (HubSpot)
So what are you waiting for? Maybe a little help to get started? Here are eight things every blogger should know:
Audience & objective. Who are you trying to reach? Millennials. Women. Gen We. Why are you trying to reach them? Knowing your audience and what you want them to do is crucial to getting started.
Topic & format. Are you writing about digital, trends, social media, Millennials, etc.? One thing to think about: what kind of topics is my target audience searching for? Is it virtual reality? Instagram hacks? Millennials? Boomers? Examples of healthcare media? Maybe it's a time sensitive post or something newsjacking. The list goes on. Knowing what consumers are searching for can not only help you write your blog, but can help SEO (search engines bring your blog to the top results). Need an example? See Brogan's categories:
Once you decide on the topic, then it's time to setup the format. Some successful formats include: lists, how-to's and best practices.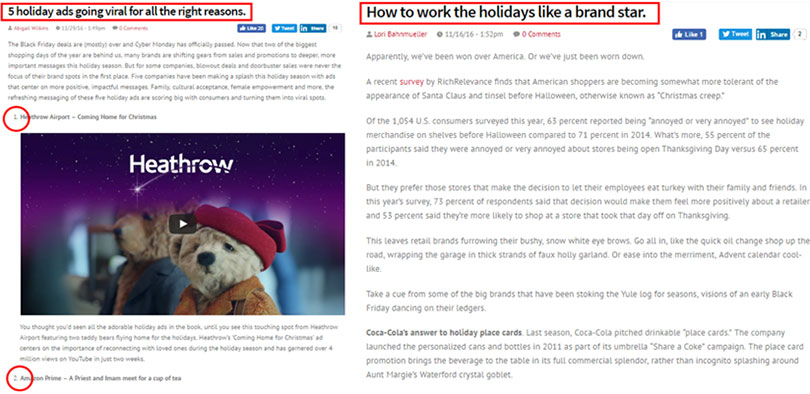 Title. The title of your blog should always include the major keywords from your blog post content but should also include the keywords you know your audience searches. HubSpot notes titles with six-13 words attract the highest and most consistent amount of traffic.
Length. Depending on your topic and format: length of posts should be anywhere from 500-2,000 words. Need more on this? Orbit Media Studios provided the following info-chart: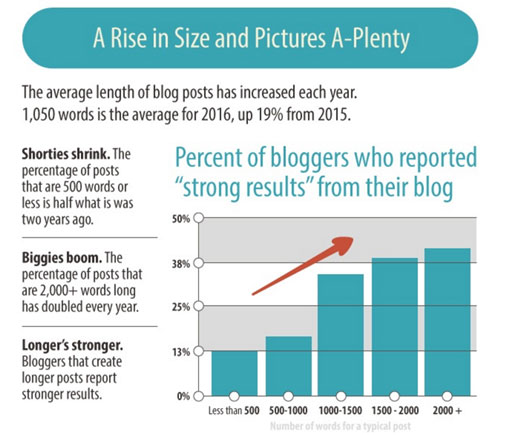 Images. Does your blog post contain an image or video? If it doesn't, it probably should, because according to HubSpot:
Today, there are several free stock photography sites to sift through and find the perfect image to supplement your blog. You can even take your own or consult your agency.
Meta descriptions. If you're wondering what this is? You're not alone. A meta description is roughly 155 characters or less and describes what the blog you're about to read is about. It is an HTML attribute to help with search engine rankings.

Promotion: Social media, SEO, email and paid media. One of the best things for bloggers to do is to share their blog on their social channels. In fact, according to HubSpot, social media promotion ranks first place with 96 percent. Following social, SEO and email both come in at 58 percent, while paid media has 15 percent usage. HubSpot also notes:

Social:

In the past two years, content consumption on Facebook has increased 57 percent
76 of people use their Facebook feed to find interesting content

Email:

86 percent of consumers would like to receive promotional emails from companies they do business with at least monthly, and 15 percent would like to get them daily

SEO:

Google gets over 100 billion searches a month. (Mashable, 2015)
51 percent of smartphone users have discovered a new company or product when conducting a search on their smartphone. (Google, 2015)

Call-to-action. Looking for users to take an additional action. Present them the opportunity to sign up for a weekly communications newsletter, direct them to a whitepaper, guide or article about the same topic. Bonus, if they do decide to take action, they are staying on your website longer and could become a potential client, customer, etc.
Interested in more? Sign-up for our Weekly Recap for more industry news and insights. (See what we did there).