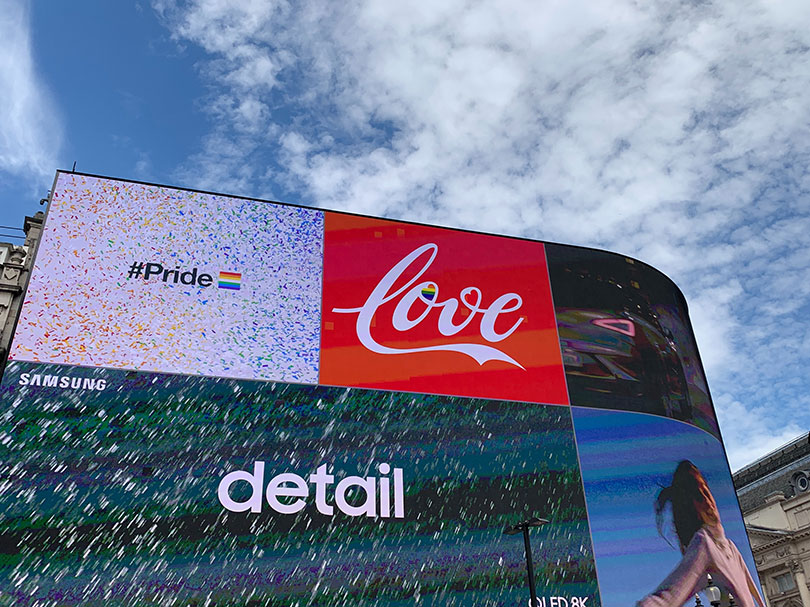 Ooh Dooh
Digital out-of-home (DOOH) is built for more than awareness and advertisers are adjusting budgets accordingly. This year DOOH ad spending will increase by 1.6%, and in 2021 it will rise by 19.2%, per eMarketer research. DOOH is any out-of-home advertising that is dynamically and digitally displayed. (Think digital billboard, digital transit, and digital place-based display.
+ The number of outdoor displays that are digitized is growing quickly. From 2017 to 2019, the number of total digital displays in Outfront Media's domestic portfolio grew from 1,693 to 7,266, according to its financial fillings. Lamar Advertising reported that it added 335 digital outdoor ad units in 2019 and another 250 DOOH displays this year.
+ DOOH makes OOH work beyond the top of the sales funnel. OOH has traditionally  been about awareness, familiarity, and maintenance (keeping your name out there) marketing. Now that outdoor is becoming more digitized and data-driven, it has become more common for direct-response and direct-to-consumer (D2C) advertisers to use OOH to acquire customers, per eMarketer research. D2C advertisers are investing in OOH, as well as TV, because they need more reach than what they can get from social and other digital display.
Peacock Struts
Peacock reached 10 million sign-ups since its soft launch in April this year. The new streaming service created by NBCUniversal features TV shows, movies, and original programming, as well as sports and news. The service officially launched July 15. It's late to the party, but it's collected an impressive following thus far. By way of comparison, HBO Max reportedly hit 4.1 million subscribers in one month's time after its May launch.
+ But marketers are more interested in engagement, i.e. time spent that sign-ups. Quibi, for example, drew concerns from advertisers after it was reported that the service was receiving very little use, despite attracting more than 4 million downloads out of the gate. Because Peacock is low-cost, and in some cases free, there is little barrier to entry. The service was available for free to Comcast and Cox subscribers in April, with an optional ad-free tier available for $5 a month (compared with Netflix's standard plan at $12.99 and HBO Max at $14.99).
For Reels
Just when you think you've gotten your TikTok addiction under control, Instagram launches a competing video feature called Reels. Reels drops just as the U.S. government is threatening to ban the Chinese social network that has helped entertain Americans during the pandemic. Whether the threatened ban will prove a boon to TikTok or Reels is yet to be determined.
+ Like TikTok, Reels offers users a suite of creative tools to produce 15-second videos with music, text, special effects and scene-splicing tech, as well as a dedicated way to discover and share those clips. With Reels, Instagram—with its billion-plus monthly users—is hoping to bulk up its piece of the social media pie.
Wild Ideas
10 Examples of Wildly Creative Guerrilla Marketing. Guerrilla marketing—not to be confused with gorilla marketing, shown in the classic 1971 TV commercial for American Tourister luggage—is the practice of using marketing in unconventional ways and unexpected locations to grab attention for a client's product or service. Sometimes it's a low-budget option. Sometimes companies spend a small fortune. But regardless of budget, guerrilla marketing always starts with out-of-the-box thinking—the wilder the better.
In this new blog series, Brogan examines 10 truly innovative guerrilla marketing ideas, the kind that make us say, "Man, wish I'd thought of that." First up, "Plastic is Forever."