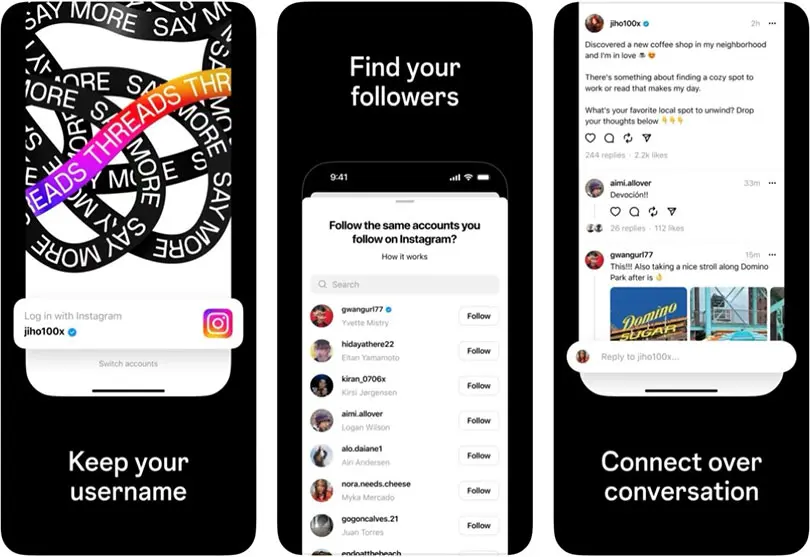 "Do we need another social media app?" consumers seem to continuously ask themselves. According to Meta, the answer is a resounding, "Yes." That's why the company recently launched Threads, a text-based conversation app that loosely resembles rivaling Twitter.
Threads debuted in early July and saw 30 million signups overnight. Within days, that number skyrocketed to 100 million, making it the fastest-growing app of all time. The growth beats even ChatGPT, which broke records earlier this year when it reached 100 million users in a then-unheard-of two months.
So as consumers and brands grapple with the idea of downloading and learning yet another new platform, what should they know? We're breaking down the benefits, drawbacks and future of Meta's Threads to help you decide.
Threads Features
Familiar feed of text-based posts where consumers can write their own thoughts and follow other conversations.
Because the app is connected to Instagram, users have the option to automatically follow the friends and accounts they follow on Instagram, quickly building a friend and audience base.
500-character allotment.
Ability to tag friends and accounts.
Photo, video (up to five minutes) and link inclusion.
ADA compliance. Accessibility features on Instagram like screen reader support and AI-generated image description are also available on Threads.
Built-in tools to enable positive, productive conversations like filtering words from view, blocking, reporting, etc.
Seamless sharing of Threads to Instagram stories and additional platforms.
Verification on Instagram will translate to verification on Threads.
Threads Drawbacks
An Instagram account is required to install Threads. Brands without an Instagram presence will need to start there.
No direct messaging feature.
No hashtags options.
No desktop capabilities, the app is currently supported on iOS and Android.
Difficulty deleting Threads account without also deleting Instagram account.
500-character allotment. Twitter Blue has extended its character limits to over 4,000, making 500 feel limiting for some.
Users flooded the platform upon launch, but excitement and engagement could fade overtime.
The future of Threads
We're still watching BeReal and Lemon8 to see if the platforms will stick around or fade. And now Threads is entering the mix. Unlike the other two platforms, Threads has the added benefit of stacking up against Twitter at a time when the app continues to catch criticism and work out its new identity. Twitter even underwent a logo change this week, swapping out the blue background and bird for a bold 'X.'
But it's not just the unprecedented growth and opportune rival that makes Threads an app to watch. Meta has plans to build it out well beyond Instagram. They share, "We are working toward making Threads compatible with the open, interoperable social networks that we believe can shape the future of the internet." Compatibility with ActivityPub would "support the ActivityPub protocol, such as Mastodon and WordPress — allowing new types of connections that are simply not possible on most social apps today."
As far as opportunities for brands, we find value in exploring platforms to see what's authentic to your mission and voice. If conversation is your bread and butter, Threads may be ideal for you (but should be pursued strategically to fit both your goals and the platform). While Threads does not currently offer ads or monetization features, paid opportunities are likely to evolve as the app does.
So, join the conversation. Have thoughts about Meta's Threads and the emergence of this latest social phenomenon? We want to talk. Follow along with more social media news and trends on the Brogan blog.