What do Denzel Washington, John Cougar Mellencamp, Queen Latifah and Bill Clinton have in common? They are all alumni of the Boys and Girls Clubs of America (BGCA). All kids wonder what they want to be when they grow up, this advocacy campaign for the BGCA calls kids to BE GREAT in whatever they do. And calls America to help these kids BE GREAT. The American Dream is that you can be whoever you want to be no matter where you come from. This inspiring campaign gives living proof of what is possible for those who dare to dream and believe in themselves. It is a simple concept, masterfully executed, using the power of words and truth.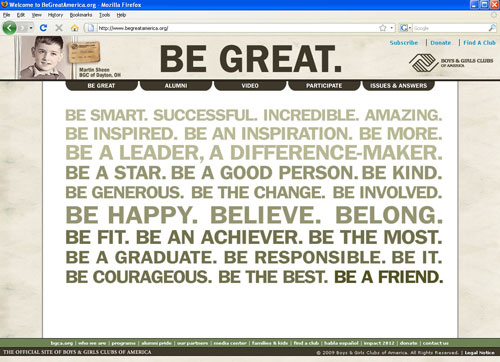 When you have a great idea, you can do some great work on a small budget. See what we did with one talented kid, a video camera and an hour of filming in our secondhand smoke video.
This blog post is #4 in my series of 21 creative social marketing examples.