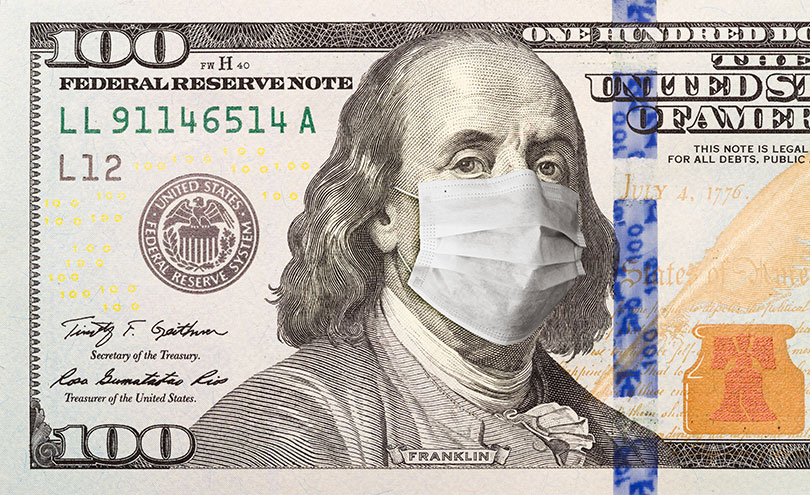 Whether you're a business owner or a member of the marketing team (or hold any position in between), COVID-19 has undoubtedly affected your organization. And unfortunately, it doesn't show signs of stopping. That's why now more than ever, you have to carefully calculate the moves you make. Because, in order to maintain the brand affinity you've built, your actions should be shaped around your customers, your community and your country. Even if they don't benefit your business.
To help your brand survive the coronavirus crisis, discover the dos and donts — starting with what activities to avoid.
Don't focus on short-term business outcomes.
More than likely, your company will suffer from a decrease in revenue and an increase in expenses. And your response to that will determine how people perceive your brand, long after the pandemic passes. So, as you make the difficult decisions before you, know that today's values-based consumers still expect you to do the right thing. Even if it affects your bottom line. Not sure how? For a more positive long-term perception, just focus on your purpose. Comcast, for example, is offering internet to low-income households (or increasing their speeds). Zoom is issuing schools its video conferencing tools for free. Restaurants are offering no-contact delivery at no charge. In such unprecedented times, these businesses will be remembered for showing their support, rather than putting profitability first. And that will have the power to promote a much faster recovery.
Don't underestimate empathy.
To show you understand the context of the crisis and you care about your customers' concerns, avoid any defensive or legalistic language. Steer clear of self-serving statements. And cancel any campaigns or communications that contradict the current advice from health professions and government officials. In this era, brands are being challenged to put people first, because they're craving connection. With that, WWD recommends you also consider increased online customer service and possibly even a promotion where a percentage of purchases go to furloughed store workers. Essentially, you just want to be in the business of caring for something, well, bigger than your business.
Don't be afraid to cancel your campaigns.
Say it with us: A global emergency is not a marketing opportunity. And according to Adweek, a good strategy means knowing when to stay silent, just as much as it means knowing when to say what. Take it from Coors Light, as they just stopped an ad called the "Official Beer of 'Working' Remotely." Playing into the idea that "working from home" doesn't always mean you're working from home, the spot was set to air during March Madness. However, the brand put it on hold — ensuring they didn't have any insensitive content across the airwaves. To make sure your brand doesn't seem tone deaf, review the creative you have running, plus the campaigns you have planned. Is it possible anything could be misinterpreted? In the modern marketing world, you have the ability to be agile. So if you need to make split-second shifts and stops, take comfort in the fact that you can.
Do relax your requirements.
Before the coronavirus crisis, most customers accepted and abided by your company's rules. But today, a rigid adherence to them could make or break your brand. Consider Airbnb, for example. Because of the extenuating circumstances, guests can now cancel travel for a full refund. Subscription businesses like Peloton and The New York Times are expanding their content to everyone. And some loyalty programs are promising to lower the amount of points necessary to maintain customers' status. So, if there's a way your brand can help make life a little less challenging, identify it and implement it. Immediately.
Do tackle your to-do list.
If you've stopped your "previously scheduled programming," your work here doesn't have to be done. To set up your brand for success, focus on the projects you've always planned on finishing, like optimizing old content for SEO, refreshing fact sheets, enhancing headshots, rewriting staff bios, organizing assets, working on your website, searching for stock photos, etc. You could even invest in an Ivy League education (don't worry, it's free) and become a smarter marketer because of it. (See which online courses we recommend.) After all, how many times have you said there simply aren't enough hours in the day? As best as you can, try to consider this the gift of precious time.
Do use idle assets.
Does your brand have unique knowledge, supplies or capabilities that could be useful? Right here in metro Detroit, Ford is manufacturing much-needed respirators and face shields. And Griffin Claw has switched from crafting beer to hand sanitizer. Think about any way (big or small) that your business can be part of the solution.
Looking for even more COVID content? Read our blog post: 4 ways companies can help consumers feel less lonely.