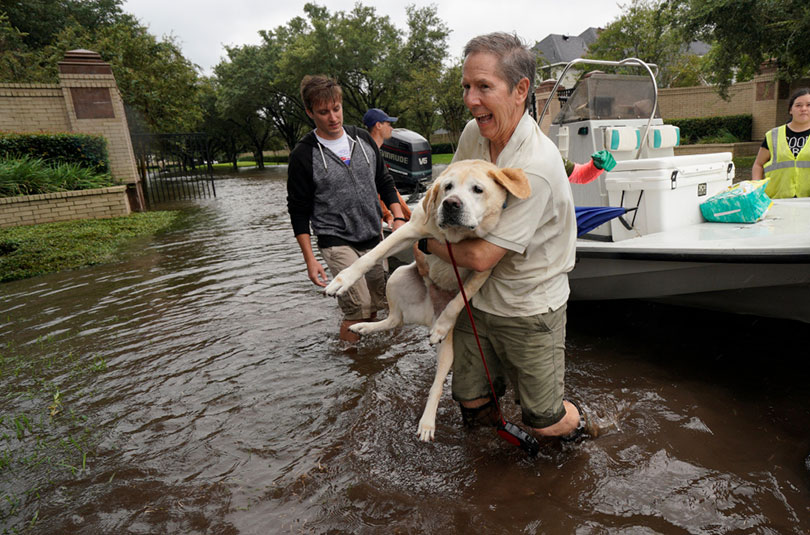 Photo credit: Rick Wilking, Reuters
A man and his dog wade through the Hurricane Harvey floodwaters in Houston.
After Hurricane Katrina swept through New Orleans, Tide's Loads of Hope program rolled into town with a fleet of trucks filled with Whirlpool washers and dryers. The 2005 disaster left thousands homeless with little more than the clothes on their backs, but Tide provided relief and offered free laundry services for families in need.
Similarly, when residents of Flint, Michigan were unable to drink tap water for fear of lead poisoning, PUR sent scientists, faucet-mounted water purifiers and replacement cartridges to the city. "We are a company that is in a unique position to help because we have a product that does eliminate 99.0 percent of lead, and that's the PUR faucet mount system. And we thought this would be an opportunity to make sure we are able to help people in a way that only we can," said Sharon Robustell of PUR, in a prepared statement.
While southeastern Texas begins its long recovery from the devastation wreaked by Hurricane Harvey, Gallery Furniture is giving shelter to thousands of displaced residents. The Houston-based chain store has transformed two of its locations into temporary housing for victims of the historic tropical storm, offering food, beds and restrooms for anyone in need.
Brands big and small can excel in a crisis, adding depth to consumer relationships that may trump purchase barriers like price and convenience. This is particularly true when the brand cause aligns with the brand promise, product or service.
PetSmart, for example, is giving $1 million to help animal welfare agencies working to rescue, relocate and care for pets that have become homeless due to the storm. The company is also donating supplies and pet food. United Airlines is giving bonus miles to members who donate to disaster relief organizations providing aid to Texas, and FedEx has committed $1 million in cash and transportation support to deliver supplies and medical aid to victims.
Consumers expect more from brands than profitability.
Don't wait for disaster to strike to find your brand's corporate responsibility. Being socially responsible comes with the territory. In fact, today's consumers expect it.
According to a global study by Havas Worldwide and Market Probe International, 73 percent of consumers believe that brands have a responsibility to do more than just generate profits. Companies that do good may be more successful when it comes to attracting and retaining talent.
In a study by Morning Consult for Fortune Magazine that tested out this theory, nearly two-thirds of the 2,000 respondents (ages 18 to 34) were at least somewhat more likely to work for a company that gave to charity than one that did not. Older generations aren't quite as corporate-philanthropy-disposed, with 59 percent of those between the ages of 35 and 44, and 47 percent of people between the ages of 45 and 64 reporting values that align with Millennials.
How to find the right cause for your brand.
There are endless ways your brand can make a difference. But what makes sense for you? CEB Iconoculture suggests the following:
Focus on the cause. Consumers will follow. Patagonia values sustainability. To prove it, they launched a campaign on Black Friday to discourage consumers from buying a popular jacket on the busiest shopping day of the year. The "Don't Buy This Jacket" campaign encouraged consumers to reconsider consumption and embrace sustainability. The brand proved its sincerity by illustrating its commitment to recycling and environmentally-conscious practices. Patagonia loyalists and wannabes understood.
Do what you can with what you have. Whirlpool is more than just a manufacturer of washers and dryers. The brand gives people confidence that they're ready for work, school or play. That's the essence of the Whirlpool Care Counts program. Kids are more likely to skip school when they don't have clean clothes. So, the brand is helping keep at-risk kids in school by installing washers and dryers in underprivileged schools.
Want another example of a brand that's discovered an ideal philanthropic match? Check out Consumers Energy Generation Genius.