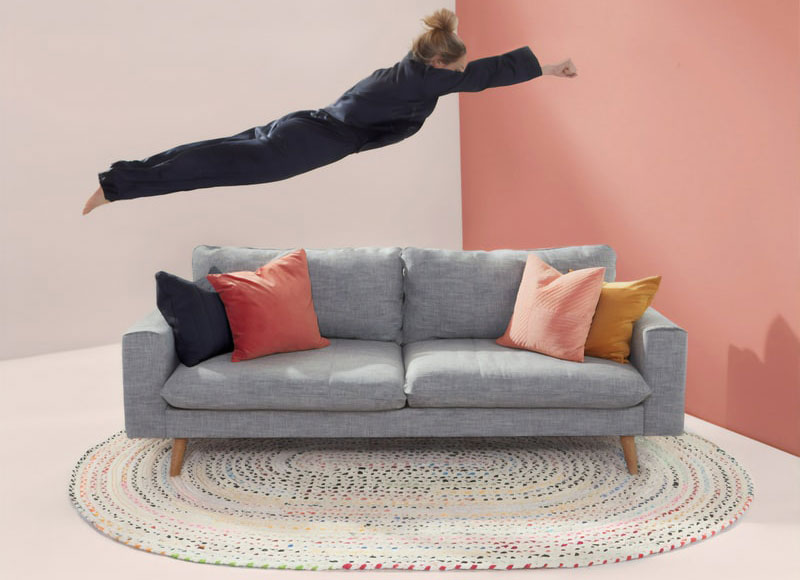 Sick Fashion
Mucinex is riding the third wave in style. The healthcare brand fronted by a virtual snot monster has introduced a six-piece fashion collection marked by the aforementioned animated blob. Called Sickwear, the abbreviated line features stylish lounge attire and a silky eye mask to help consumers weather the cold and flu season.
+ Engineered to do nothing. That's what you get with the Sickwear Slumpsuit: "A one-piece jumpsuit designed with comfort and convenience in mind, so you can lounge in style with your supplies close by." Other designs include the ZZZimono (sans photo, you may need to say it aloud), Feelgood  Hood and the Smooth Sleeper. The collection is currently sold out after going viral.
+ Talk about reading the self-quarantined room. Consumers dosing Mucinex aren't typically too concerned about appearances. The phlegm monster dons a stained crop top and suspenders for effect. (Yup, that's pretty much how this sinus infection makes me feel. Nailed it.) With Sickwear, Mucinex ventures beyond illness and into wellness and self-care.
+ The timing couldn't be better. Many adults worldwide are feeling the effects of the pandemic, particularly on their mental health. According to August 2020 data from Oracle, nearly four in 10 respondents reported feeling more stressed, while nearly as many cited a lack of work-life balance as affecting their mental status. Loneliness and burnout were other key reasons reported in the study.
+ Pandemic or no. Sickwear may have played well in any other cold and flu season, but the pandemic is especially opportune. Much of the country is working from home in old sweatpants and PJs. Sickwear gives us permission to lounge fashionably for our own good, in washable silk that just may make us feel a little less sick and tired during an otherwise excruciating pandemic.
Cheer Up
Consumers are looking forward to a little holiday cheer, so brands shouldn't hold back. Per an October survey from Morning Consult, consumers are now open to entertaining and optimistic ads. And they've grown tired of the somber, serious pitch.
+ Don't make me cry.  Despite their popularity earlier in the pandemic, serious and somber ads were the only kind to have a net negative share of consumers who said they would make a purchase based on that type of ad during the holiday season. Other less popular ad types include ads about company values, empathetic ads and sentimental ads.
+ Help me. Consumers mostly want companies' ads to be helpful. In the same survey, Morning Consult also asked about ad effectiveness during the pandemic, and found similar results: The most effective ads are those that show how products or services could improve comfort and happiness, or help stop the spread of the coronavirus. Similarly, when asked about holiday ads, those most likely to affect product purchases were ads that demonstrated how a brand could be helpful—this time, by providing gift ideas. Overall, most said they would be more likely to purchase from a company with ads featuring gift ideas, followed by entertaining ads and ads that focus on the "spirit of the season."