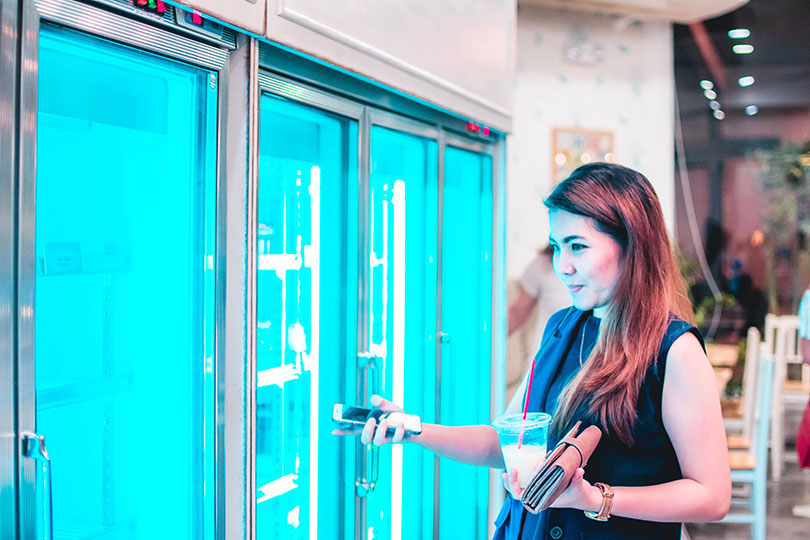 Cooler Ads
Walgreens' cooler doors target shoppers with personalized ads. Walgreens is adding a personal touch to its cooler doors with smart tech that triggers specific ads based on consumers' age, gender and even the weather. These smart displays are currently being tested in one store in Chicago. However, the retailer plans to expand its test run into five more stores across San Francisco, Seattle and Manhattan by November 2019 (WSJ.com, 11 January 2019).
+The door displays use a combination of cameras and sensors. Face-detection technology analyzes the consumer in front of the door, including the product their eyes are focused on.
Beyond targeted adverting, these screens also display the products behind them and keep track of what's in stock. Advertisers can sign up to be a part of the smart screens' test run. Currently, 15 companies have opted in, including Nestlé, MillerCoors and Conagra. Like online pay-per-click ads, advertisers must bid for placement on these screens based on their targeted circumstances or demographics.
Green with Employees
Millennials are more likely to take a job based on an employer's commitment to sustainability.  In a survey conducted by Swytch, 40% of Millennials chose a job in the past because the company was better at sustainability than other options. This is significantly higher than the less than a quarter of Xers and 17% of Boomers who chose a green job (FastCompany.com, 14 February 2019).
+Sustainability is high among Millennials' priorities. Swytch's survey reports that three out of four Millennials are willing to take a smaller salary to work for an environmentally responsible company. 10% of those surveyed are willing to take $5,000 to $10,000 less in salary to do so. Swytch isn't the only company identifying this trend. A 2016 survey by Cone Communications reported that 64% of Millennials wouldn't take a job with a company that didn't demonstrate social responsibility.
Ultimate Convenience
Robomart is redefining convenience stores by bringing the store front to your front door.  Robomart, a self-driving store, is expected to begin cruising the streets of Boston this year.  Shoppers will be able to summon the mobile mini mart to their doorstep using the company's app (TheSpoon.tech, 16 January 2019).
+When Robomart pulls up, shoppers can choose from a selection of produce, meal kits and convenience items housed inside the vehicle and pay through the vehicle's built-in design. No employees will be physically driving or managing the transactions within the vehicle. Tele-operators will drive the vehicle remotely. Robomart will only be available in Boston upon its initial launch. The company plans to have a few vehicles from the start and grow its fleet and service area if the program does well.
Newsier Gen
Gen Z gets its news elsewhere. Millennials lean on BuzzFeed and Cheddar for news. Gen Z is going its own way, turning to more traditional news sources for breaking stories and news (BusinessInsider.com, 13 February 2019). The Atlantic's creative marketing group — composed of Atlantic Re:think, Comscore and Harvard College Consulting Group — conducted a study analyzing Gen Z's preferences. The results revealed that 48% of Gen Zers prefer to read titles like Time and The New Yorker over newer sources like BuzzFeed or Cheddar.
+These differentiating preferences aren't stopping at news outlets, either. Gen Z also gravitates toward and interacts with content related to art, design, entertainment and advice. This shift in preference plays a role in the strategies of media and brands as they adapt to the next generation of consumers.