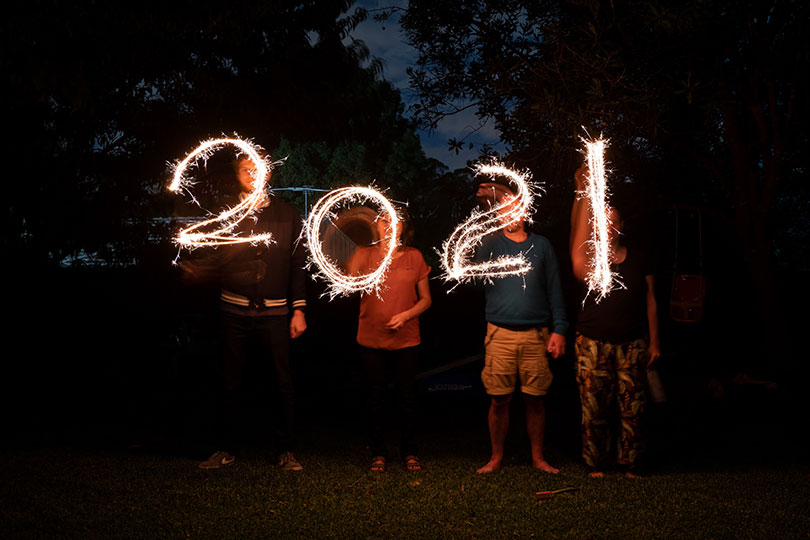 TikTok Ups FX
TikTok has debuted its first foray into augmented reality effects, leveraging the new iPhone 12 Pro's Lidar (short for Light Detection and Ranging) tech. The scanner allows users to create effects that appear to interact with surrounding environments. Forgot the confetti? No worries. The inaugural AR effect places digital confetti that bursts and lands convincingly on people and things within camera shots.
+ The Lidar camera is expected to launch a thousand possibilities for AR use in social media, ecommerce, and mobile gaming this year. Lidar can almost instantaneously detect depth and size of objects within their surroundings. This creates opportunities for rapid and very detailed mixed-reality functions for apps, such as furniture placements or full-body Snapchat Lenses.
+ This mobile AR tech could "supercharge" mobile AR ad spending this year, according to Yoram Wurmser, eMarketer principal analyst at Insider Intelligence. Per ARtillery Intelligence and Thrive Analytics, mobile AR advertising will grow from $1.41 billion in 2020 to $2.38 billion in 2021.
No News Is Good News
Brands avoiding controversy in the New Year may find safe shelter in Pinterest, because no new feed. Facebook, Snapchat, and Twitter may feel the recoil from brands pulling advertising budgets amidst negative news reports and posts from users on the platforms, per MediaPost reporting. Such conflict may prove positive for Pinterest, a social media platform that saw a boost in use during the fourth quarter of 2020.
+ Pinterest has had a significant rebound in its business after the initial pandemic downturn. It has benefited from advertisers looking to reach users who turned to the social network to get inspiration for home-based activities such as cooking, decorating, and renovating. As such, eMarketer in 4Q adjusted its  2020 US net ad revenue estimate to $1.19 billion, from $1.06 billion in June.
+ Consumer sentiment toward social media is more negative than positive. According to a July 2020 study by the Pew Research Center, 64% of US adults (and, notably, 63% of social media users in the US) think social media has a mostly negative impact on the way things are going in the country today. Much of this negative viewpoint has to do with the content they see in social media; 28% cited misinformation and made-up news as the main reason they believed social media had a negative impact on the country, followed by 16% citing hate, harassment, or extremism. Meanwhile, Pinterest doesn't have a news feed that invites negativity. The platform is built on inspiration and positivity, hence potential safe haven.
+ In 2021, marketers will reflect and possibly make hard decisions about their level of reliance on social media. While ethical considerations might lead a company to want to reduce its reliance on social media, business realities might just overrule that intent and cause the company to continue to advertise or even increase ad spending there.
Back To The Future
Venmo attracted users with its nontraditional means of payment, i.e. paperless.  So why is the fintech brand cashing checks, luring prospects by waiving fees for stimulus checks? The brand is eyeing broader market share, to be sure.
+ The PayPal-owned peer-to-peer (P2P) payment app introduced a check cashing feature earlier this week and is temporarily waiving fees for users depositing stimulus checks. The feature is available to customers who have direct deposit attached to their account or a Venmo debit card. Similar to banks' mobile check deposit features, users can upload a photo of their check to the Venmo app, and the money will be deposited into their account within a few seconds. After waiving fees on stimulus checks cashed through the feature for a limited time, Venmo will charge at least $5 per check.
+ As fintechs increasingly fashion themselves like banks, incumbents should match them in waiving fees and ensuring digital service continuity, suggests eMarketer analysts. Banks were unprepared for the influx of mobile app logins when the first round of stimulus checks were disbursed, and a surge in digital banking logins led to outages at several banks. Additionally, banks should waive fees for those cashing or depositing their stimulus checks, which could prevent customers from turning to a fintech that offers the service for free—PNC and Wells Fargo each took this approach during the first stimulus round in certain markets.