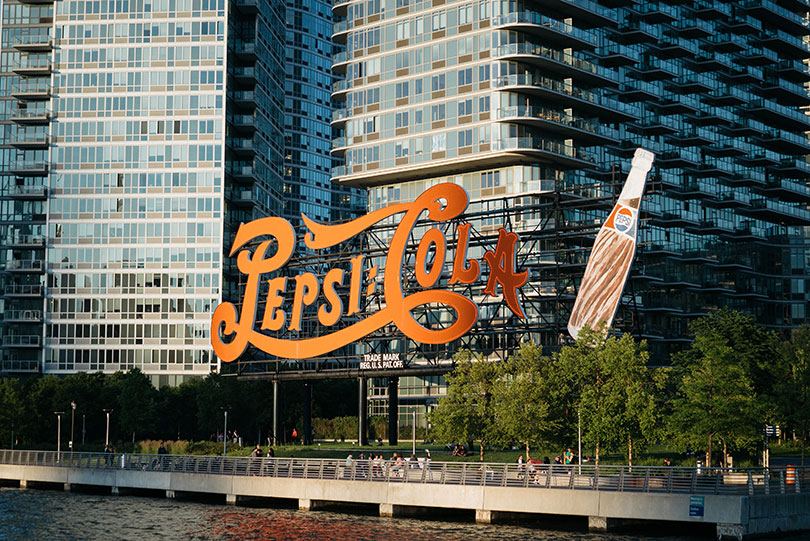 That's What I Like
Pepsi is kicking off the New Year with a new tagline, "That's What I like." Per company spokespeople, the tag was inspired by Pepsi's most loyal drinkers, who proudly like what they like and live their lives out loud without worrying about what others will think—like dancing wildly in the bleachers and whilst directing airplane gate traffic (literally, see for yourself here and here). You know, real people.
+ "Pepsi has always been a brand associated with enjoyment – from barbeques, to baseball games, to meals with family and friends.  And we know that our most loyal Pepsi drinkers take that enjoyment up a notch, so it is no surprise that they are more likely than non-Pepsi drinkers to belt out a karaoke song, binge-watch their favorite shows, or wear their team jerseys to a rival's home game," said Todd Kaplan, Vice President of Marketing at Pepsi.  "We created this campaign to pay homage to this unapologetic mindset embraced by our most loyal fans, with a music-forward expression to pinpoint the feeling our consumers have when they genuinely enjoy themselves in an uninhibited way."
+ The tagline will be employed in all Pepsi, Pepsi Zero Sugar and Diet Pepsi advertisements and promotions going forward. Pepsi will debut five national television commercials in the coming days, with the first wave rolling out during select NFL Wild Card Games and the 2020 Golden Globes Telecast on Sunday.
Sounds Like
Consumers increasingly expect brands to have a voice. Voice-activated devices are moving from novelty to utility. It's time to embrace voice as integral to the overall brand experience, else be permanently muted by the competition. (Who knows which vertical Amazon is eyeing next?)
+ Smart-speaker growth will jump from 32% in 2019 to 51% in 2020, according to Forrester. Voice will soon permeate appliances, automobile, mirrors and earphones. The number of smart-home devices will more than double in the U.S. to 350 million, mostly tuned to voice.
+ Voice is already usurping traditional methods of engagement. For example, discovery, a vital part of a brand's journey, now often occurs through voice. Forrester expects that, in 2020, 50% of all searches will be executed with voice rather than on a web interface.
+ So what's your brand waiting for? This is a great time to find your voice and to push further if you already have. Consumers have low expectations with voice, so there's lots of room to experiment without fear of retribution. Lead with your brand strategy, honoring your brand experience. Get back to the drawing board and map out your consumer journeys, from discovery and consideration to conversion and loyalty. Think broadly, work collaboratively and comprehensively. Consider Starbucks' voice integration. It works well because it connects voice, mobile, a loyalty program, and in-store purchase.
Brand-Like
What do Aldi, Dollar Tree and Five Below have in common? Brandless brands and a growing breed of consumers who shop them. In brick-and-mortar, the retailers opening the greatest numbers of new stores skew heavily toward this "brandless" dynamic (eMarketer). Several retailers topping the list were discount merchants—and specifically dollar stores—trafficking heavily in generic merchandise (IHL Group, August 2019). Growth in grocery was coming from discount, direct to consumer (D2C) supermarkets like Aldi, which is dominated by private-label products.
+ What does this mean? "In one sense, the growing popularity of D2C illustrates the value of differentiation, product innovation and addressing unmet customer needs," said Andrew Lipsman, eMarketer principal analyst and author of, The Future of Retail 2020: 10 Trends that Will Shape the Year Ahead. "At the same time, today's consumers are looking for value and aren't necessarily attached to particular brands—or possess fondness for the retailer over the brands on the store shelves."