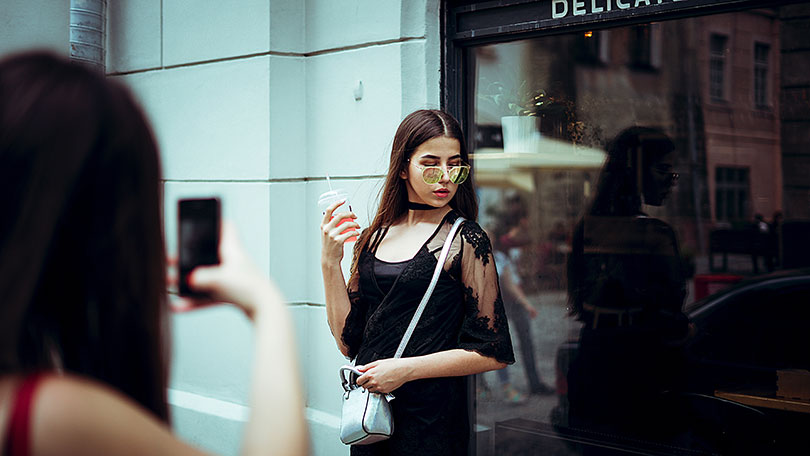 See, Snap & Search
Visual search is catching on among US internet users. Not yet mainstream, still more than half of US internet users said they are especially interested in using visual search when shopping, per a November 2019 survey conducted by ViSenze.
+What is visual search? Say you're sitting at the doc's office and begin to covet your neighbor's booties.  But you're not friends, so asking her about them might feel awkward. So instead, you stealthily take a pic while pretending to be reading a serious news update on your Android. Upload the pic to a visual search engine of choice—say, Google Images or Pinterest Lens, and voila! You immediately see visually similar items available for purchase before the nurse calls you in.
+Visual search is still in the early stages of emerging, but more consumers are appreciating its value, according to eMarketer research. Visual searchers are a wee bit different than voice when it comes to intent. Visual searchers are typically relatively high in the funnel, for example, while voice searchers are looking for a single correct answer to a question.
Still Growing
LinkedIn is the relatively staid side of social, often overshadowed by its edgier, trendy peers. But while some popular platforms are busy defending privacy policies and practices, LinkedIn has been taking care of business. LinkedIn users represent about a third of all social network users in the US, and revenues continue to grow—mostly from B2B advertisers. This year, LinkedIn will see $1.59 billion in ad revenues, growing another 11.2% to $1.77 billion in 2021, per eMarketer research.
+"LinkedIn continues to innovate its platform and offerings for both users and advertisers," said eMarketer principal analyst Jillian Ryan, author of our forthcoming report on LinkedIn publishing later this month.
+"Although, when compared with social platforms like Facebook and Instagram, LinkedIn can be considered a slower follow, the social network has recently launched features like LinkedIn Live and Events," she said. "While these new experiences aren't unique to LinkedIn, the use cases for professional audiences can be differentiators for maintaining current users and attracting new ones."
Elbow Room
North Dakota's new tourism marketing campaign is promoting what the sparsely populated state has plenty of: elbow room. Among the least-visited states in the nation, North Dakota's tourism agency on Tuesday unveiled a $2.9 million campaign promoting the state's wide-open spaces, and outdoor recreational opportunities.
+The state's new slogan is, "Don't follow the crowds — follow your curiosity." The campaign is fronted by actor and Minot, ND native Josh Duhamel of Transformer's fame. Nice but he's no Tim Allen. Still, every state has a story to tell (and a celebrity spokes to tell it).