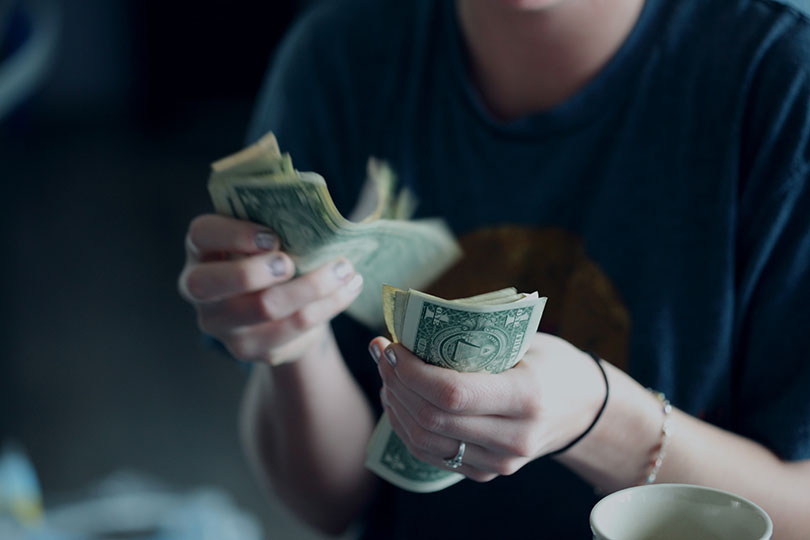 Cash Out
Paying in cash is on the decline, at least for affluent consumers. Fewer Americans overall are paying with cash, according to a recent Pew Research Center survey. In a typical week, 29% of the survey participants make no purchases with cash; that's up from 24% in a 2015 Pew survey (PewResearch.org, 12 December 2018). However, reliance on cash varies significantly based on consumers' income, race and age.
+Among participants with household income of $75k or more, 41% said they don't buy anything using cash in a typical week. Among those with income of less than $30k, only 18% said the same. 29% of the lower-income participants said they make all or nearly all purchases with cash, versus 7% of higher-income participants.
34% of the black participants said they pay cash for all or nearly all purchases, versus 15% for whites and 17% for Hispanics. And older consumers are more likely than younger ones to pay with cash. Among participants who were 50 or older, 23% used cash for no purchases during a typical week, versus 34% in the younger-than-50 cohort.
Meanwhile, businesses in some cities and states face obstacles in moving to a cash-less model. The New Jersey Senate Commerce Committee recently approved a bill that would require all brick-and-mortar stores in the state to accept cash. Lawmakers in New York City and Philadelphia are contemplating similar legislation (Pymnts.com, 6 December 2018). Those fighting cash-less retail point out that the practice discriminates against consumers who wish to — or must — use cash, including low-income consumers, the elderly and the 7% of U.S. households that don't use banks.
Sip & Shop
Grocery shoppers fill their carts over a pint at "superbarkets." Facing narrow margins and growing e-commerce competition, more brick-and-mortar grocery stores are mixing it up, adding full bars and restaurants for a more immersive shopping experience (Vox.com, 30 November 2018).
+Whole Foods opened its first in-store bar in 2009. The popularity of the pub prompted fast followers, including Kroger. The idea is to make the experience feel more junket and less job, enticing shoppers to visit more frequently, linger longer and ultimately buy more food. The supermarket evolution mirrors spaces such as movie theaters that now feature full bars, full menus and plush reclining seats for an experience that's off-the-couch worthy.
Go Oat Milk
Oat milk lures consumers in search of a better nondairy alternative. Vegans and other consumers who avoid cow's milk are opting for oat milk. Oat milk has a more neutral flavor and a higher fat content than almond milk and it makes it perfect for better lattes and cappuccinos. "Intelligentsia baristas became really enthusiastic about using oat milk because it steams and froths really well compared to other alternative milks," said Intelligentsia Coffee CEO and president James McLaughlin (Refinery29.com, 28 September 2018).
+The production of oat milk is also more eco-friendly than production of cow's milk or almond milk, and that's a plus for green consumers. "I switched to oat milk because it takes three gallons of water to grow ONE almond, and my conscience couldn't handle that," said 23-year-old Julie Rogers.