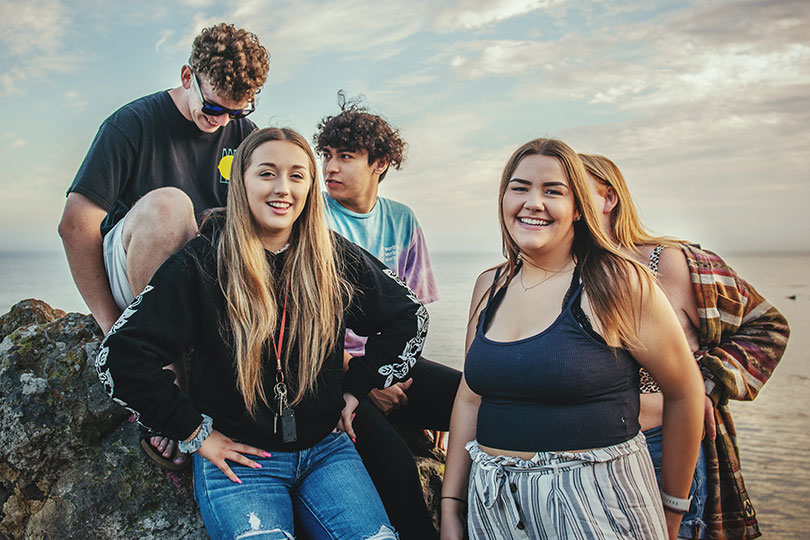 Screen Teens
Buds in, teens out. Connecting with the core of Gen Z (teens today) can be challenging. They're getting smartphones younger, online incessantly and yet still find time for TV. For marketers, reaching this cohort begins with a little ethnography. Take a look at how and where teens spend their time today.
+ Smartphones are at the center of teen world. Teens and tweens are all about staying connected and smartphones make it simple—especially as the age at which children and teens get these devices continues to trend downward. eMarketer previously estimated that in 2013, just 49.6% of all 12- to 17-year-olds had a smartphone. This year that figure will jump to 83.2%. A March 2019 survey by Comparitech found that 73.0% of parents said their kids had a smartphone by ages 11 to 13, and 31.0% said their kids had one between ages 6 and 10.
+ Forget Fortnite, phones are the first sense of freedom a teen truly enjoys. It's their favorite form of tech, per a January 2019 report by marketing agency Fuse, nearly half (48%) of teens surveyed cited mobile phones as their favorite technology, topping gaming (27%) and social media (20%)
+ They don't fall for just any kind of tech, however. These digital natives are hard to impress. No matter how sophisticated, wearables have yet to track with their less-than-impressed mindset. Just 14.7% of those ages 12 to 17 will be smart wearable users in 2020, compared with 36.0% of those 18 to 24 and 38.2% of those 25 to 34 (eMarketer). Lower penetration is also likely influenced by parental reluctance to buy more than one pricey device for their teens
+ Smart speakers are more novelty than necessity for the young cohort. Just 18.6% of 12- to 17-year-olds will be smart speaker users this year—less than half the levels among those ages 18 to 24 (35.1%) and 25 to 34 (42.5%). Just 36.4% of 12-to-17s will be voice assistant users vs. more than half of 18-to-34s.
+ Teens are online a lot, but they're doing more than checking their Insta feed. Almost all U.S. teens are internet users; eMarketer forecasts that 97.4% of 12- to 17-year-olds will use the internet at least once a month in 2020. But that doesn't mean that all their time is spent online (at least not according to teens themselves, who may not be the most reliable judges when it comes to how much time they really spend online). In polling for a 2019 report by the Girl Scout Research Institute, 68% of girls and 59% of boys ages 11 to 17 endorsed the statement, "I have discovered a new talent or interest [by exploring online]." And 60% of girls and 51% of boys agreed that they are "more connected to social issues and causes [because of the internet]."
+ On whatever device they're using, teens are big on video. Some 93.7% of 12- to 17-year-olds in the U.S. will be digital video viewers in 2020. YouTube is a mainstay of teens' digital activities. March 2019 polling by the National Research Group (NRG) identified 92% of 13- to 17-year-olds as weekly viewers.  But Netflix remains a major presence for teens, as 71% of US internet users ages 13 to 17 reported viewing the platform on a weekly basis, according to the NRG report.
+ Amid all of this digital usage, it is easy to overlook traditional media like TV, but the time teens spend in front of the television isn't negligible. It's estimated that 12- to 17-year-olds will average roughly 81 minutes per day watching TV in 2020, 10 minutes fewer than that of 2019 (eMarketer). Similarly, Nielsen data for Q1 2019 showed 12- to 17-year-olds averaging more than an hour a day viewing live TV.