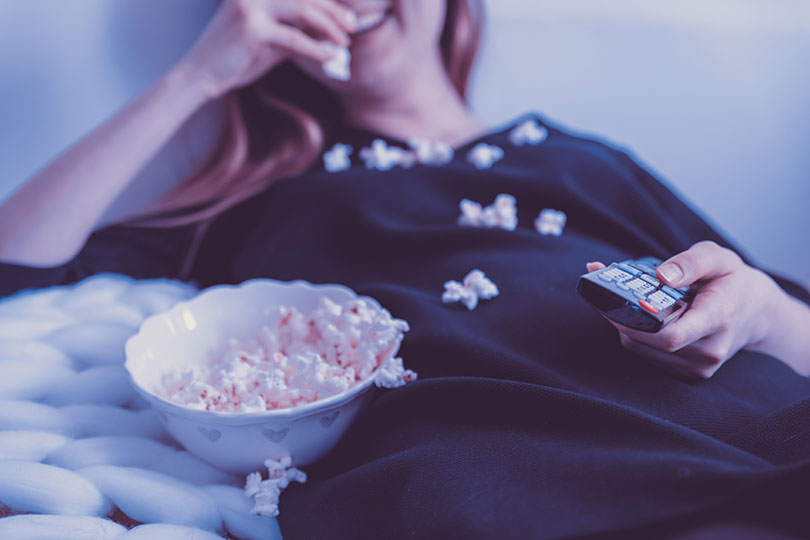 Old & Attentive
Older TV viewers are more likely to tune in to commercials than younger viewers. This according to TVision, a media analytics company that measures viewability and attention for TV commercials. Their research shows that TV watchers 65 years and older have an attention index of 44.1% compared with those under 18 at 32.7%. TV ad viewability was also higher among older TV viewers, at 76.4%, versus those under 18, at 60%.
+ Viewability and attention increase for viewers in each succeeding age segment—ages 18-24, 25-34, 35-44, 45-54, and 55-65—according  to the study. TVision defines "viewability" as how effectively viewers are kept in the room while ads are on-screen, i.e. the percentage of all ad impressions in which a viewer was in the room for two or more seconds. "Attention" is defined as how effectively an ad held viewers' attention while it aired—the percentage of all ad impressions in which the viewer was looking at the TV screen for two or more seconds.
Young & Impressionable
Influencers have the most sway with Gen Z and Millennial consumers. So says GlobalWebIndex and  Morning Consult after fielding independent research in 3Q and 4Q 2019. One in five Gen Z and Millennial respondents from the US and UK made a purchase inspired by an influencer or celebrity post on social media, per GlobalWebIndex. About half of US Gen Zers and Millennials trust influencers' recommendations when deciding to make a purchase, according to Morning Consult.
+ Despite these noteworthy figures, younger generations still trust customer product reviews and recommendations from friends and family more than they do influencers (Morning Consult). "For a lot of teens and young adults, the influencers they follow on social media are an important part of their lives, both for entertainment and for inspiration," eMarketer principal analyst Debra Aho Williamson said. "But marketers need to remember that there are many factors that contribute to a purchase decision, and influencers are just one part of the equation."
+ Morning Consult also found that Instagram and YouTube were the top two platforms on which Gen Zers and Millennials followed influencers—though the No. 1 favorite differed between men and women. Women of both generations reported that they like Instagram the most, followed by YouTube. The reverse was true for men of both generations.
Set Stream
TV sets are the preferred mode for streaming, especially episodic and live content. In a March 2019 survey of 1,000 US internet users ages 18 to 66 conducted by market research company Attest, TV was by far the most frequently used to device to stream video. Nearly two-thirds of respondents said they use TV the most for streaming.
+ Digital video analytics company Conviva also found TVs to be the go-to streaming device. Conviva tracked viewing behavior across 250 over-the-top (OTT) apps worldwide in Q2 2019 and found that 56% of the time spent viewing this content happened on CTVs. Less than one-quarter of the streaming happened on mobile.
+ While TVs are the go-to streaming device for most users, a fair share of video streaming happens on mobile. Conviva found that 23% of time spent viewing OTT content was on mobile. Quibi will test users' appetite for mobile video streaming this spring when it launches the shot-for mobile video platform.