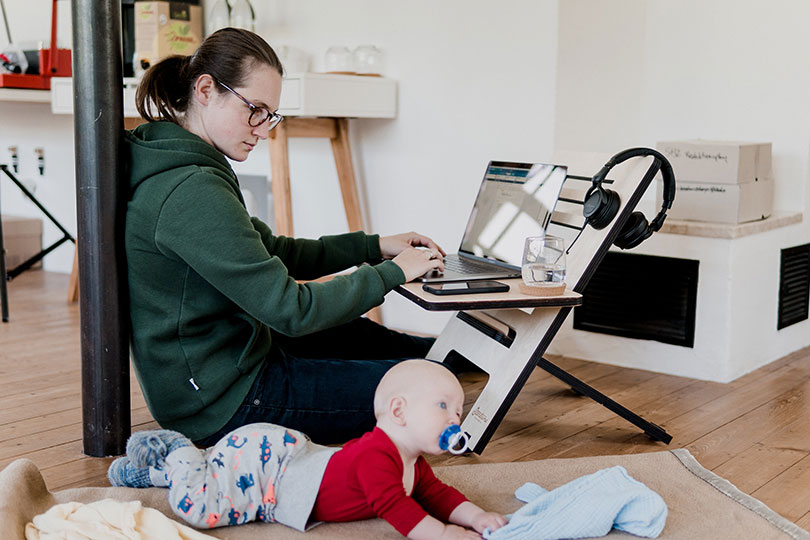 Home Works
If you prefer to work from home, you're in the majority. Preference has nothing to do with the pandemic, apparently.  Nearly 2 in 5 US remote employees agree that they don't ever plan to return to the office on the regular, regardless of whether they are vaccinated against COVID-19, per a YouGov study published in eMarketer.
+ Just 5% of remote employees want to go back into the workplace full-time. (You get a corner office! You get a corner office!)  Overall, 7 in 10 work-from-homers say they want to make the arrangement permanent and 3 in 10 would like a more fluid office relationship—making occasional office appearances.
Set
But for the pandemic and a tight band of cord coveters, TV viewership would have likely continued its freefall in 2020. The pandemic drew Americans to their TV sets at a rate unseen in years, according to eMarketer reports. US households were glued to the news, watching the pandemic advance across the country and into their lives. TV's moment had come, and for a while cable news lingered in the background until consumers grew disinterested and sought other entertainment to wile the time in self‑quarantine.
+ eMarketer had estimated TV viewership would increase by 10 million in 2020. Instead, cord-cutting unexpectedly accelerated, viewership declined by roughly 10 million, and 2020 ended up with 20 million fewer adults watching TV than predicted  (landing at 204.2 million). But those who remained plugged in to TV watched even more.
+ Among US TV-watching adults, daily time spent with TV increased by 9.2%, to 4 hours, 31 minutes (4:31) per day. Thanks to this boost by those who kept their cords, TV time among the whole adult population increased year over year in 2020 for the first time since 2012, jumping from 3:27 in 2019 to 3:34.
Game On
YouTube is making a play for more ad budget, expanding its connected TV (CTV)-oriented offering YouTube Select and adding a new hub for premium sports content on the platform. YouTube Select allows advertisers to reach users watching videos on CTVs either via YouTube or YouTube TV. And to increase the number of sports fans available on YouTube Select, the company plans to introduce a new hub for game highlights, sports news, and other premium content on the platform from the NFL, LaLiga, MLB, and NBA.
+ YouTube is betting sports will elevate the platform to American living rooms. Streaming YouTube on CTVs has become increasingly popular over the past year as people spent more time at home. In Q3 2020, OTT/CTV accounted for 34.4% of time spent with YouTube, up from 27.0% in Q4 2019, per October 2020 data from digital talent network Collab. Sports content in particular has also seen an uptick in viewership among YouTube's TV viewers: Watch time on TV screens of sports videos (excluding live content) increased by more than 65% year over year, according to YouTube's internal numbers for July 2020.
+ Expanding the geographic reach of its CTV-specific ad offerings and improving its selection of sports content appears to be an appealing strategy to capture a greater share of CTV ad budgets. Per e-Marketer estimates, YouTube's CTV ad revenues in the US will grow 48.3% to $2.23 billion in 2021 and account for approximately 40.0% of YouTube net ad revenues.