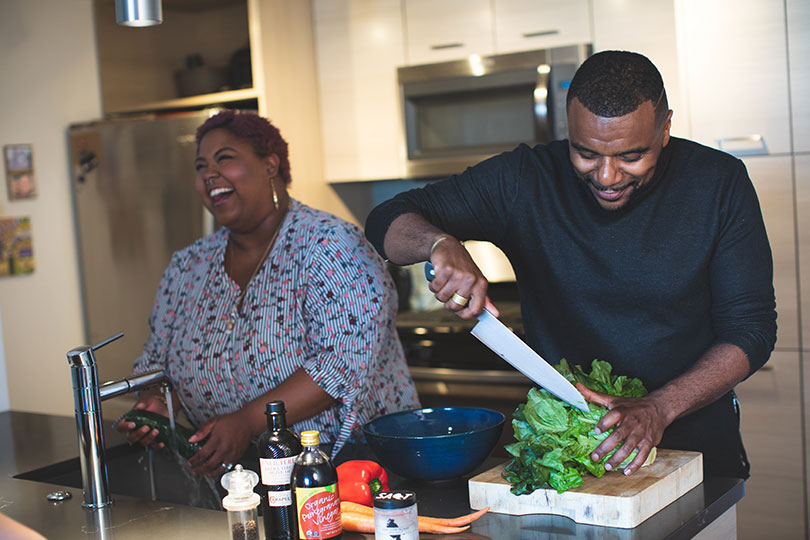 Let's Dance
Pandora is ready to take its relationship with listeners to the next level. It wants to be listeners' one and only. The one they stream when there's work to do, parties to throw and calories to torch. They've been itching to propose since that last road trip.
+ To illustrate its sincerity, Pandora this week launched a multichannel national brand campaign that blends music with humor into a message that finds music lovers in the kitchen, office, gym and elsewhere. The ongoing strategy is to leverage pivotal moments to show just how Pandora makes any experience better through customizable features and content, like playlists, offline listening and podcasts.
+ The "life is better with sound on" campaign, which reaches out to make an emotional connection with music lovers, will run across television, out-of-home and digital, as well as large-scale experiential events like a live-streamed Halsey concert on Dec. 10, aimed at transforming Times Square into a massive silent disco. The spots are intended to highlight personalization, tellierng listeners they can search for and play any song they want. It's all about you babe.
+ "Music and sound have the power to make every situation better, deeper and more meaningful. Every life experience can be instantly transformed when you add your own soundtrack," said Aimée Lapic, Chief Marketing Officer at Pandora. "At Pandora, it's part of our core mission to meet our listeners where they are and to deliver effortless, personalized audio experiences tuned in to their exact moment." Music to the ears.
Small Giants
In the US, 190.9 million people will watch video on their smartphones in 2019. This represents 81.2% of digital video watchers, according to eMarketer (14 November 2019). That means smartphone video viewers will be a distinct majority of the population.
+ Mobile video viewing is widespread in the US—urban, rural, all over. Faster connections and magnetic content have sparked rapid increases in viewership and overall mobile video consumption. It's  estimated that the average US adult watches 40 minutes of video a day on mobile devices, including smartphones and tablets.
+ Most mobile video time is spent in apps, but 6 minutes in the average day are also spent watching video on the mobile web. A lot of discussion around mobile digital video assumes that the clips are shorter than on larger screens. This is true to an extent. The majority of videos viewed on mobile (as well as on tablets, laptops and desktops) are shorter than 5 minutes, according to a Q2 2019 study of global video watching by online video hosting and marketing platform Brightcove.
+ Mobile video is getting longer. Most mobile video watching used to be short videos on social media or YouTube. Many people are now spending the majority of their mobile video time in long-form content (20 minutes or longer) or on live TV.
+ Mobile video platforms are looking to monetize through ads. There are exceptions, like Netflix. But many premium OTT channels and social media channels continue to release new in-stream ad products. Overall, roughly half of spending on all mobile video ads are in-stream, for a total of roughly $11 billion. The biggest portion is in YouTube.