Today is World Autism Awareness Day. That means for the next twenty-four hours, buildings and monuments around the world will be bathed in blue light. Among the places "lighting it up blue" are the Empire State Building, the Paris Stock Exchange, The Sydney Opera House . . . and the historic Peabody Mansion in Birmingham, Michigan, which is the home of Brogan & Partners.
I'm so proud that our firm will be a part of this amazing day, when so many people will be focusing on autism. Maybe the blue lights will inspire more people to volunteer on behalf of those with autism. Or to donate money for autism research. Maybe those who live with autism on a daily basis will choose this day to reach out and educate others about the disorder.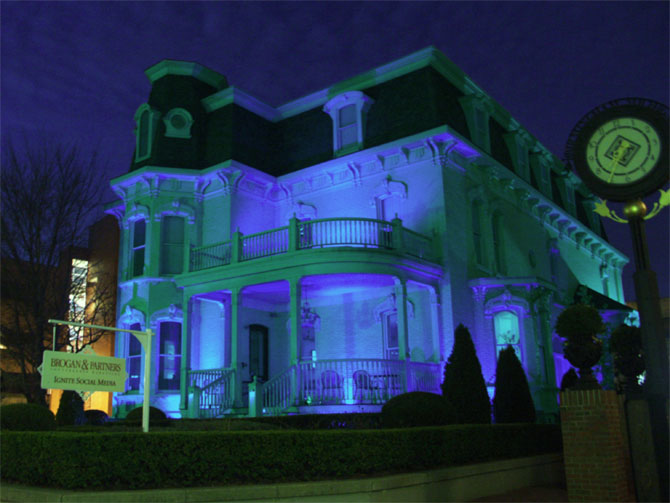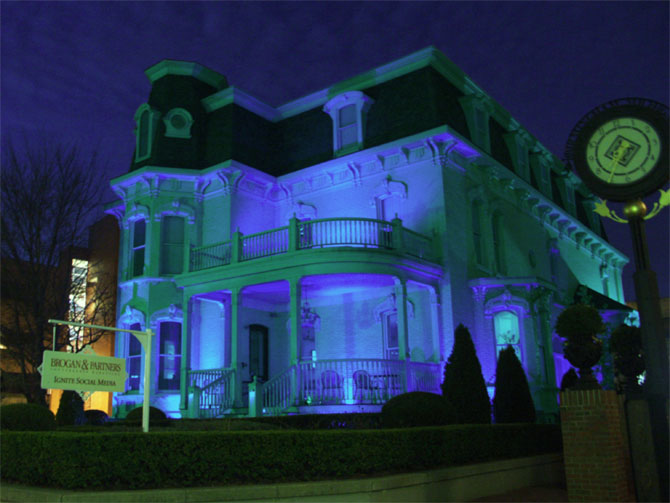 Photo by Mike Lord
There are so many ways to learn and help. The blue lights are there to remind us that autism is all around us. According to the Centers for Disease Control and Prevention, autism's prevalence has now risen to one in 88 children. You'd be hard pressed to find someone who doesn't have a personal connection to this disorder.
That's why we are supporting Michigan's Lt. Governor, Brian Calley, in his effort to implement autism insurance reform in Michigan–to make sure that the 15,000 people living with autism in Michigan get the treatment they need to live a bright and productive future.

That's why I (as well as Brogan & Partners) am a longtime supporter of Friendship Circle of Michigan, which provides services to kids with special needs, including those with autism.

It's why I contribute to Camp Kids All Together, which helps autistic kids go to an inclusive day camp along with children of all abilities.

And it's why my husband, Jon, has just joined the board of The Bear Hug Foundation, which helps kids with special needs go to overnight camp.
As many of you know, we bathe the Peabody Mansion in a pink glow every October to observe Breast Cancer Awareness Month. This is the first time we've shined our light on a new issue. I hope it gets people talking. I hope it prompts a flood of donations.
And I hope it means that some day, that one in 88 statistic will be a distant memory.