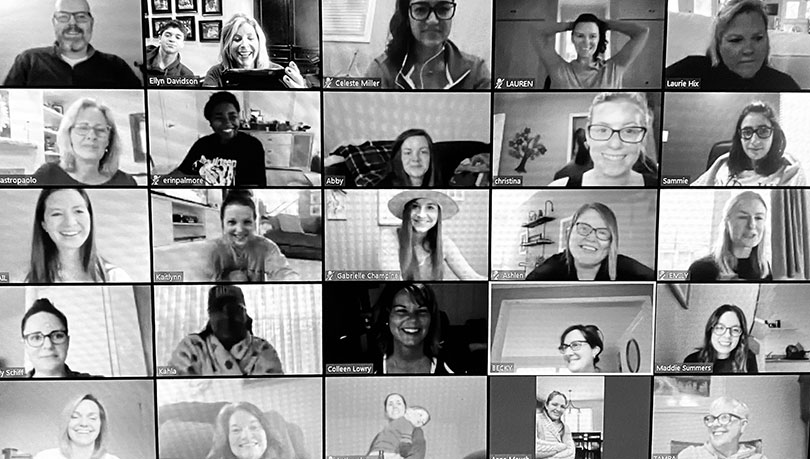 On March 15, our office at 800 North Old Woodward closed. But come Monday, our virtual offices opened across metro Detroit (and even Ohio).
With a team of 26, plus two new hires set to start, the decision to work remotely was, at the time, almost unprecedented. However, after researching the coronavirus and its consequences, our CEO saw immeasurable value in staying safe, staying healthy and, most importantly, staying home.
"Drastic situations take drastic measures," said Ellyn Davidson in a company-wide email. "During this time, I encourage you to pick up the phone and call your coworkers, schedule conference calls and do whatever you can to stay connected."
And, that's exactly what we've done. (Even me, from maternity leave!)
Here's how Broganites are staying connected during a pandemic:
Virtual onboarding – In the past week, Brogan has trained two new employees, 100% remotely. "Starting a new job during this time is not as weird as people might think," said Samantha Sherman, a junior art director. "Brogan has made it really easy to understand how everything works through our virtual onboarding sessions." Madison Summers, another junior art director, agreed. "It's a lot of change at once, so being able to stay at home in comfy clothes in my living room has made it a little less stressful," she said. "It's also less overwhelming to meet everyone online, one by one."
Virtual meetings – According to Cisco, people have spent 5 billion minutes in virtual meetings this month. And we believe it. Across the agency, we've used video conferencing for meetings with people inside and outside of the office (in our pajamas and out of them).
Virtual happy hour – To see how everyone is surviving social isolation, Ellyn scheduled a 40-minute happy hour from home. Almost everyone was able to join, share stories and say just how much we miss each other. (I also got to show off my baby for the first time. I can't wait to tell my son he attended his first "business meeting" at three months old.)
Virtual fundraising – At Brogan & Partners, we're one of the exceptions. We have the unique opportunity to work from home for as long as it's necessary, with full pay and minimal disruptions. And we know how fortunate we are. It's why our fearless leader has teamed up with restaurants and bars in our community — helping workers who aren't as lucky. (Want to support the fundraiser? Make a donation.)
"The world is in a crisis," said Ellyn. "We need to band together to stay connected and to help each other get through this. We're lucky that we live in an era where technology makes this possible."
Want to know what else people are doing amidst "social distancing?" Read our blog post: During the coronavirus outbreak, Americans are quarantining and quaran-streaming.