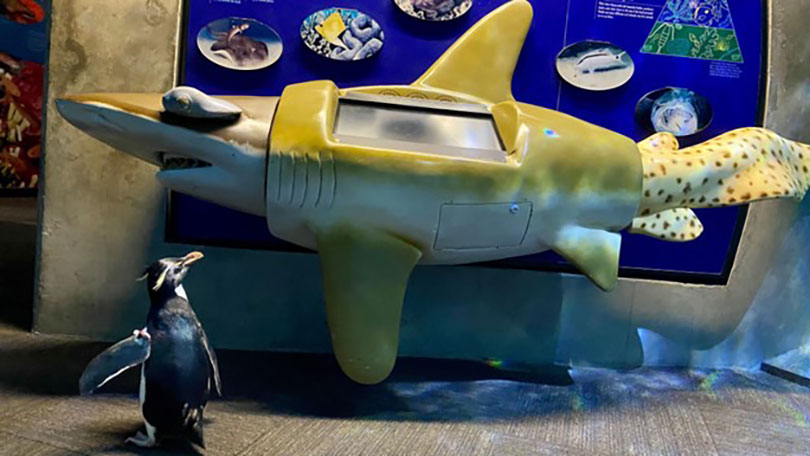 Aquariums are hubs for fun and discovery. But when the COVID pandemic shut down routines in 2020, these exploratory places were sadly a part of the long list. In Chicago, Shedd Aquarium's quick thinking turned this unfortunate situation around.
Even though Shedd Aquarium was closed to the public, caretakers still came in daily to look after and feed the animals. Wellington, an adorable Rockhopper penguin, was a standout aquarium resident with true star potential. Since penguins of his kind live to be around 10 years old, Wellington was rare and extraordinary at 32 years of age. This gave Shedd Aquarium an idea… and the social media phenomenon, #WheresWellington, began.
Shedd started posting videos and pictures of Wellington while he explored different parts of the building. They let him roam freely, waddling around past various aquarium habitats and rooms. The videos gave followers a peek into the otherwise closed attraction. On top of that, they paired his videos with cute and informational captions that kept the audience checking back day after day to see where Wellington was next.
Some #WheresWellington Wednesday wisdom: When you get tired of walking, hop! 🐧 pic.twitter.com/mR0RIt5AY1

— Shedd Aquarium (@shedd_aquarium) September 30, 2020
Why we love it
The catchy hashtag and cute content worked for adults, kids and everyone in between. Shedd's idea kept the excitement around their work up when activity was down, and made aquarium-goers even more excited to visit post-pandemic to see Wellington in real life. The campaign was low- to no-cost and fit within Shedd Aquarium's wheelhouse of knowledge and content. With countless shares, likes and conversations surrounding the campaign, Shedd Aquarium is now known for these posts and their new star.
We love that this social media campaign centered around engagement and education on sharable platforms. And that's why we're excited to include it in our top 10 list.
This is post #9 in our blog series: So good, we had to share: 10 standout social campaigns.