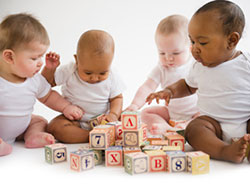 It's always been tough getting Medicaid moms to their prenatal and well–baby visits. Which is why UnitedHealth's new game, called Baby Blocks, is a great idea. When moms attend prenatal and well-baby check-ups (which is easier said than done), they get to unlock "blocks" in the game.  And voila, they are rewarded with gift cards for much-needed baby related stuff. Like maternity clothes, diaper bags and baby apparel. Pretty spot on for this younger, low-income, yet gaming-savvy, target. And it seems to be working, as 2296 members used the Baby Blocks pilot in 2012, logging 7098 prenatal appointments (an average of 3.1 prenatal blocks per member).
The rise of healthcare gamification can be attributed to the rise in smartphone and social media use and related desire for engagement. "Using motivational techniques from games is part of it, as is creating engaging experiences for people," says Kevin Werbach, Wharton professor of legal studies and business ethics. In the Pew Future of Gamification report, neuroscientists claim that "interactive design elements can cause feel-good chemical reactions and in certain situations can improve learning, participation and motivation."
That's the intent behind HopeLab's Re-Mission, a video game developed specifically for adolescents and young adults with cancer. Nanobot, Roxxi, travels through fictional cancer patients destroying cancer cells, battling infections and managing side effects associated with cancer and cancer treatment. Research shows the game has been an effective tool for young cancer patients, now distributed to over 185,000 patients worldwide.
A related tool worth applauding is the pain diary app, called "The Pain Squad", developed by The Hospital for Sick Children. This innovation was designed to help pediatric cancer patients track and address their pain. How intense it is, how long it lasts, where it hurts, how it impacts their mood and daily activities, and what helps to treat it. Since inadequate assessment and patient reluctance to report pain are the biggest barriers in pain treatment, the goal is to make it easier for kids to track their symptoms by using technology that's fun and familiar. And the hope is better pain management and quality of life for these youths.
It seems in many cases the ramification of gamification in healthcare is improved health status. Let us know if you have any favorite healthcare games or apps that are  helping people.