Apparently, we've been won over America. Or we've just been worn down.
A recent survey by RichRelevance finds that American shoppers are becoming somewhat more tolerant of the appearance of Santa Claus and tinsel before Halloween, otherwise known as "Christmas creep."
Of the 1,054 U.S. consumers surveyed this year, 63 percent reported being "annoyed or very annoyed" to see holiday merchandise on shelves before Halloween compared to 71 percent in 2014. What's more, 55 percent of the participants said they were annoyed or very annoyed about stores being open Thanksgiving Day versus 65 percent in 2014.
But they prefer those stores that make the decision to let their employees eat turkey with their family and friends. In this year's survey, 73 percent of respondents said that decision would make them feel more positively about a retailer and 53 percent said they're more likely to shop at a store that took that day off on Thanksgiving.
This leaves retail brands furrowing their bushy, snow white eye brows. Go all in, like the quick oil change shop up the road, wrapping the garage in thick strands of faux holly garland. Or ease into the merriment, Advent calendar cool-like.
Take a cue from some of the big brands that have been stoking the Yule log for seasons, visions of an early Black Friday dancing on their ledgers.
Coca-Cola's answer to holiday place cards. Last season, Coca-Cola pitched drinkable "place cards." The company launched the personalized cans and bottles in 2011 as part of its umbrella "Share a Coke" campaign. The place card promotion brings the beverage to the table in its full commercial splendor, rather than incognito splashing around Aunt Margie's Waterford crystal goblet.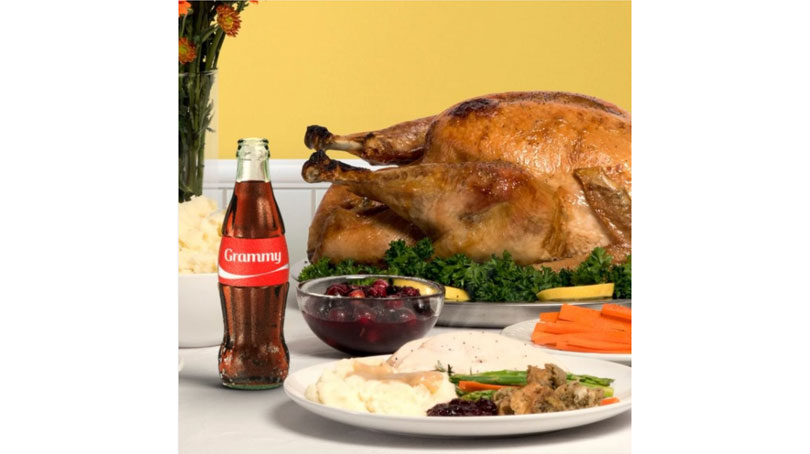 JetBlue shares a few of its favorite F words. "Family, friends, food & flying—all our favorite F words!" This was the subject line of the airline's 2015 Thanksgiving promo email. The campaign shifted from alliteration to a pun-packed infographic with a dozen tips on how to be a thankful traveler.
Don't shop believin'. REI closed on Black Friday last year and invited shoppers to opt for the outdoors instead of the mall. "Will you go out with us?" the retailer implored, suggesting healthier alternatives to retail therapy like hiking, biking, skiing and more. A microsite offered inspiration and a pledge to socialize with family and friends.
These campaigns work because they sync sensibly with their respective brands and the holidays. Coke almost naturally squeezes in between the candied yams and cranberry Jello mold, while JetBlue ladles a generous helping of natural brand humor over hectic holiday travel. Meanwhile REI aims for a Christmas miracle, taking a corporate stand that rests firmly upon its brand ethos.
So, go ahead. Capitalize on the holidays. Don't just be a Christmas creep.
Starbucks is feeling the holidays again this season, branding prime real estate to cheer the caffeinated masses. Learn more.