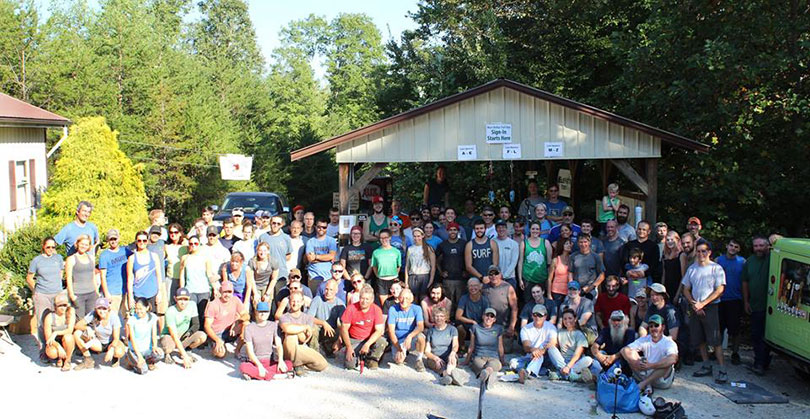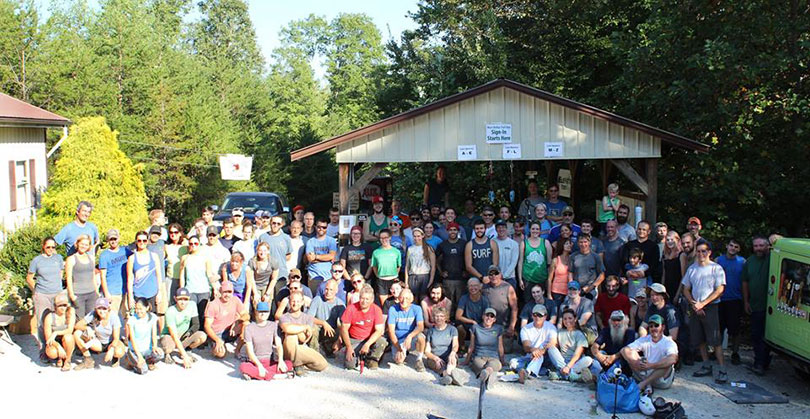 Spot the Brogan & Partners team member among the volunteers at this year's Muir Valley Trial Days in Kentucky.
My job recently took me to Slade, Kentucky, home of Muir Valley—a nonprofit nature preserve in the Red River Gorge.
The Valley is a rock climber's paradise, featuring 360 acres and seven miles of Corbin Sandstone cliffs with traditional and sport climbs that run 20- to over 200-feet-tall. Climbers trek here from all over the U.S. to discover more than 400 routes amid classic crags like Bruise Brothers, Midnight Surf and Land Before Time.
Here it's not just the destination. The journey is equally spectacular, lined with oak, hickory, sugar maple and hemlock trees. Mountain laurel, rhododendron and bigleaf magnolias stretch and hover thick across the valley floor. Trails twist and climb, presenting waterfalls, caves and mountain streams.
This is a marketer's dream. The creative brief would practically write itself. The Brogan Team would have a field day promoting this place.
But I didn't go to Muir Valley to pitch business. There would be no campaign. Brogan sent me here simply to do good.
Like many progressive companies, Brogan & Partners encourages employees to contribute back to the community. We're paid for a volunteer day annually and rewarded for sharing our time and talents to serve on nonprofit boards and committees. The agency partners with several nonprofits throughout the year, providing significant pro bono work and raising money for organizations like Game on Cancer.
Why doing good leads to great.
My volunteer day brought me to Muir Valley because it's given my family so much. It's where my son, Nick, travels with his rock climbing team in the summer. It's where my daughter, Sofia, reads in peace and finds inspiration for short stories. It's where we road trip on long weekends, catching up on the six-hour trip along I-75 and winding down in the hills of Kentucky.
At the very least, we owed Muir Valley a day's work.
We joined 100 other outdoor enthusiasts to groom trails, build benches and bridges, paint outhouses and secure routes and belay areas. We met lots of new people. People just like us who had come to Kentucky's Red River Gorge from far flung places like Brooklyn, N.Y. and Muncie, Indiana. And people who call the Valley home and volunteer regularly to ensure its integrity for generations.
We worked alongside Mike, a volunteer search and rescue team member at Muir Valley and longtime climber. Under his supervision, we pick axed, shoveled, dug and scraped post holes for new benches in the training area.
This was unfamiliar work for my family. We hiked to the job site with tools and relay teamed the building materials to the site. We learned how to use a green bar to break up a rock bed and how to secure a post by compacting soil, layer by layer, with a sledge hammer. We learned how to be flexible when nature proved otherwise.
It was hard work. By the end of the day we were exhausted and achy. But we felt amazing.
Volunteering is good business.
Volunteerism is good for the workplace, according to Deloitte's 2017 Volunteerism Survey. It can boost morale, atmosphere and brand perception. It can make Millennial employees more proud, loyal and satisfied, and attract Gen Y talent. Survey results found that nearly two-thirds of Gen Y employees surveyed prefer companies that let them volunteer their skills.
These benefits span all generational cohorts, per the Center for Talent Innovation (CTI) research. According to CTI data, older generations feel it is important to give back to their community or wider world through their workplace. This is true for 91 percent of Gen X women and 76 percent of Gen X men, and 90 percent of female and 79 percent of male Baby Boomers.
At Brogan, volunteerism contributes directly to our agency mission: creating an inspiring workplace and culture. I may have built benches in Kentucky but I came back to Brogan with so much more. Mission accomplished.
Want to learn more about what makes Brogan & Partners unique? Learn more.