Mammography is one of the leading methods to detect breast cancer in women. In fact, Komen.org reports, "Mammography correctly identifies about 87 percent of women who truly have breast cancer." Despite these impressive numbers, women sometimes fall behind on regular mammograms or breast health screenings.
When clinicians in Roanoke Valley noticed this trend among the local female population, they joined forces with Carilion Clinic to promote essential breast care.
The results? A years-long rallying cry that has become a movement for Carilion Clinic, national breast cancer organizations, medical professionals and the female community across the world. What started it all? One simple hashtag:
#YesMamm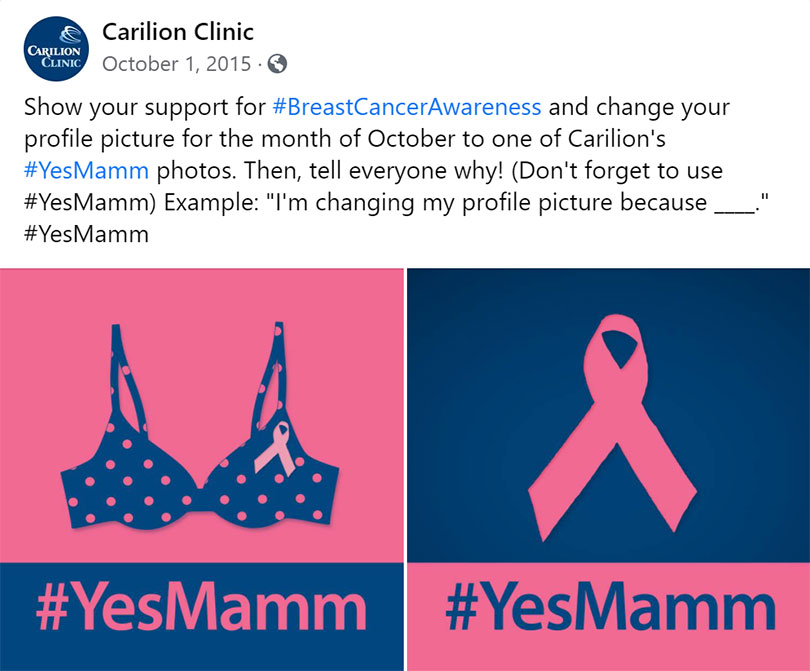 Why we love it
The #YesMamm campaign appropriately launched in October – National Breast Cancer Awareness Month. But the idea behind this catchy saying was more than a phrase to put at the end of a social post. Instead, it incited social media participation. Women were asked to share their own stories and the stories of loved ones who have been deeply affected by breast cancer.
Facebook, Twitter and Instagram were quickly flooded with emotional accounts and support for the community. The original posts led to Carilion Clinic's landing page, where women could easily learn more, find nearby clinics and schedule appointments.
The campaign is simple, and that's the very reason we love it. A quick, memorable healthcare idea (executed in a timely and strategic way) has the potential to live and evolve for years. And that's exactly what has happened with #YesMamm. Nearly ten years after its launch, you can still see its reach and the difference it's made in countless women's lives.
So, will you say #YesMamm to your annual mammogram?
This is post #1 in our blog series: Just what the doctor ordered: 10 examples of creative healthcare advertising.