In 2006, active landmines were still a threat in 89 countries. That means civilians worldwide faced harm from an invisible threat even after conflict ended and combat passed. With landmines present, walking to work could be dangerous. Taking a stroll could turn deadly.
The Campaign Against Landmines (CALM), New Zealand worked with Publicis Mojo to bring attention to this atrocity and raise funds to remove mines. They pulled off a wildly creative guerrilla campaign using a fast food staple.
Single-use ketchup packets were printed with images of kids' legs. When torn along the perforated line, ketchup (resembling blood), streamed out… and paired perfectly with the packet's call to action.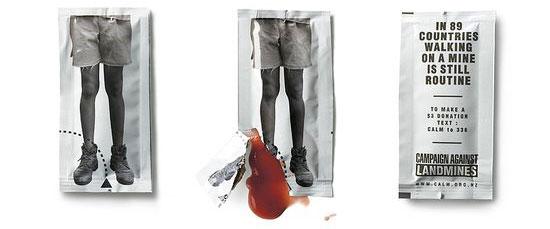 Why we love it
Is it disturbing to think of blood while enjoying a hamburger? Yes. Is it horrifying to imagine a child losing a leg while dipping a French fry? Yes.
But the goal of this campaign was to bring that exact shock value. To shine light on the injustice and surprise people at an unsuspecting time, much like landmines.
We love this campaign because it took an everyday object that often goes unnoticed and made it turn heads. A short message and call to action (text to donate) drove the campaign's success home.
When landmine cleanup and maintenance fell behind, this guerrilla campaign brilliantly helped it ketchup.
This is post #9 in our blog series, 10 Examples of Wildly Creative Guerrilla Marketing.