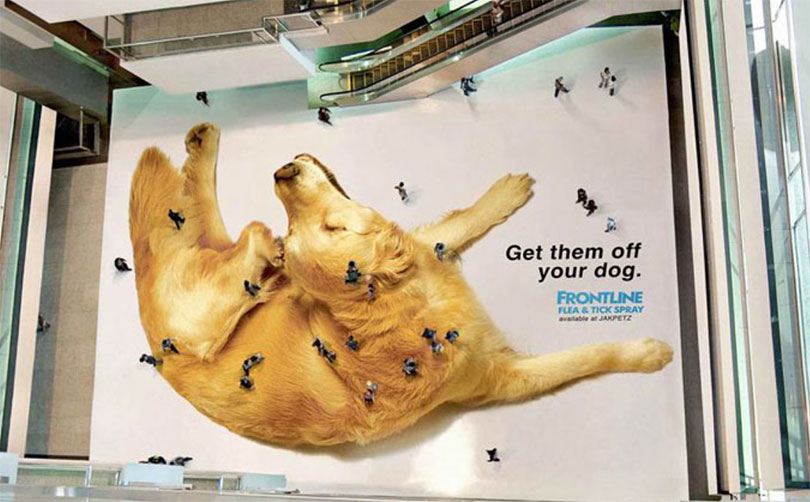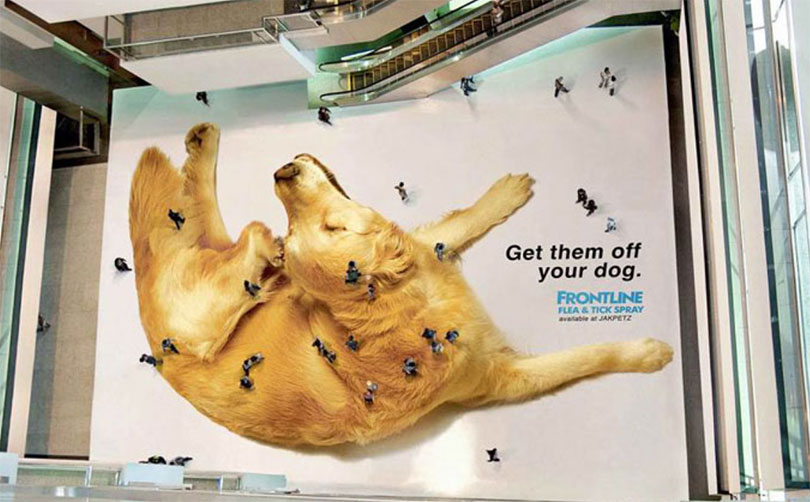 The creators of this week's wildly creative guerrilla marketing idea took their inspiration from a moment we've all experienced: Standing in a skyscraper, looking out at the street and exclaiming, "The people all look like ants!" Swap out ants for fleas, and you have the gist of this brilliant concept for Frontline Flea and Tick Spray, created by Perwanal Saatchi & Saatchi of Jakarta, Indonesia.
The giant image of an itchy retriever was placed on the lower level of a Jakarta mall. Lower level shoppers had no idea they'd been reduced to flea status—that is, until they ventured upstairs, looked down and got the big picture. The giant canine garnered so much media attention, more than a decade later it's still one of the first images that comes up if you search for "great guerrilla marketing."
Why we love it
This guerrilla marketing concept has everything going for it: shock value, interactivity, sheer size and of course, a lovable giant dog. Don't underestimate the value of letting your audience be a part of your joke; it not only engenders good will toward your product and company, it increases the chance that people will take photos and share them on social media. After all, it's not every day you get to play the role of a flea. The headline, "Get them off your dog," is hardly even necessary, but it reinforces the product benefit (and given who "them" refers to, it adds even more humor).
All in all, it's an idea that was guaranteed to fetch a lot of attention.
This is post #6 in our blog series: 10 Examples of Wildly Creative Guerrilla Marketing.