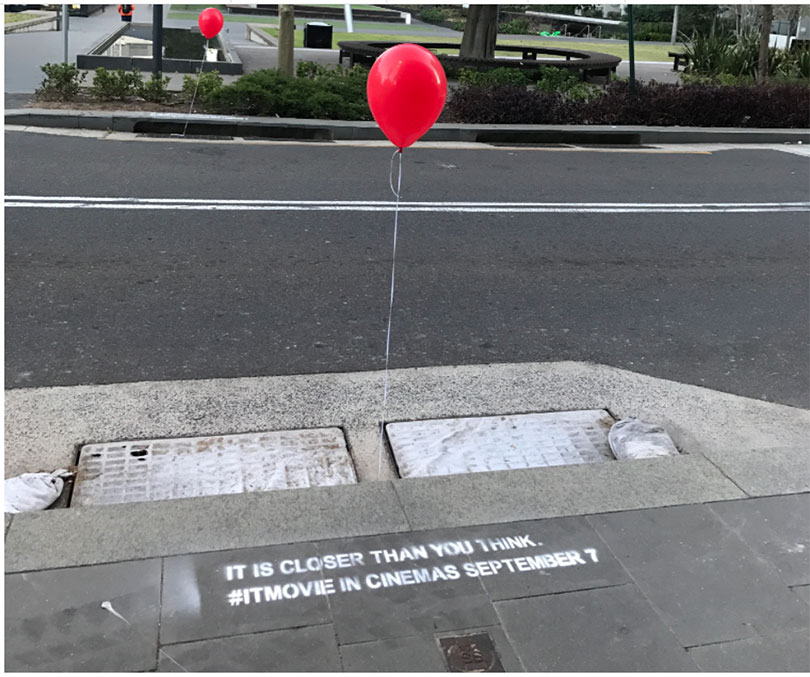 We're wrapping up our series on wildly creative guerrilla marketing with our grand prize winner for low budget tactics, awarded to Village Roadshow Pictures (VRP), the distributor of the creepy clown film "IT" in Australia. As if the film hadn't already spoiled the circus for all of us forever, VRP's marketers (creative agency Mr. Glasses in partnership with guerrilla agency Showtime Marketing) brought that nightmare to the streets of Australia with an eerily simple tactic: basic red helium balloons tied to sewer grates throughout Sidney. Stenciled on the sidewalk nearby: "It is closer than you think. #ITmovie in cinemas September 7."
Why we love it
As an agency that often works with smaller budgets, Brogan has great admiration for big-bang-for-the-buck tactics like this. For the cost of a few helium balloons and some spray paint, VRP brought one of the the film's creepiest scenes to life for passing pedestrians. Photos of the balloons quickly spread across social media, aided by the hashtag and backed by social media marketing from VRP.
VRP also commissioned a series of giant clown murals, painted on walls throughout the city. While effective, they didn't create quite as much buzz as a few red balloons luring moviegoers to the darkness… proving that sometimes penny-wise ideas are the best ones of all.
This is post #10 in our blog series: 10 Examples of Wildly Creative Guerrilla Marketing.