Yesterday I was able to watch the live conference at which Facebook announced that it is revamping the News Feed. Zuckerberg explained that 50% of content in the average user's News Feed is compiled of photos and videos since the launch of timeline in late 2011. Also important for brands to note, he mentioned that the amount of content from Facebook brand pages appearing in users' News Feeds has also increased and that 25% of News Feed content is brand content.
Zuckerberg continued on to say that how users are sharing content is changing and that the Facebook News Feed needs to evolve as well. With that he introduced the three major components of the new News Feed that is "designed to reflect the evolving face of the News Feed":
Rich Stories
Choice of Feeds
Mobile Consistency
Rich Stories
Basically the News Feed will focus on stories and will become more visual with larger images that will be front and center. This goes for sharing individual photos as well as photo albums. This also means that articles and attachments will feature a larger image, more prominent title, longer summary and the logo of publisher in corner.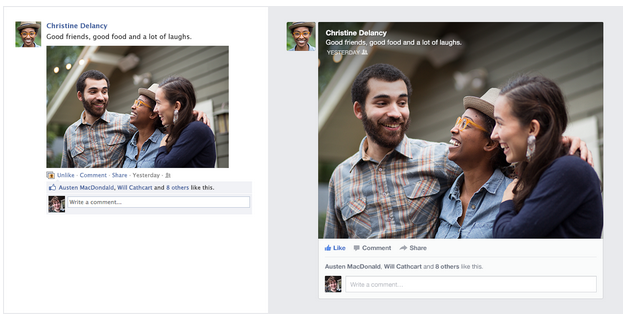 *Before and After shot courtesy of Business Insider
When users check in or tag a place in your status update, the new News Feed will give the place more prominence by including a map and image. And when users post 3rd party content, or post new events, the content will be more visual to reflect the beauty of the images and to align with the visual nature of sites like Pinterest and Instagram.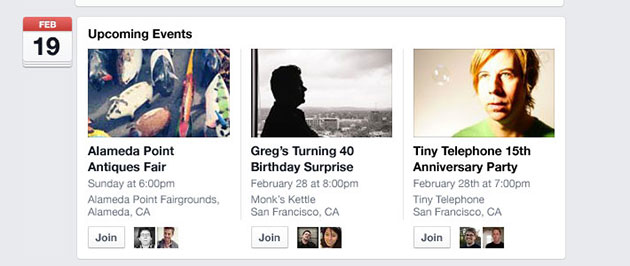 *Photo from Facebook
Have you ever logged into Facebook and noticed that multiple friends like a story/ link/ etc.? Well now Facebook will make these stories visually prominent in the News Feed, with the profile pictures of your friends who have liked/ shared the content on left-hand side. If you hover over the image you can see what each friend said.
Choice of Feeds
The Facebook team also announced that there will be new options for the New Feed. These options will include: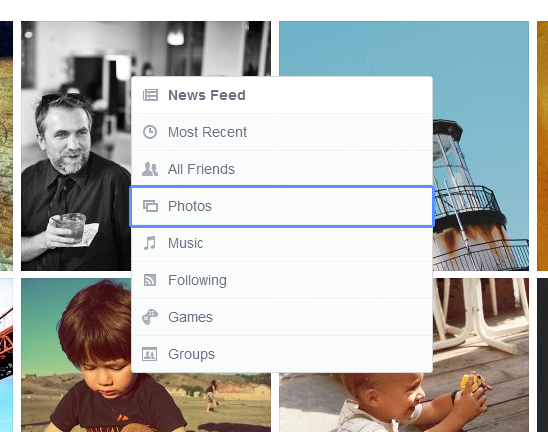 *Photo from Facebook
Friend Feed- All of the posts from our friends will be in one place in chronological order.
Music Feed – Posts from our favorite musicians, info about concerts happening near us, news about albums that have recently been released and the music that our friends are listening to will show up in this feed.
Photos Feed – Every photo that our friends and pages that we follow have posted will appear in this feed.
Following Feed – All of the posts from pages and public figures that we follow will appear in one place in chronological order.
Most Recent Feed– This feed shows every single action from all of our friends and all of the pages we like.
Close Friends Feed – This will stay the same and will feature posts from those we have designated as our close friends.
Games Feed – This will stay the same and will feature posts/ updates from the games that we play.
All of the feeds will be sorted in a list by how often we use them, with the most frequently used feeds appearing at the top.
Interface consistency
Finally, the Facebook interface will be consistent across all screens – desktop, tablet and mobile. The "New Story Bubble" will be making an appearance in the web experience as we currently see it on the tablet and mobile interfaces. This will allow users to jump right to the latest stories.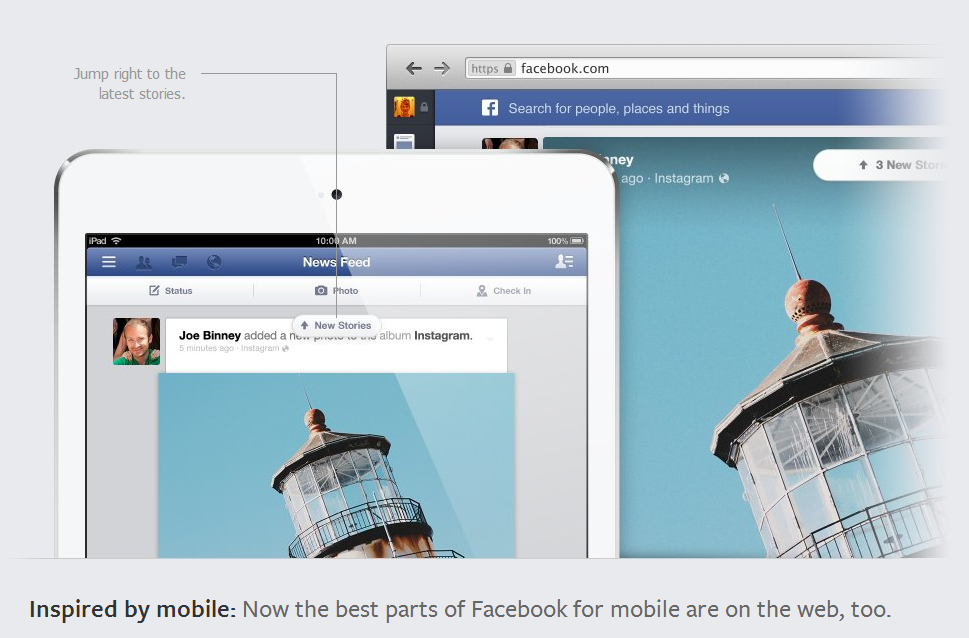 *Photo from Facebook
The new interface will appear on tablets and mobile devices sooner than it will appear on desktops. Facebook is planning to test it amongst a small group of users, work our the kinks and then roll it our to everyone later in the year.
What are your thoughts on the new News Feed? Do you think it will make the Facebook experience better for users?