We already know this audience is mindful when it comes to their health. But what else is this cohort doing when it comes to their wellness?
According to the Communispace study Healthcare Without Borders: How Millennials are Reshaping Health and Wellness, healthcare is "no longer confined to the traditional channels of the hospital and doctor's office." Discussions about health and wellness are taking place over dinner with friends, on social media, while searching health information online and in store.
This study also found that 55 percent of Millennials believe that a healthy mind leads to a healthy body and 49 percent consider maintaining a work/life balance to be part of staying healthy.
According to CEB Iconoculture research, this audience is also engaging in physical self-care like eating right, exercising and getting enough sleep.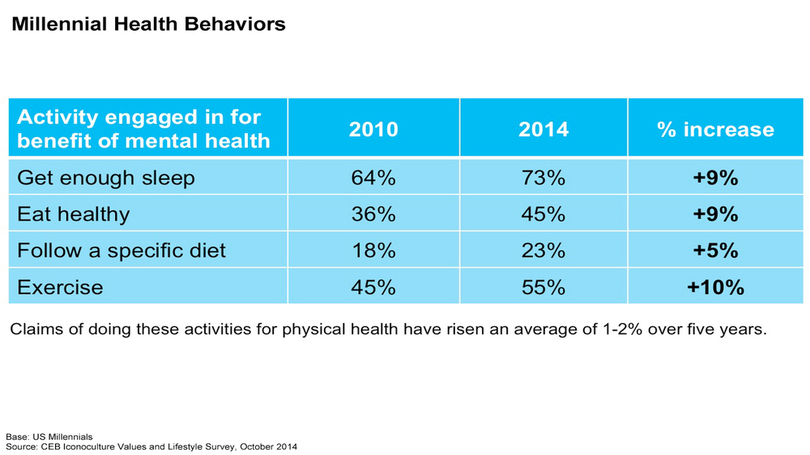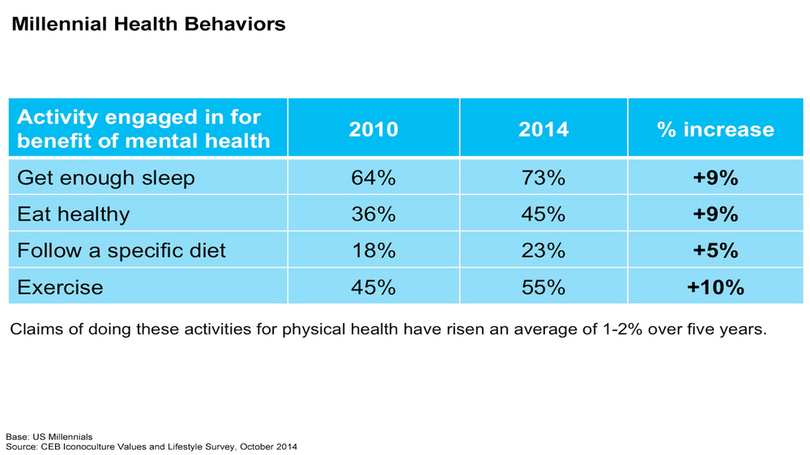 With that said, how else does this audience view health and wellness? In this blog, we're looking at the diet, exercise habits and the health maintenance practices of a Millennial. Take a look:
Eat like a Millennial.
Yes, Millennials are food-obsessed. After all, they are dubbed the foodie generation. But when it comes to eating, this cohort is staying away from dieting plans and incorporating healthy eating or diet-like trends into their current regimen, says CEB Iconoculture research. An "everything in moderation" approach. Paleo lunch? Sure! Vegan dessert? Gluten free pasta? Why not? This cohort is not opposed to trying new things, if they consider it beneficial to their health.
Exercise like a Millennial.
Millennials are multi-taskers. They look for ways to socialize or consume media while they workout.
Group activities are specifically on the rise. Yoga and beer anyone? This New York brewery offers yoga classes (NAMAST'AY for the Beer) allowing participants to not only share in their practice but sip on some brews too.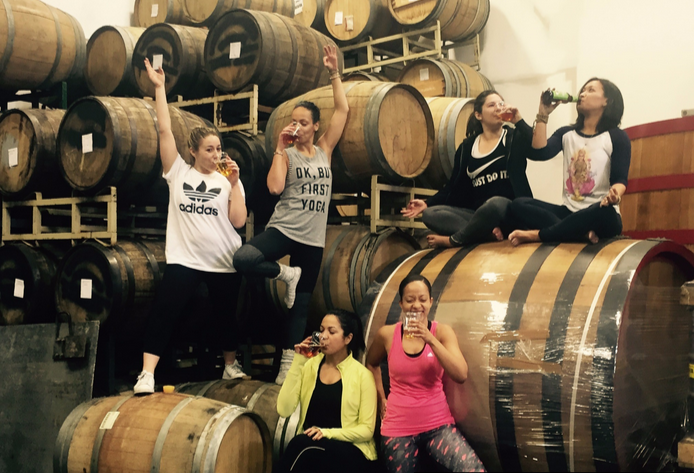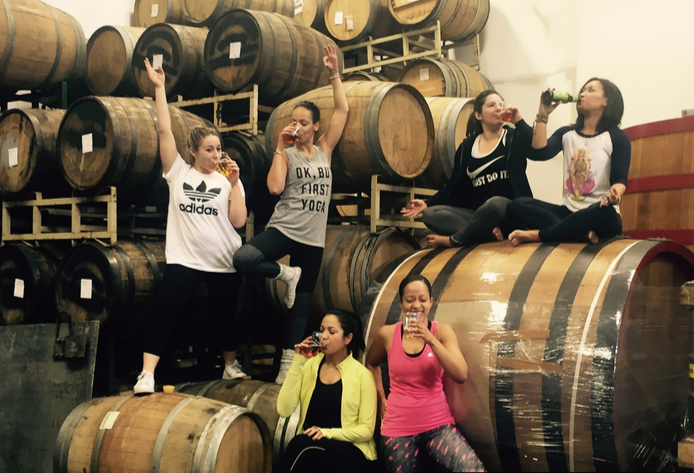 This audience does not shy away from taking cycling classes, trying the Barre Method or Zumba and other popular community-based classes. Adventurous activities like the Tough Mudder, Color Run or Hideous Holiday Sweater Run are other popular community activities.
Another trend on the rise is athletic wear. According to a recent study, athletic wear sales have risen 13 percent and now account for 17 percent of the total clothing retail market.
Athletic wear is becoming quite the workplace trend. Companies (like ours) participate in "Tracksuit Tuesdays." While others invest in athletic wear that is office appropriate.
Other brands like Fabletics are also resonating with Millennials. And the Queen Bey herself just launched a line of her own. Introducing, Ivy Park, Beyonce's first line of performance wear. In a recent interview, Beyonce said she wanted her line to inspire "women to work with, not against their bodies."
But it's not just celebrities that have this audience captivated. Social fitness stars do as well. Insert the Instagram famous Kayla Itsines and her Bikini Body Guide. Being a Millennial herself, Kayla appeals to the female Millennial audience.
Maintaining health like a Millennial.
According to the Communispace study, just over half (56 percent) of the Millennials surveyed have visited the doctor's office in the past year. Why? Of the Millennials surveyed, most said they are more likely to utilize a variety of treatment options, seeking urgent care clinics, home remedies or holistic measures. When it comes to Millennials and maintaining their health, they take a two part approach. They unplug but also plug in.
· Unplugged – Although this audience is very much plugged in when it comes to technology, they are not opposed to unplugging to meditate, do yoga, participate in talk therapy or get massages for a more harmonious and mindful approach to healthy living.
· Plugged-in – When they're not meditating, this audience is very much plugged in.
27 percent of Millennials use wearables (or fitness apps) to track their activity
50 percent look up health related information online
22 percent seek online reviews when choosing a healthcare provider or hospital
Need more on Millennials and healthcare? Check out our blog "How to market healthcare to all generations: Millennials," or download our free guide to learn more.