Electronic cigarettes are making smoking cool again, and may entice kids to try tobacco cigarettes.
This is according to a May survey of Brogan Talks to Women, an informal community of female consumers we tap regularly for opinions and insights about marketing and advertising. After posting a blog about electronic or e-cigarette advertising, we wanted to know our panel's thoughts.
Of the 119 participants, 73 percent said electronic cigarettes may influence minors to smoke tobacco cigarettes and 63 percent said that e-cigarette ads glamorize smoking. What's more, 56 percent agreed with critics who are concerned some ads specifically target minors.
Electronic cigarettes deliver nicotine to the user as a vapor. They are usually battery-operated and come with a replaceable cartridge that contains liquid nicotine. When heated, the liquid in the cartridge turns into a vapor that's inhaled or "vaped." They come in assorted flavors, from sophisticated to candy store.
Magazine ads sparked the most recall among respondents (56 percent), followed by digital (39 percent), TV (30 percent) and radio (22 percent). When asked whether the FDA should ban electronic cigarette ads from TV and radio—similar to tobacco ad restrictions—87 percent said "yes."
The FDA recently initiated formal action toward regulating electronic cigarettes, with a public comment period inviting all interested parties to weigh in. Still, any new regulations or restrictions could take years to implement. Meanwhile, expect manufacturers to become increasingly emboldened as they jockey for market share. And the product will become increasingly socialized.
Electronic cigarette ads targeting youth increases 256 percent in two years
A new study by the Research Triangle Institute International, published in Pediatrics, found that youth exposure to electronic cigarette ads increased by 256 percent from 2011 to 2013, and young adult exposure to e-cigarette ads jumped 321 percent during the same period. It's the first study to extensively analyze trends in youth and young adult exposure to e-cigarette TV ads.
"E-cigarette companies advertise to a broad TV audience that includes 24 million youth," said Jennifer Duke, Ph.D., senior research public health analyst and co-author of the study. "Given the potential harm of e-cigarettes to youth and their potential as a gateway to using cigarettes and other tobacco products, the FDA needs to regulate the positive images of e-cigarettes on television and other venues where youth view advertising and marketing like they do for traditional cigarettes."
E-cigarettes smell like a future social marketing campaign
Last month I saw a 20-something vaping at Detroit Metro Airport, clouds swirling around him conspicuously. He looked incredibly proud of himself. But that may have had something to do with the inconspicuous electronic cigarette-branded tote bag leaning against his legs. Street team vapers. Clever blu eCigs.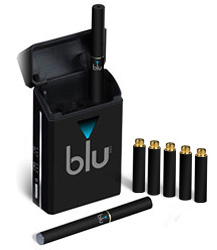 After he'd packed his blu eCigs tote bag and boarded the plane, Young Vaper left the air smelling faintly of cotton candy. Though it didn't smell state fair sweet. It smelled distinctly of a future social marketing campaign.
Are you female and interested in joining Brogan Talks to Women? Click here to learn more.