Father's Day is just around the corner, which means goodbye to Mother's Day ads and hello again, "Dadvertising:" emotional, heart-warming spots that represent the modern dad. Like Whirlpool Dad.
Whirlpool Dad packs his kids lunches with wheat bread sandwiches and handwritten notes of encouragement. He burns cookies and empties the dishwasher. He is the modern dad.
The opportunity to focus on Dads.
Mom has been the primary focus of brands for decades. There's even a conference dedicated to this pursuit, Mom 2.0 Summit. Mom 2.0 gives marketers an opportunity to expand their knowledge and communicate with mothers. But in 2011, Mom 2.0 started talking about dads. This led to the development of the Dad 2.0.
The Dad 2.0 Summit kicked off later that year and it has since been leading conversation about dads as primary care-givers and household managers. As the event's primary sponsor, Dove Men + Care has been on board with "Dadvertising" from the start. They have used resources and research methods in order to touch the message of modern dads and their hard work is paying off. With advertising campaigns such as #RealDadMoments and #RealStength, Dove has been able to pull at our heartstrings and represent the very real and evolving role of fathers. This year, Dove captured men's emotional responses as they realize they are going to be fathers for the first time. Other leaders in "Dadvertising" include Toyota with "Swagger Wagon" and "My Bold Dad", and Cheerios with #howtodad,
Why Dadvertising needed to happen.
Though there were many brands leading the way, Dadvertising really took off in 2013 when traditional consumer perceptions about gender roles were pushed aside to celebrate the modern changes. Dads began truly co-parenting long before this time, but brands were reluctant to replace mom as leading lady to all things home, family and minivans. This is because while dad is increasingly sharing family responsibilities, mom still carries the purse. Even as dads are shopping more, moms are the major purchasing decision maker in 80% of US households (MediaPost.com, 23 October 2013). Yet, advertisements took the step and began to portray the Gen X and Millennial dads as taking blended responsibility for parenting and household care and the results were and have since been wildly successful.
Still, some brands didn't get the memo. Huggies' Dad Test campaign in 2012 is one example. In Dad Test dads are left alone with their children for five days. It suggests that dads are incompetent or unable to take the responsibility of their children. Though the spot was meant to be light-hearted and cute, it fell flat and rang untrue. Dads and dad supporters even rallied to recall the ad, Huggies responded with an altered campaign.
Where Dadvertising will go.
The successful spots show us positive representations of fathers who play active roles in their family's life. These dads are hands on, working hard and have a presence in the life of their family. This approach allows advertisements to reach a wider group of dads, and the special people in their lives. Not only does this Dadvertising approach allow brands to target the modern dads, but it gives light to the efforts and dynamics in the entire modern family. While focusing on dads, Dadvertising also portrays modern women who balance traditional domestic life with the modern working women one. They are able to capture diversity in the family that is much more complex than advertisements were going before. Families, and dads, can no longer be generalized. Now, brands can expand the general family portrayal along with their appreciation for the modern dad, and touch the hearts of every person in these families.
As Father's Day approaches, there is no question that Dadvertising will swing back stronger than ever, as Whirlpool has already revealed. They will approach fathers as active parents and partners who are not just capable of caring for their children or maintaining the household, but do it in dad-fashion. These are no mom-dads, they are dads. They will inspire and remind us of the love and care required of parents and as the whirlwind of emotions come in, you'll want to leave a little note of encouragement for your own dad… just like I did.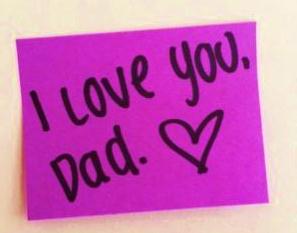 What's your favorite example of Dadvertising? Tell us in the comments below.