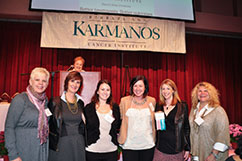 Brogan & Partners was honored last night at the 20th Annual Heroes of Breast Cancer Award ceremony with a philanthropy award for dedicating resources and talent to benefit the breast cancer cause. It was a beautiful and inspiring event presented by the Barbara Ann Karmanos Cancer Institute. I had the honor of accepting the award on behalf of the agency. My acceptance speech sums up my thoughts and feelings.
Seven years ago, Brogan & Partners created a television spot for one of our healthcare clients. The spot told the story of a young woman who found a lump and was diagnosed with breast cancer. It was this spot that compelled me to do my own breast examination.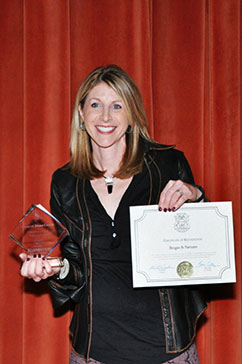 I found a lump that soon led to my breast cancer diagnosis. On the first night of that journey, my second phone call was to Marcie Brogan right after I called my own mother. In the first year, the Brogan Team was consistently there for me. They allowed me work when I felt good and rest when I didn't feel good. Working at Brogan kept me going through a tough year. As I neared the end of my surgeries and chemo treatments, I signed up for my first Susan G. Komen 3-Day. Many coworkers joined me, Brogan paid for our team shirts and lots of others supported me with donations. From that first year until today, the Brogan team has continued to support me and so many other women on their breast cancer journeys.
I am honored to accept this award on behalf of every employee at Brogan & Partners. From lighting the historic Peabody mansion in downtown Birmingham pink during October, to holding fundraisers at the office, to the beautiful writing and promotional materials for the Detroit Race for the Cure, to the sponsorship of the Karmanos Partners event, to attending fundraisers, donating their own money and cheering all the walkers on during the 3-Day, this team is amazing. They are not only my coworkers, they are my friends and my family and I am proud to work with each and every one of them every day.