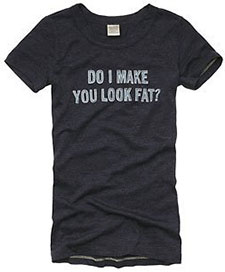 "Demographic." "Target audience." These are very useful terms of our trade. We all know that Anthropologie caters to bohemians, Lane Bryant celebrates the plus-sized, and Forever 21 is all about the young and trendy. Targeting helps companies find their niche and it gives shoppers a shortcut through the mall.
But Michael Jeffries, the CEO of Abercrombie & Fitch, has turned targeting into something ugly.
First, he created Abercrombie's notorious small-size policy. The largest sizes available (to women, anyway) are size ten or Large.
He also instituted rigid requirements for the employees who can work in Abercrombie's stores. They have to be young, beautiful, and thin. They're also usually Caucasian.
Jeffries has long been open about his views. Abercrombie is cool, he told Salon in 2006, precisely because it excludes the "uncool."
"In every school there are the cool and popular kids, and then there are the not-so-cool kids," he said. "Candidly, we go after the cool kids. We go after the attractive all-American kid with a great attitude and a lot of friends. A lot of people don't belong [in our clothes], and they can't belong. Are we exclusionary? Absolutely. Those companies that are in trouble are trying to target everybody: young, old, fat, skinny. But then you become totally vanilla. You don't alienate anybody, but you don't excite anybody, either."
I agree with one (and only one) thing that Jeffries says here. Targeting a particular group (as the companies I mentioned above do) is smart.
But targeting them by making them feel like they're better than their bigger peers? That's the part I find reprehensible. It's also bad business.
By being so bald-faced about his prejudice, Jeffries hasn't just alienated average-sized people. (Let's remember that, as Meg Cabot says, size 12 is not fat and neither is Size 14.) He's alienated thin people who are friends with average-sized people. He's alienated anyone, really, who has any empathy at all.
Wearing Abercrombie clothes is now making a statement. It's saying that you support the man who said it's cool to exclude; the man who produced a T-shirt that said, "Do I Make You Look Fat?"
My 13-year-old daughter long ago rejected Abercrombie & Fitch for its showy labels. "Why would I want to walk around with a giant ad on my clothes?" she asked me.
But if she were an Abercrombie fan, I have a feeling this latest controversy would turn her off. The company has revealed its target audience to be queen bees and mean girls (and boys) — people who feel better about themselves by making others feel bad.
I'm happy to say that my daughter does not fall into this demographic, and neither do any of her friends.
The next time I set out to buy my kids some trendy clothes, I'll be likely to head to a store like H&M, which sells both teeny-tiny teen duds and plus-size ones. H&M has also recognized that 67 percent of the purchasing population is plus-sized and started featuring a plus-sized model in their swimsuit ads.
If more shoppers support companies that celebrate our different shapes instead of shaming them, Abercrombie's brand of cool is bound to go out of style.
Need more on how to market to women? Download our free whitepaper: How women buy, and what it means for your marketing plan.