Look good, feel good? Consumers today might have proven that motivational message no longer effective.
According to CEB Iconoculture research, there has been a shift in the way consumers feel about personal health. Instead of placing physical appearance as top priority, consumers now find that feeling better about themselves is taking precedence. With that said, it comes as no surprise that as generations start to change, brands need to find the fine line between tough love and motivational messaging to connect with today's consumers.
Though some brands have a long way to go, there are others who have taken this motivational marketing concept and implemented it into their own campaigns to ensure they change with the times. Some examples of these brands include Weight Watchers', who launched their 2015 campaign "Beyond the Scale" with a holistic approach to weight loss, focusing on a healthier lifestyle without placing focus on the scale. Another brand making a big step in the right direction is American Eagle with their "#ArieREAL" campaign; using untouched models of all sizes in their collection of swim, and lingerie. According to a recent article, not only is body positivity brand messaging beneficial to the company itself, but it can help increase the body image of those easily influenced by the media.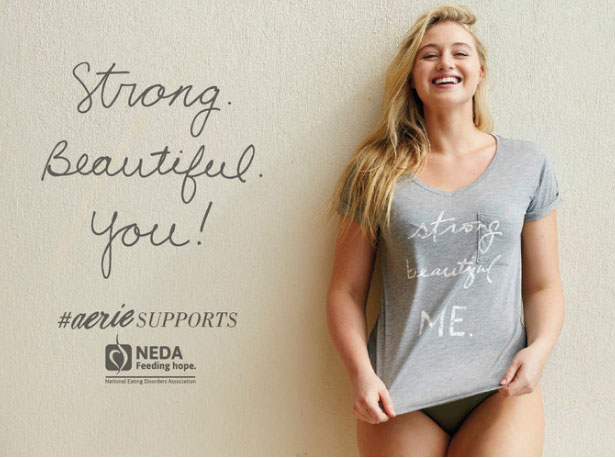 (Image courtesy of: nytimes.com)
What about brands who want to give a little more tough love than the rest? Take for example, Nike's #BetterForIt campaign who had a call-to-action of encouraging women to not only make new health and fitness goals, but to concur them. After all, achieving their goals would make them "better for it." But how does Nike market this messaging without insulting their consumers. CEB Iconoculture research notes one factor made a large difference… mass media. When a blunt message is aimed at the general mass, it can still be deemed effective. However, if consumers feel the message targets them directly, that is when the message's positive influence can be perceived as negative.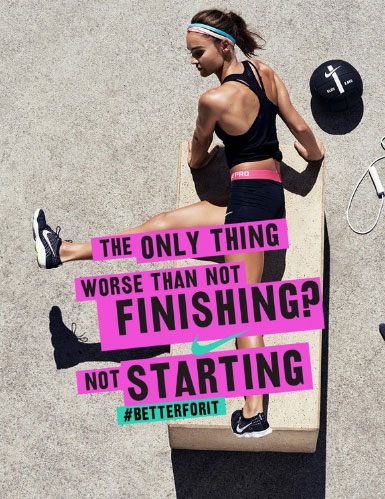 (Image courtesy of: linkedin.com/pulse)
Of course, not all brands have come to the realization that a shift may need to occur in their messaging; but we are confident that with time, they will put the inspiration back in "fitspiration."
For more on healthcare marketing trends and insights, sign-up for our monthly edition of the Brogan Healthcare Checkup.