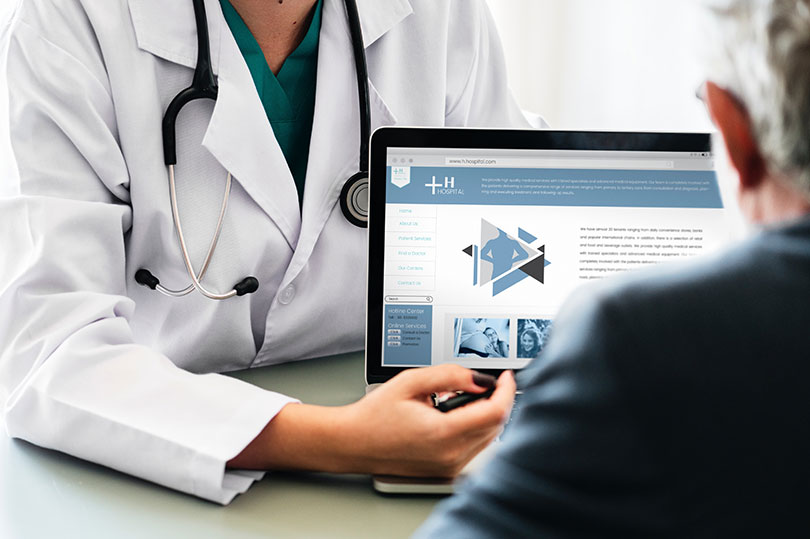 Your healthcare system is a marketing marvel. Your team is working every relevant consumer channel to connect, engage and convert patient prospects. Leadership has entrusted you with more than the push and pull of advertising mechanics, recognizing marketing as integral to the consumer experience.
Your marketing team now sits elbow to elbow with the overseers of quality, service and cost—directors of service line clinical excellence and integration, regional clinic and market operations, provider services, continuum of care, clinical pharmacy, clinical review, health plan operations, quality improvement, among others.
Together you carefully shepherd patients from ailment to diagnosis, treatment and recovery. Your website is a magnet for search inquiries. Your CTAs have been strategically mapped and pixels placed. Your email automation program is set to distribute just the right amount of content at just the right time. Your digital retargeting campaign is gently reminding prospects to consider your hospital, your medical staff, your plan, your value.
Your system is poised for greatness—Press Ganey, HEDIS, CAHPS and Medicare 5 Star quality greatness.
And yet it all could be undone by a couple pieces of paper delivered by a mailman.
How a bill can undermine even the most rigorous health consumer journey map.
Earlier this year, Kaiser Health News and NPR launched a crowd-sourced investigation into healthcare bills. Since that time, the news organizations have received hundreds of reader submissions—rate crushing, brand diminishing, reputation devastating submissions.
Called "Bill of the Month Club," editors choose one entry to prove assorted healthcare injustices. Like inefficiency and inflated costs. A recent entry from an Oklahoma patient featured a $15,076 price tag for a few implanted screws, and sparked a social media frenzy (NPR.org, 19 July 2018).
The patient, 57-year-old Sherry Young, a retired mother of two on disability had undergone two operations on the same day to treat a shoulder injury and a debilitating foot problem. The second procedure involved removing a part of bone from the center of two toes and reconnecting them with four surgical screws. The total cost of both procedures and a three-day hospital stay was $115,527.
Two weeks after she was released, Young received word from her insurance company that her hospital stay had not been approved. The patient panicked, fretting that she would be responsible for the cost. She requested an itemized bill which, among other surprises, included $15,076 for four screws that measure 2.8 millimeters wider and 14 millimeters long.
Young dug deeper, requesting the part number for the screws so she could contact the manufacturer and learn the list price. Reporters for NPR and Kaiser Health News also dug in, publishing this.
At last count, the story had been shared nearly 7,000 times, with many Canadian commenters weighing in, too. In one thread, Richard Bott of British Columbia suggested, "When health is considered a for-profit commodity, this is exactly what will happen in an unregulated system."
Consumers and providers are responding to the concrete example with critiques and calls to action. "It's so important to ask healthcare entities for itemized receipts!" tweeted someone from the Kansas City Direct Primary Care Twitter account.
No one is asking how Young has fared after her surgeries. Is she walking better? Has her quality of life improved? How was her clinical experience? Did she have to wait long to see a specialist? Did the medical staff treat her like a person and not a condition? Were the rooms nicely appointed? How was the food? How long did it take for her to recover? Would she recommend the surgeon? The hospital?
Healthcare costs are making consumers more anxious than ever.
The cost of healthcare is now the biggest driver of consumer financial uncertainty—bigger than covering the monthly bills, paying a mortgage or being able to afford retirement, according to CEB Iconoculture research. And the threat is far reaching, impacting the young, healthy, fully employed and fully insured.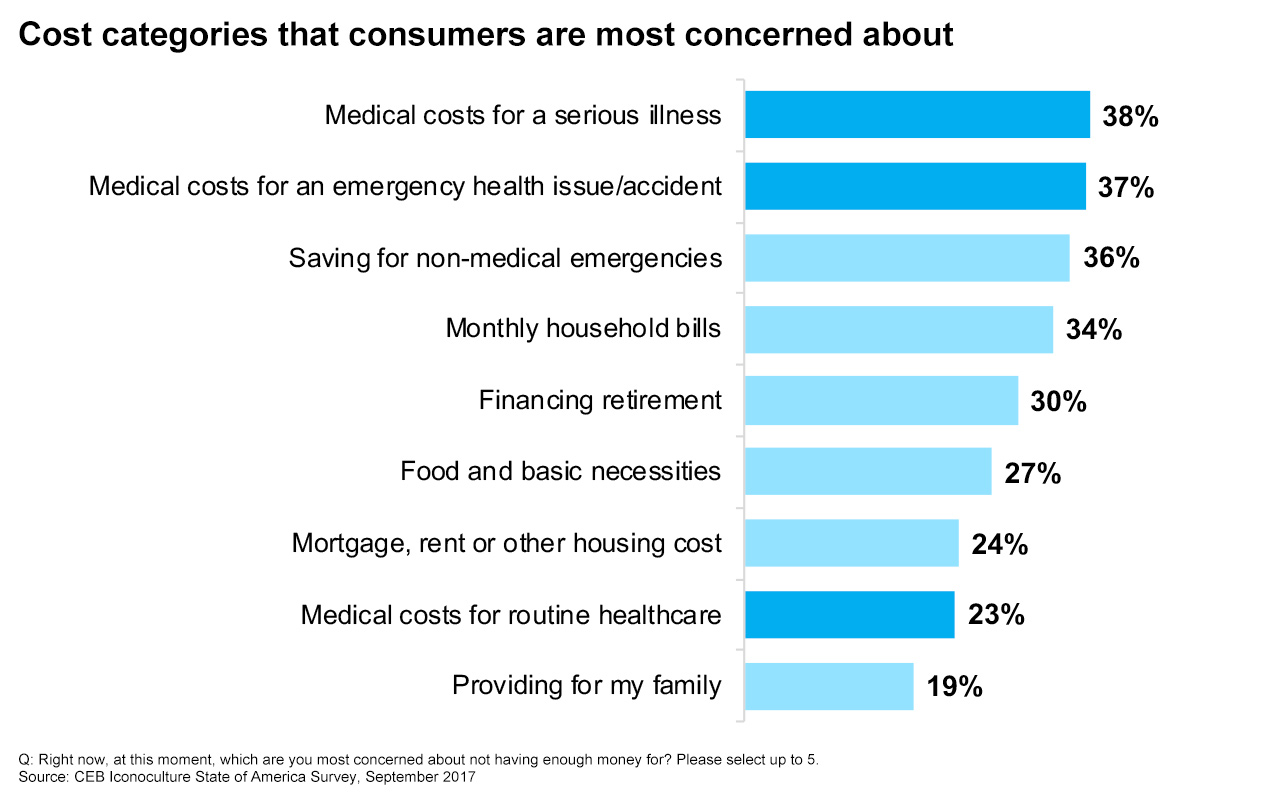 For marketers within the healthcare industry, prioritizing consumers' understanding of coverage and options, providing care throughout the patient journey—especially billing—and creating tools that help consumers better plan are critical next steps.
Of course the implications extend well beyond healthcare. A majority of consumers (67 percent) worry that their lifestyles could be significantly impacted by just one job loss, market crash or health problem (CEB Iconoculture State of America Survey, September 2017.) Healthcare worries are especially troubling, with 64 percent of consumers citing concerns that unexpected medical issues could jeopardize their financial security.
Increased healthcare costs have already impacted consumer spending. According to the Bureau of Labor Statistics (February, 2016), household healthcare spending increased between 2010 and 2016, while spending on housing, food, transportation, entertainment and clothing all decreased. Consumers are bracing for further household budget cutbacks if healthcare costs continue to climb.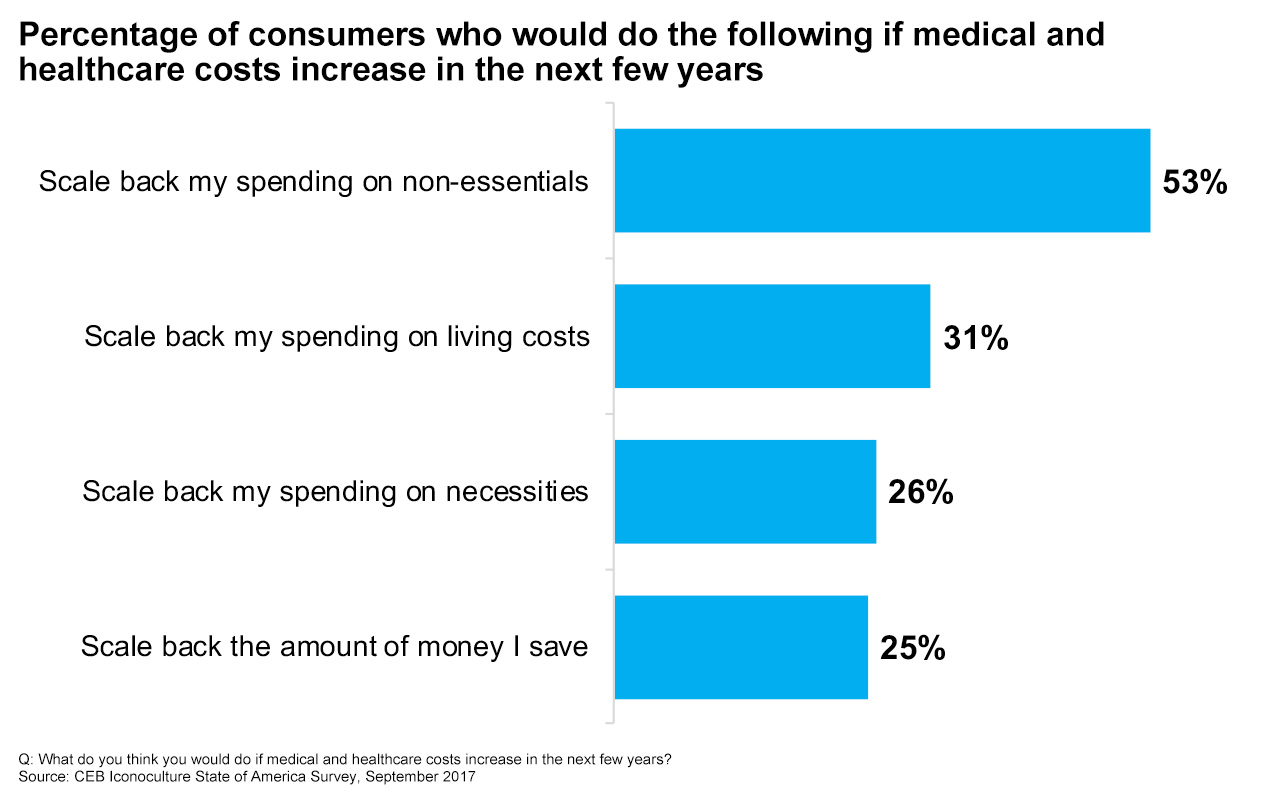 Consumers aren't optimistic about healthcare costs. Nor should they be.
Since the early 2000s, employees have been increasingly shouldering more and more of the cost of healthcare coverage—copays, higher premiums and deductibles. Most expect costs to increase annually come benefits renewal. In fact, premiums for family coverage have increased 55 percent since 2007 and the average deductible for insured workers has climbed 67 percent from 2017 (Kaiser Family Foundation, 2017).
It's not surprising consumers are stressed out about the cost of healthcare. But what can healthcare marketers do about it?
Marketing does not control healthcare costs. Marketing can control the message.
Billing is an integral part of the consumer journey—especially when it comes to healthcare. Unlike most expenses, consumers are unusually vulnerable when they become patients. They have little or no control over their circumstances. They may be faced with a life altering or life threatening condition. Cost may be on their mind, but it's dwarfed by emotions and concerns about aspirations, livelihood, family, future.
This is a job for marketing. You know better than anyone else how to communicate with this audience. They are the same prospects you carefully profiled, attracted and converted to prefer your healthcare system. You know where they live, work and play; what they value and most desire. You mapped their journey but neglected to include a primary human need—financial security.
Completing the patient experience cycle begins with the end. For starters, review your system's billing process and assets. The bill may be their last and most lasting impression. The goal here is to empathize with the patient throughout their journey. It's not only the right thing to do; it's the best thing for your brand. Advocate for patients and they'll reward you with loyalty and referrals.
Four ways to optimize the healthcare consumer journey.
Invite the Billing Department to the Customer Experience Team. Invite them to present the process and bring sample bills. Accounts Receivable should align with your brand promise, from the design of assets to messaging and customer service. Consider random audits, an internal version of Bill of the Month Club.
Help patients plan and save. Patients are often overwhelmed with the emotional aspects of healthcare. In advance of procedures and treatment, reach out and have a frank discussion about cost. People often feel as though they're getting the runaround as they're handed back and forth between providers, specialists and insurers. Geisinger has introduced ProvenExperience, which offers refunds to patients based on their interactions with doctors, staff and the clinic overall.
Use layman's terms, not legalese. Patients struggle enough with the medical terminology used to describe their conditions, treatments and recovery. Using simple language will go a long way in improving the patient experience and helping care-avoidant consumers feel more confident. ClearHealthCosts is a journalism project working to shrink the gap in consumer understanding by shedding light on the hidden costs of healthcare.
Invite patient reviews. Develop a succinct, but thorough script to follow up with patients after the bill has been sent. The script should include opportunity for patients to ask questions about the details of the bill and conclude with an overall evaluation of their system experience. Conclude by asking patients to rate their experience using an automatic text- or email-based program that triggers an immediate response.
Get monthly insights and trends curated just for healthcare marketing professionals. Sign up for the Brogan Healthcare Checkup.