Sass is subjective. We know authenticity connects, but how straight fire must our posts be to win the hearts of our consumers? Do we write with a loud voice at the risk of upsetting our audience? And at the end of the day, does it even matter? Can sass increase profits?
Exhibit A: Wendy's bites back.
Wendy's has a history of playful confrontation (Where's the beef?). More recently, the fast-food brand used its Twitter account to respond to an unruly customer in early 2017. Their response went viral.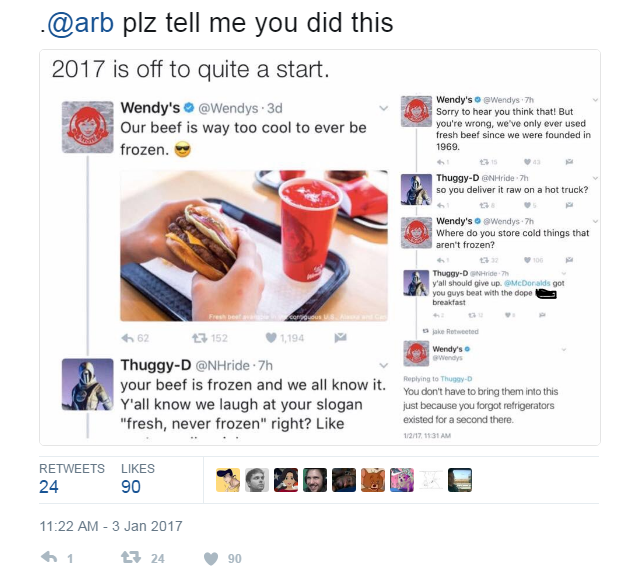 Wendy's identifies its Twitter voice as a "challenger with charm," keeping a cool head while not shying away from honesty. When they broke away from the formal PR strategy, consumers ate it up. Instead of friendly jabs at the competition, this brand is taking jabs at consumers.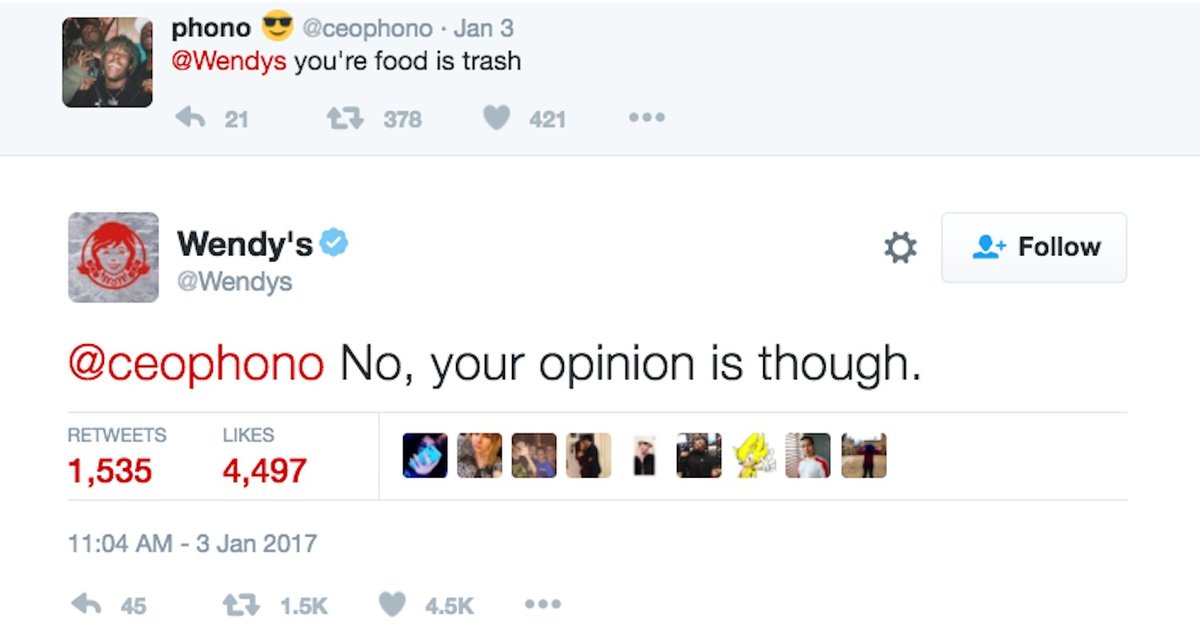 The outcome
After the first tweet, the fire burned for the next few days as consumers wanted to talk to this new, sassy Wendy.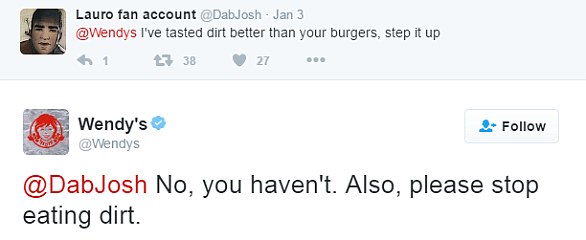 However, the streak ran for less than a week before Wendy's Twitter returned to status quo. In this spike, 95 percent of activity came from replying to users. People wanted to interact with a brand, and that's a beautiful thing.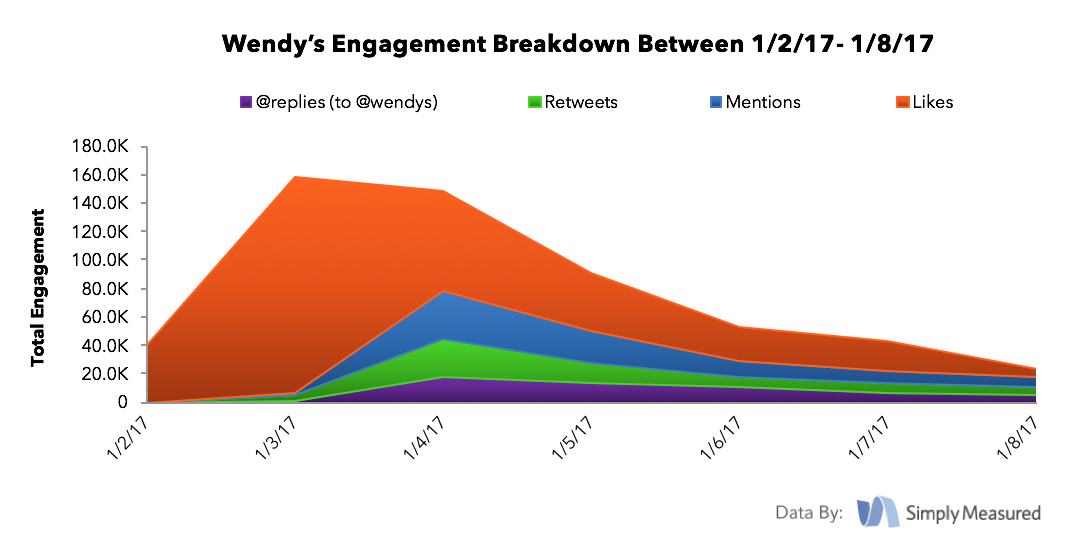 This isn't the first audacious act toward consumers. People seem to prefer the humanized voice of Wendy's, and other brands that dish out 'real talk.' Screenshots of customer/brand exchanges could end up on everyone's Twitter feed, or blogs like ours.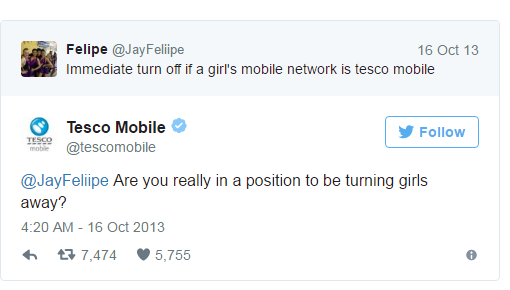 Salt is in the air, but how are the sales? Terrible, actually.
The full report details an almost $100 million drop in Wendy's revenue from 2016. While this has less to do with tweets and more with fewer company-owned resturants, it proves that cheeky personas aren't able to save a business. The company has been going through a rough patch as other resturants, like Taco Bell and Subway, take the lead in sales.
What's next
Why didn't this work? Well, it's hard to see a real difference if you only change your strategy for a few days. Over time, the continued sass could lead to a buildup in sales, or maybe none at all. We wouldn't know, since this tactic is so new for Wendys. Is it even possible on Twitter, where trends come and go so fast no one would be interested in an attitude for that long? Could be.
By April, the company had switched up tactics again. The tag #nuggsforcarter went viral after a young teen went on a mission to get 18 million retweets to win free nuggets for a year.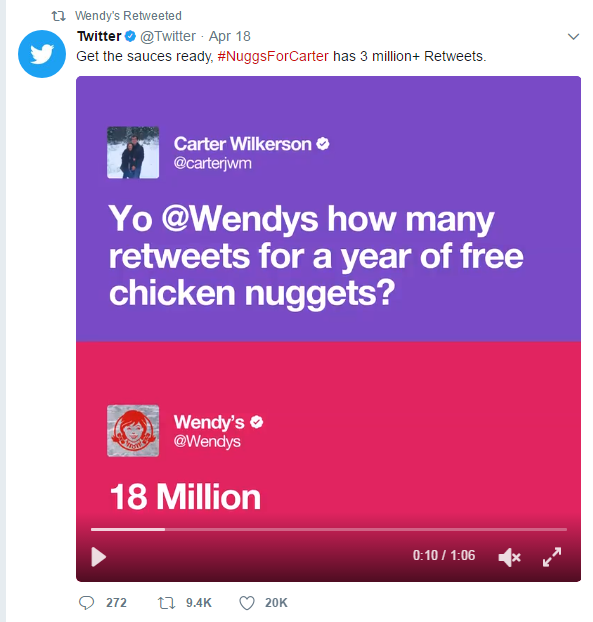 Like before, this could be a game chagner. Perhaps that is the ultimate creative strategy of Wendy's: listening. In these instances, they have shifted to pushing for dialogue, rather than pushing messages. How will it reflect in the net quarter? Time will tell.
As of now, things seem to be business as usual for the company. If you want some snide comments from Wendy's, you're about six months too late. Yet that doesn't mean they stopped the sly jokes altogether.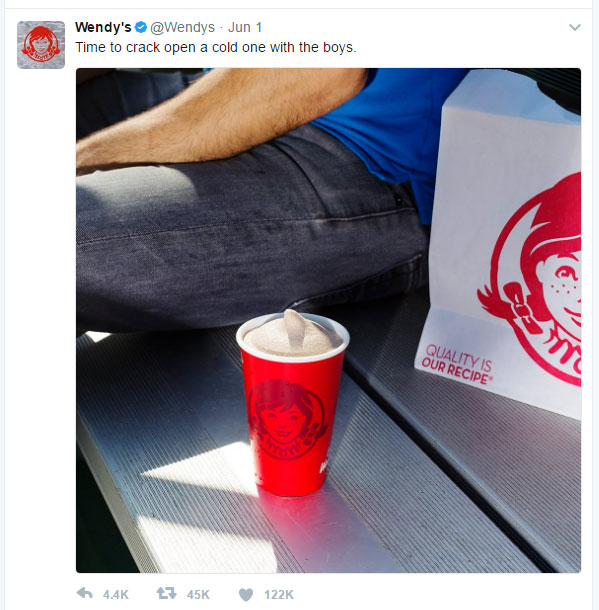 So, what's this mean for your business? A bit of attitude may not drive up profits, but it may ramp up your brand engagement. If you're considering adding some spice to your social, go for it. Keep it light and have some fun. You might just grab your two days of fame.