Growing up in the small town of Owosso, Michigan I witnessed many mom and pop stores go out of business when the big box stores moved in. My father owned two stores and sold to Rite Aid in 1999. He was one of the lucky mom and pop's – soon after Wal-Mart, Meijer and Home Depot came to our small town and turned the once quaint downtown into a ghost town. The small stores couldn't compete with the prices and selections that the superstores provided.
This big box trend continued throughout the 1980's and 1990's perpetuating the "spend, spend, spend" mentality that Americans are known for. The more people consumed, the more these chains started popping up.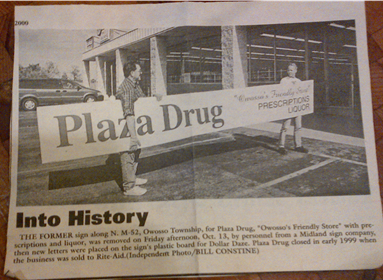 These large stores not only had deep discounts, but they had advertising power. The main forms of advertising back then (and even now) were TV, radio, print and outdoor – which can be expensive, especially for small mom and pops that had even smaller budgets.
Thankfully, technology and social media have changed all of this. Now mom and pop shops have re-emerged as Mompopolies. These small businesses now have easy and free access to their customers on platforms like Facebook, Twitter, Pinterest and Instagram. These sites give loyal consumers a public outlet to praise their favorite places and their products and services. When it comes to social media, this access puts Mompopolies on an equal playing field and gives them as much engagement power as national chains with the ability to be local. Small companies have the opportunity to excel on these sites since they can answer questions quickly and with a more personal touch.
Things like being able to swipe a credit card on an I-phone and online banking have also taken a lot of burden off of Mompopolies.
Etsy is a great example of an online marketplace that gives more than 100 mom and pop shops a place to host their work. This past December they hosted a pop-up shop in New York City where Mompopolies could set up real booths in a brick and mortar store.
Another example of a small company taking social networking by storm is Shopatrend. This online clothing boutique showcases hip, lifestyle images on their Instagram to promote purchases. They connect with their customers directly this way and use one social media site to encourage participation in another. They will offer a discount on Facebook or Twitter to anyone who clicks to "follow" them on Instagram.
Social media and non-traditional marketing efforts along with a rebirth of community have really helped small businesses and Mompopolies grow and flourish. Do you know of any Mompopolies that have a monopoly on your loyalty?