You can probably tell that we're big Target fans here at Brogan & Partners. Forgive me for visiting the subject once again, but Target keeps stepping up its game, especially when it comes to marketing to women. I just can't ignore it.
Their latest bit of brilliance? The Shops at Target. These are five actual "Main Street" type of shops—from a Boston dog bakery to an Aspen cosmetics boutique—that will be reproduced in Target stores.
I can't tell you yet if I love the shops themselves. They don't debut until Sunday, May 6th, but I already know the online marketing is breaking new ground for the store.
While we're accustomed to Target partnering with cool designers like Missoni and Dwell Studio, these lines' online presence blends right into the rest of the Big Red Dog website.
The Shops part of the website, on the other hand, looks completely different.
It starts with a chic storefront window that you really want to peek through. Then the page for each shop features the brick-and-mortar version's colors, fonts, and vibe. The page for the Miami clothing boutique, The Webster, for instance, is sexy and lit up in neon. Privet House's page evokes the cozy Connecticut housewares store with a fresh, green color and a romantic tree.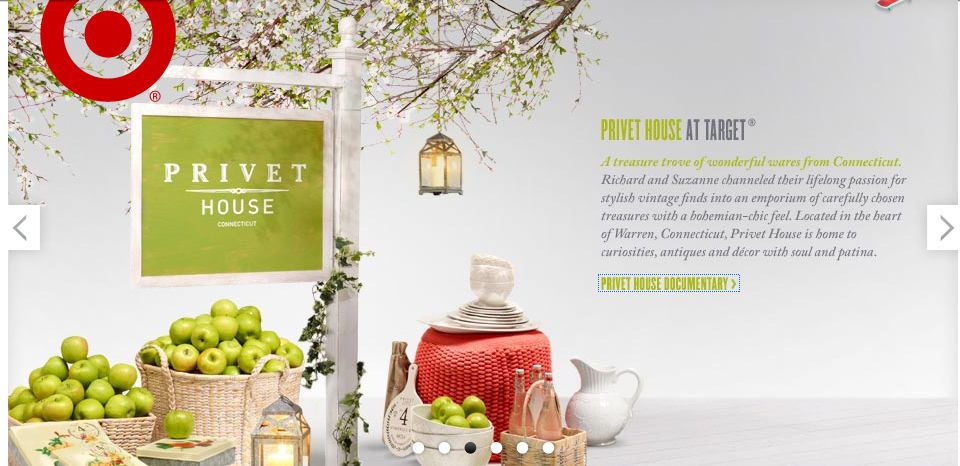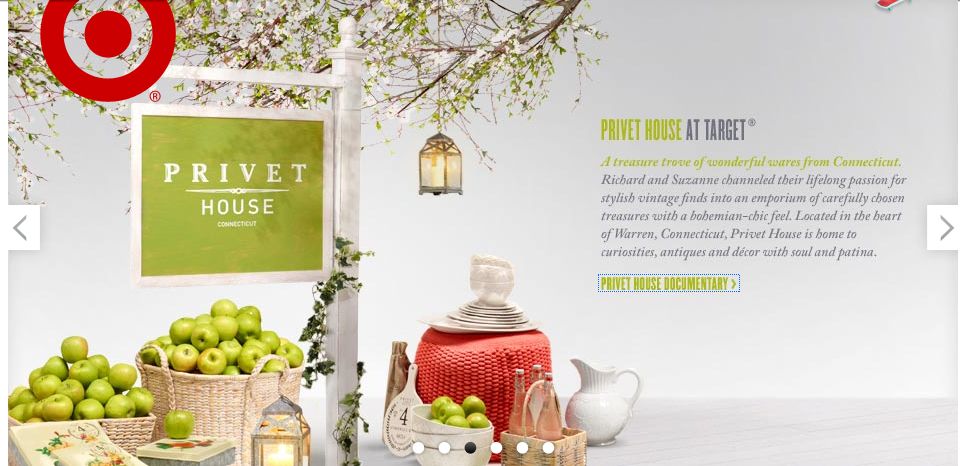 Here's the best part: there's a short documentary film about each shop. The videos are sweet, slickly produced, accompanied by jaunty xylophone music, and narrated completely by the shops' owners, with whom we're on a first-name-only basis.
"When people walk into Target and see our collection," says Diane, co-owner of The Candy Store, "you're going to feel like you've walked into our small store in this little neighborhood in San Francisco."
Her other half, Brian, adds, "We want to bring a little piece of the boutique experience to Target."
In other words, Target is letting us know: We know you'd rather shop local. We know you'd rather have unique, boutique goods, rather than Big Box ones. We also know that's hard to do if you live in a distant suburb or you don't have the time or money for boutique browsing. So we're giving you with the next best thing.
With their adorable online presentation at least, I think Target is doing a pretty good job of it.
What do you think of Target's new marketing approach?