Look out McDonald's and Burger King, pioneers of "fourth meal" are moving in on the first one. Taco Bell rolled out their breakfast menu on March 27, and it's causing quite a buzz.
According to market researcher Technomic, McDonald's has about a quarter of the fast food industry's breakfast sales. Knowing it wouldn't be easy to compete with those numbers, Taco Bell used none other than Ronald McDonald to get the public's attention. Well, not THE Ronald McDonald, but they did find 400 men and women with the name Ronald McDonald—or some variation—who claimed to love the new breakfast meals in their most recent television spot and viral videos. In an effort to beat their newest competitor, McDonald's announced they will offer a free small coffee to customers for two weeks starting March 31, according to the LA Times.
So how else did Taco Bell get the word out about their first meal options? With the idea of getting up close and personal with fans of the food chain, they came up with feature phones. According to Mashable, Taco Bell mailed out 1,000 Samsung phones to super fans and social influencers. Recipients of these phones were unaware of the task until it came in the mail, and to the delight of Taco Bell, hopped onto their social media pages and started the conversation. The recipients were then given random challenges to complete at any time of day with the hopes of winning Taco Bell prizes (some of the prizes included a button-down waffle taco shirt or Crunchwrap Supreme bed sheets).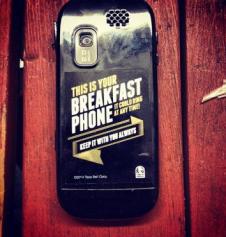 So did it work? Well take a look at Twitter and Instagram. The buzz is still rolling even after the feature phone clues ended Wednesday night. Popular hashtags #WakeUpLiveMas, and #BreakfastPhone are still going strong, even after the breakfast debut. Taco Bell has over 1.1 million followers on Twitter, and the recent television spot with the Ronald McDonald testimonials has almost 700,000 views on the YouTube channel.
So is Taco Bell's breakfast menu here to stay? Is it as delicious as the Ronald McDonalds say it is? Well you're just going to have to wait in line at one of the 6,000 stores in America—now open at 7 a.m.—to find out.