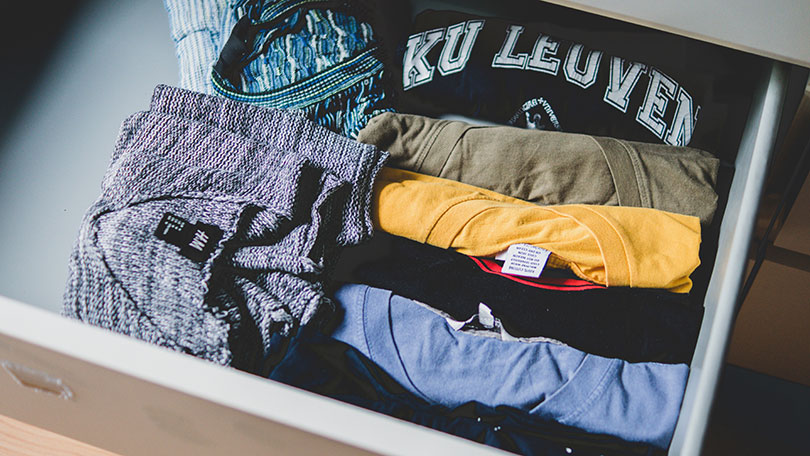 "Human beings can only truly cherish a limited number of things at one time," explains Marie Kondo, author of the life-changing book, The Life-Changing Magic of Tidying Up.
If you haven't read the book, you've likely heard of Kondo's Netflix spin-off. Or come across an article online. Or seen a photo of impeccably folded T-shirts on a friend's Snapchat story.
The KonMari cleaning method is sweeping the nation. It's transforming consumer closets. And more than that, it's transforming society's perception of the home and consumerism on a larger scale.
Tell me: what's KonMari?
Marie Kondo's tidying method is based off a single question: Does this item spark joy?
To kick off her method, Marie asks her clients to pile all their clothing on a bed. They sort through the pile piece by piece, keeping only the items that "spark joy." Kondo likens this "joy" to the feeling you might have when holding a new puppy or wearing your favorite outfit. Items that spark joy can stay (but are folded according to Marie's specific method).
Items that don't spark joy? Well, those are kindly shown the door, but not before they're thanked for their role thus far: "Thank you sweater, for the warmth and comfort you've provided me during the winter months." After releasing unwanted clothing, Marie's clients then move on to declutter their books, paper, miscellaneous items and finally, items with sentimental value.
Lived-in vs. minimalistic
Marie's method encompasses a larger consumer shift–the desire for comfort and lived-in rather than bare and minimalistic. While KonMari will leave your home emptier than before, the point of the process isn't to clear your home for the sake of clearing it. The goal is to clear unwanted items to make room for happiness and peace.
Gartner Iconoculture explains, "In the years since minimalism's peak, consumers have moved away from control and excellence and toward a more down-to-earth approach, with relaxation and reality on the rise."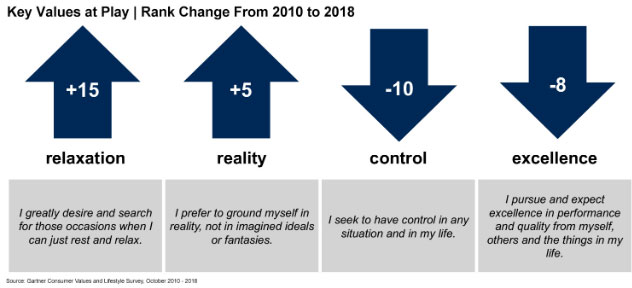 Consumers no longer adhere to restrained consumption or a minimalistic home. They seek comfort and happiness from all areas of life. If certain clothing items make you happy… keep them, if you like the look of a couch piled high with pillows and throws… snuggle right in.
Whether it's in their home, their fashion, their buying habits or their hobbies, consumers are starting to put their joy and personal happiness above all else.
How can brands adapt?
Knowing consumers are placing high value on comfort and personal happiness can inspire your brand's messaging. Consider dropping the aura of perfection in your social media, brand photos and company tone. A more natural, laid back vibe could really resonate with today's consumers and inspire them to shop.
Don't worry, consumers may be kicking off 2019 with a cleaning kick, but they're making lots of space for joy in the process.
Interested in more consumer trends? Discover them here.