Friendship Circle of Michigan has always been one of my favorite non-profits. They do significant work for families of children with special needs—some are close friends of mine.
So of course, I took notice when Friendship Circle sent me an e-mail about their clever, 30-day contest called the Keys4Friendship Challenge. Then I got another e-mail about it from Yad Ezra, a Jewish food bank. Then two more e-mails came from daily deal sites, OyWhataDeal and HipCityDeals, and I realized that this is not just a contest—it's a social media phenomenon.
Here's how Keys4Friendship, which launches this Sunday, works: six days a week, you check the contest's Facebook app for the daily challenge. You'll do one of three things:
Volunteer at a metro-Detroit organization, like Focus Hope, or Forgotten Harvest or do a project like writing letters to soldiers. A finalist is randomly chosen from each volunteer day.
Drive around wielding a Friendship Circle car magnet. If you're seen by a contest spotter, you could become that day's finalist.
Write a story of friendship in response to a particular question. Again, a finalist will be randomly chosen from among the entries.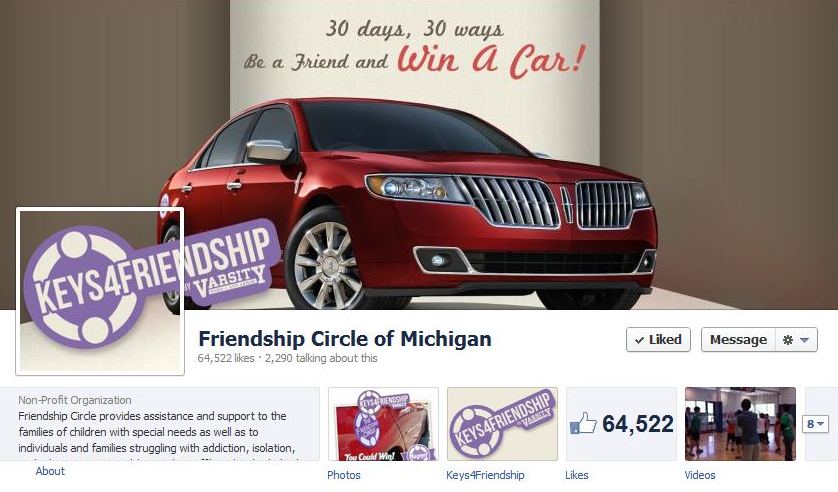 At the end of the 30 days, the 30 finalists will gather at a big party. Each will be given a key. The one that opens the door to a Lincoln MKZ donated by Varsity Automotive Group.
There are so many reasons I love this contest. First of all, it rallies volunteers for several Detroit non-profits over the course of the month. It also gives Friendship Circle a huge burst of publicity and, presumably, donations.
I also love the way Keys4Friendship builds community. By making one of the challenges about telling inspirational stories, it launches an online community. Then the volunteer opportunities and final party create an actual community—and a service-oriented one at that.
There's also an opportunity for family bonding here. I know my sporty (okay, competitive) kids will love checking the daily challenge schedule and plotting ways to win. (Though, since the finalists and winner are all randomly selected, there's no incentive for any prize-grabbing shenanigans.)
There's also a lesson here for social media marketers. A month-long daily contest is going to create a lot of hits. Involving so many local organizations, both for-profit and non-profit, creates yet more online buzz. It's a brilliant use of Facebook, e-mail, and—with that army of car magnets—good old fashioned on-the-ground networking.
Yes, somebody is going to walk away from the final Keys4Friendship event with some shmancy new wheels. But the real point of this competition is Detroiters banding together to do good. I think this is social-media-driven, community-building at its best.
What about you? Will you join me in tuning in daily to the Keys4Friendship Challenge?