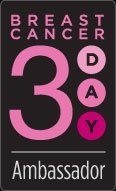 It's only fitting that I start my social media nonprofit blog series with the Breast Cancer 3-Day–an organization that is very close to my heart. I'm a 3-Day walker and extremely passionate about raising money for Breast Cancer. I spend a lot of time posting on my personal breast cancer blog about my efforts to raise money and my excitement about the big event. The Breast Cancer 3-Day made a slam dunk when they contacted me and asked me if I would be an online ambassador. I happily agreed, accepted my badge with honor and posted a blog about my fundraising efforts right away. Within hours, my blog traffic shot up and I found they had linked to my blog on their Facebook page. This inspired me to continue writing creating a win-win scenario.
Facebook fundraising application
The Breast Cancer 3-Day just recently launched a brand new application–I think it's great. It works really well and posts in my news feed whenever I get a donation giving my friends updates on my fundraising progress. Just yesterday I got a donation from a Facebook friend who I'm sure saw the post in her news feed. Great addition to their social media work. Would love to see if they can link the news feed message directly back to my fundraising page.
Social Networks
The Breast Cancer 3-Day has lots of places for discussion and interaction between walkers, crew and staff. The 3-Day message boards are very active with posts on everything from personal stories, fundraising, training and what to pack. There are lots of similar discussions on the Facebook fan page which has over 20,000 fans. The benefit of the Fan page is the ability to post links to blogs, articles, videos and news stories and they do a great job of that. There are also lots of active discussions on this page. There's a small group on LinkedIn which doesn't seem overly active with a little over 300 members.
Twitter
The 3-Day Twitter page has close to 3,000 followers with lots of ongoing discussion, links to blogs, retweets and announcements about upcoming events.
YouTube and Flikr
I was glad to see so many videos on the YouTube channel and photos on the Flikr site. Both provide lots of visuals to really show the experience. Nothing beats being there, but I have to imagine the videos and photos inspire future walkers and donors.
Final Thoughts
All in all, the Breast Cancer 3-Day is doing a great job facilitating conversations and generating excitement about the events through their supporters. As the 2009 walks approach, I'm curious to see what 2010 brings and how they will continue to inspire their ambassadors and supporters. Would love to hear what you think about their efforts. Post a comment and share your thoughts.