Debating which visual social platform is better for your brand? Let's break it down filter-by-filter, post-by-post, percentage-by-percentage.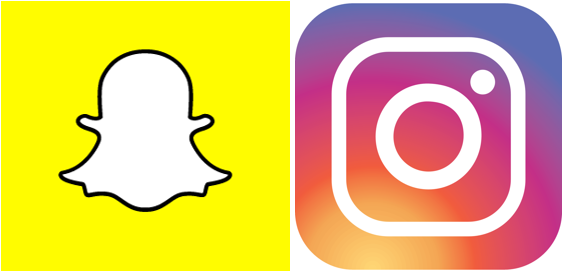 Active users and audiences.
To date, Snapchat has:
Instagram has:
600 million registered users
400 million monthly active users
75 million daily users
If your brand is looking to reach adults 18-34, Snapchat reaches 41 percent of this audience on any given day. Roughly 71 percent of Snapchat users are under the age of 34, and 70 percent of all users are female. Audiences vary slightly more on Instagram. According to a recent Pew Research survey, Instagram accounts for the following audiences:
59 percent of 18-34 year olds
31 percent of 30-39 year olds
13 percent of 50-64 year olds
5 percent of 65+
In the past year, these figures have increased across all audiences except for those 65+, which experienced a decrease in users by one percent.
Time spent, content shared.
On average, a daily Snapchat user spends roughly 25 minutes in app. Snapchatters watch over 10 billion videos per day. An Instagrammer spends on average 21 minutes a day, with an average of 80 million photos posted daily. What's more:
60 percent of users say they discover new products on Instagram
70 percent of users follow a business on Instagram
75 percent of users take action after being inspired by a post
Features, filters and fixtures.
Snapchat allows users to spice up photos and videos with:
Filters
Speed
Temperature outside
Altitude
Time
Geo-filters
Stickers
Make your own stickers
Bitmojis
Emojis
Text and even a combination of the features
Instagram involves a variety of visual interests for users. For in-feed photo posts, users can opt for landscape, portrait or square images. Instagrammers can even post videos: hyperlapse, slow motion, standard video and Boomerang video units. Feel like posting 10 images or videos in one post? Instagram even supports album-style postings.
Stories.
Snapchat was the first to claim their stake in this territory, but Instagram has now joined the field. According to Social Media Today, Instagram has a better user interface, an easier way to share stories and their features are cleaner. Here's what you'll find:
Boomerang video
Linking to blogs or other handles
Stickers
Weather
Current time
Location
Text
Drawing capabilities
Live video
You can even save your entire story from the past 24 hours to your camera roll.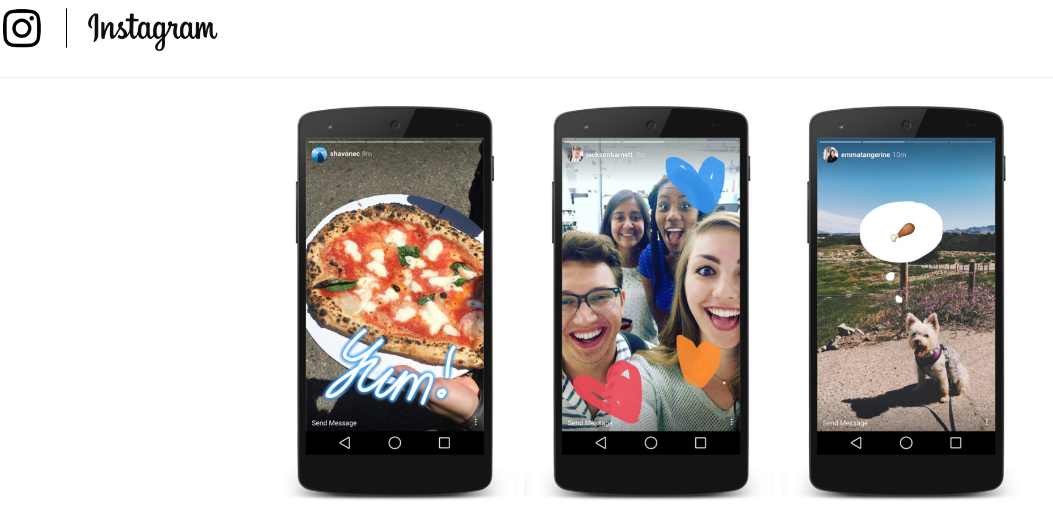 Messaging.
Not only can you send snaps to users you connect with, but you can also make audio and video call through the Chat interface. In contrast, Instagram allows users to message through threaded messages, known as Instagram Direct. Users can name their chat groups, send photos, oversized emojis, comment on stories and even share profiles.
Discover and explore.
Both apps offer the ability to find inspiration, news, brands and other accounts on discover and explore pages. These pages allow users to see what is trending, what live videos are available and what accounts/brands have stories available for viewing.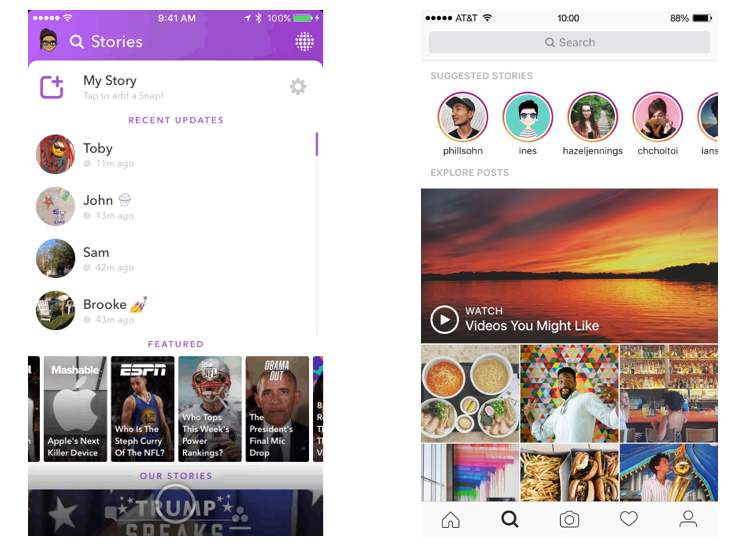 Advertising.
As part of their monetization strategy, Snapchat offers a variety of creative ad tools:
Snap Ads – These video units offer up to 10 seconds of branded messaging. Users interested in learning more can be directed to an article, app install, long form video or lead right to your brand's website.
Sponsored Geofilters – Is your brand looking to advertise in a specific arena, location, etc.? Geofilters put a virtual fence around a venue or community, enabling only those users within to access special filters.
Sponsored Lenses – Lenses can be used anywhere regardless of location. To activate, press and hold on images and lenses will appear. Branded lenses can be triggered by users raising an eyebrow, sticking out a tongue, etc. On average, users play with Sponsored Lenses for 20 seconds.
Snapchat also offers 3V Discover Ads, 3V Live Ads and 3V Ads Between Stories.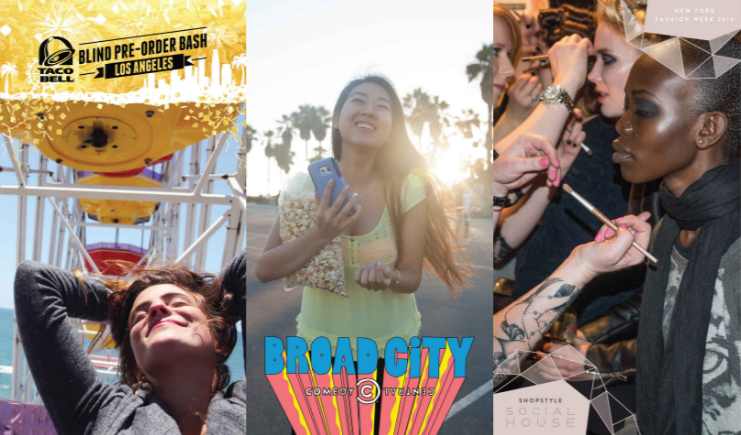 Whether you're looking to increase app downloads, sign-ups, video views, video completions or looking to drive traffic to the website, Instagram users can utilize all of these metric guided campaign tools through Facebook Ads Manager. So, if your brand is running an ad campaign on Facebook they can even extend the campaign to advertise on Instagram. Ad opportunities include: photo ads, video ads, carousel units, photo and video ads in between Instagram Stories.
Interested in advertising on these platforms? Talk to us.
For more on visual communication, download our newest guide, "Communicating with Visuals," to learn how your brand can amplify their marketing.