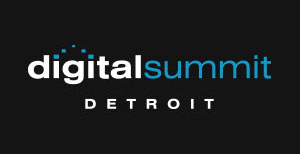 Digital Summit Detroit 2017 delivered. In less than two days, the conference covered all means of email, content, website and mobile trends. Lots for marketers to consider and capitalize upon. A few highlights we just had to share.
Skinny websites are in season.
Mobile usage trends prompted responsive design, with websites being crafted to render properly across all screen sizes. It has greatly improved the mobile user experience. Instead of requiring mobile users to scroll across inches of a site from a palm-sized screen, responsive sites scale purposefully, with tools like hamburger menus to facilitate the mobile experience.
Still, mobile users want more, according to Erik Runyon, Technical Director at the University of Notre Dame. Runyon presented a breakout session called "Improving Web Performance in a Mobile World."
In short, they want sites to load faster. Streaming delays are stressing them out—literally.
To illustrate his point, Runyon shared a neuroscience study by Ericsson Consumer Lab that measured user reactions to network performance. The study showed that delays in loading web pages and videos lead to increased heart rates and stress levels. On average, heart rates increase 38 percent with mobile delays. Oh, and the related stress? The subjects exhibited stress levels akin to watching a horror flick or solving a math problem.
And who gets the blame? The longer the delay, the more likely it is that some of the blame will be transferred from mobile service provider to content provider. In fact, a significant delay may even drive a user to a competitor content provider.
Performance matters. Take that to your design teams, Runyon suggests. Lead and live with performance. His advice:
Performance has to be part of the culture.
Performance should be part of concept and design.
Give your team time to focus on performance.
Implement a performance budget (think ongoing maintenance and upkeep).
Get competitive.
Runyon pointed to thin.npr.org and cnn.lite as examples of brands adhering to these guidelines. Both use Progressive Web Apps (PWAs) to cut load time and enable mobiles users to get what they need without the wait.
Why your emails aren't engaging or converting.
Email was a big focus of the conference, and rightly so. Every brand is doing it but only one in five emails is reaching the inbox, according to Casey Swanton of Return Path. Swanton packed a lot into her 30-minute session "Email Reimagined."
Just like search engines want users to get the best result, mailbox writers want users to get the best mail, Swanton said. That means screening for credibility, interest and security. In-box placement is determined by sending ID (IP address, sending domain, authentication, etc.), and reputation (complaints, list quality, infrastructure, length of sending history, subscriber engagement, etc.).
"Mailbox writers care about the user experience within their space," Swanton said. So they look for things like whether the message has been read, forwarded or replied to, marked as SPAM or deleted before reading. Gmail is leading the industry toward better performance, Swanton said. So, if you're having problems with Gmail deliveries, it's probably because that audience isn't opening your mail.
"Relative engagement is key," Swanton said. "Subscribers that are highly engaged with the sender are going to see that sender in their inbox at a much higher rate. Less than 50 percent of messages are placed in email if the recipient isn't engaged."
She suggests these three tips to improve your Gmail results:
Focus on sending to the most active subscribers first to establish a pattern of engagement to boost performance.
Suppress known dead addresses. Pushing email to known inactive addresses will only hurt your engagement rate, and therefore your credibility and ultimate inbox deliverability.
Don't measure success on the size of your list. Between 50-80 percent of email is based on the quality of your list.
Work content harder.
Great content is a great brand asset. It attracts, engages and provokes action. So, work it hard, says Ursula Ringham of SAP, Inc., in a session called "Capture Your Buyer's Attention with Innovative Content on a Community Platform."
A video is more than a video, Ingham illustrated. It can be recast in blog, social and podcast formats. It can be worked internally to elevate employees to brand evangelists. Together, this content can be the beginning of a beautiful community platform.
Snackable assets are the new content.
Nearly every presenter talked about snackable assets. As in, "You do know what snackable assets are, right?" asked a marketer presenting on the topic of email hacks. "Snackable assets can be used to fuel the consumer journey," said a presenter on the subject of content marketing. "These snackable assets can also convert," promised another expert on lead nurturing.
So if you're tired of using the term content, use snackable asset. It's applicable to everything from infographics to video, charts to listicles. Maybe even whitepapers, in so long as they're not terribly filling. Think bite-sized for peckish consumers.