We made a mistake. We were wrong. It was our fault.
To err is human. When brands own up to their mistakes, it can be humanizing. It can even make them more trustworthy, more authentic.
That's why the second rule of authenticity is confronting your brand's imperfections. There are few things more powerful than a genuine apology. And there's no better way for a brand to regain control of a dicey situation and build consumer confidence than to acknowledge their mistakes and make plans to make it right.
Domino's pizza-pology invites scrutiny, increased sales
When it comes to authenticity, owning your past is just as important as your present, says CEB. Being honest about past mistakes makes for a strong authenticity signal. In 2009, Domino's did just that and admitted that its pizza wasn't perfect (boring, mass-produced, cardboard crust), apologized for its complacency and pledged to make better pizza. Consumers responded to Domino's candor with orders. Sales have soared and the company has opened 1,800 new stores in the past four years.
Amy's Kitchen proves three Rs make a right
In the book The Power of Apology, Beverly Engel writes about the three Rs of a sincere apology—regret, responsibility and remedy. The apology should lead with a statement of regret, followed by an acceptance of responsibility for your actions and finally, offer a remedy to repair the damage. Miss one of the Rs and your apology will come off hollow, and your brand may be subject to additional scrutiny and criticism. Timing is also critical.
Earlier this year, Amy's Kitchen wrapped the three Rs into a tidy bow pronto when the company responded to a Listeria scare, an organism that can cause serious infections in children and elderly. In a move that illustrated the family-owned company's integrity and customer care, Amy's voluntarily recalled thousands of cases of frozen meals for fear they might possibly contain Listeria. What was most impressive was how they did all of this before any complaints had been made or regulatory action demanded.
The company issued a media release, created a website and call center, and posted information across social media inviting questions and providing updates. The organic frozen food company took pains to apologize for what was a supplier error, while taking full responsibility for its product and complete transparency. The approach earned them an authenticity bump, with the company receiving an outpouring of support from customers.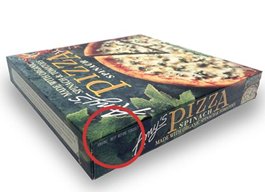 The non-apology: When apologies lack sincerity, brand authenticity suffers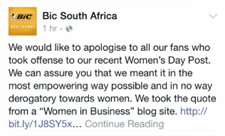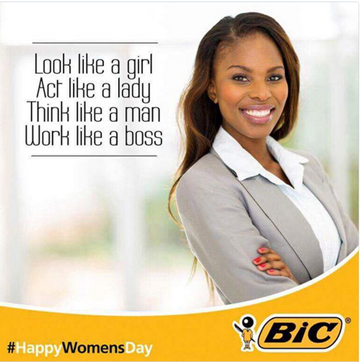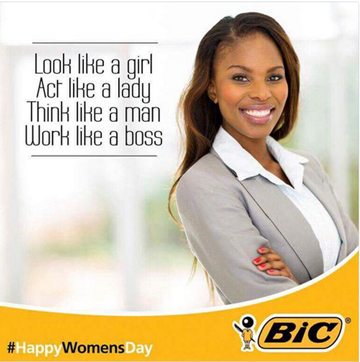 In honor of Women's Day, Bic South Africa created a Facebook post encouraging women to "look like a girl, act like a lady, think like a man." Instead of apologizing for the blatantly sexist copy, the company posted a classic non-apology, ostensibly blaming an independent blog site for the blunder. Consumers were unimpressed, and their complaints went viral.
The company followed up with a second apology.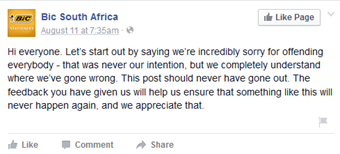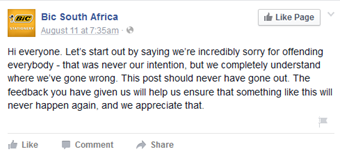 Better. But it's unlikely the company will win any favor from this approach. No points for authenticity here.
Next up in this series, The third rule of brand authenticity: Be yourself. We'll look at brands that are building revenue by remaining true.