Not so long ago, if you wore a girdle, you didn't want anybody to know it. Now girlfriends (including the Grand Girlfriend of them all, Oprah) love to dish about smoothing their muffin tops or rounding out their booties with sexy, slimming shapewear.
And it's all because of Spanx.
Founded 12 years ago, Spanx sells (and sells and sells) not just because it works wonders on women's bods, but also because it does it with winning sass, from the naughty name to the cute cartoons on the packaging.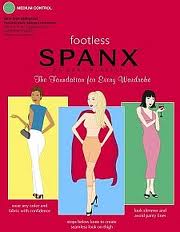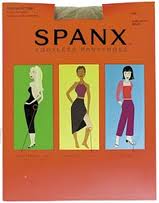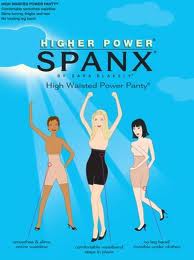 And that's all because of Spanx founder, Sara Blakely. Her force of nature personality, relentless work ethic, and most of all, true understanding of women, have made her a newly minted billionaire at age 41. She's the youngest self-made woman on Forbes magazine's "Rich List."
She's also my latest girl crush. (For other strong, entrepreneurial women I admire, see my blog post on Sheryl Sandberg and check out my mentor and founder of Brogan & Partners, Marcie Brogan.)
I love Blakely's back story. She started Spanx with $5000 of her own money. She had an idea to improve upon control top pantyhose and had to practically storm a hosiery mill to get them to make her prototype. She wrote her own patent to save legal fees. She hand-sold Spanx at a folding table at Neiman Marcus using picture of her own disappearing panty lines and stayed up all night filling her own mail orders.
Now that her company—which is debt-free and privately owned—has hit it huge, Blakely's personality still charmingly infuses everything Spanx does, especially its savvy marketing. The company's staff is dominated by women who put themselves out there as much as Blakely does. On the Spanx blog, "The Rear View", for instance, staffers pose for before and after photos in Spanx nipping and tucking swimsuits.
And in a section called "Spanx-Giving," we hear about charitable work staffers have done for organizations like the Foster Care Support Foundation's Prom-A-Palooza.
Blakely also gives back with motivational speaking, largely aimed at women, and impulsive gifts of joy, like treating everyone in her favorite restaurant to dinner.
A cute cartoon of Blakely herself, wearing a long blond ponytail, is perched at the top of the every page on the Spanx website. It's clear that, while her ragtag underwear company has changed immensely, Blakely has remained true to her very feminine self. And that's the best recipe for success I can think of.