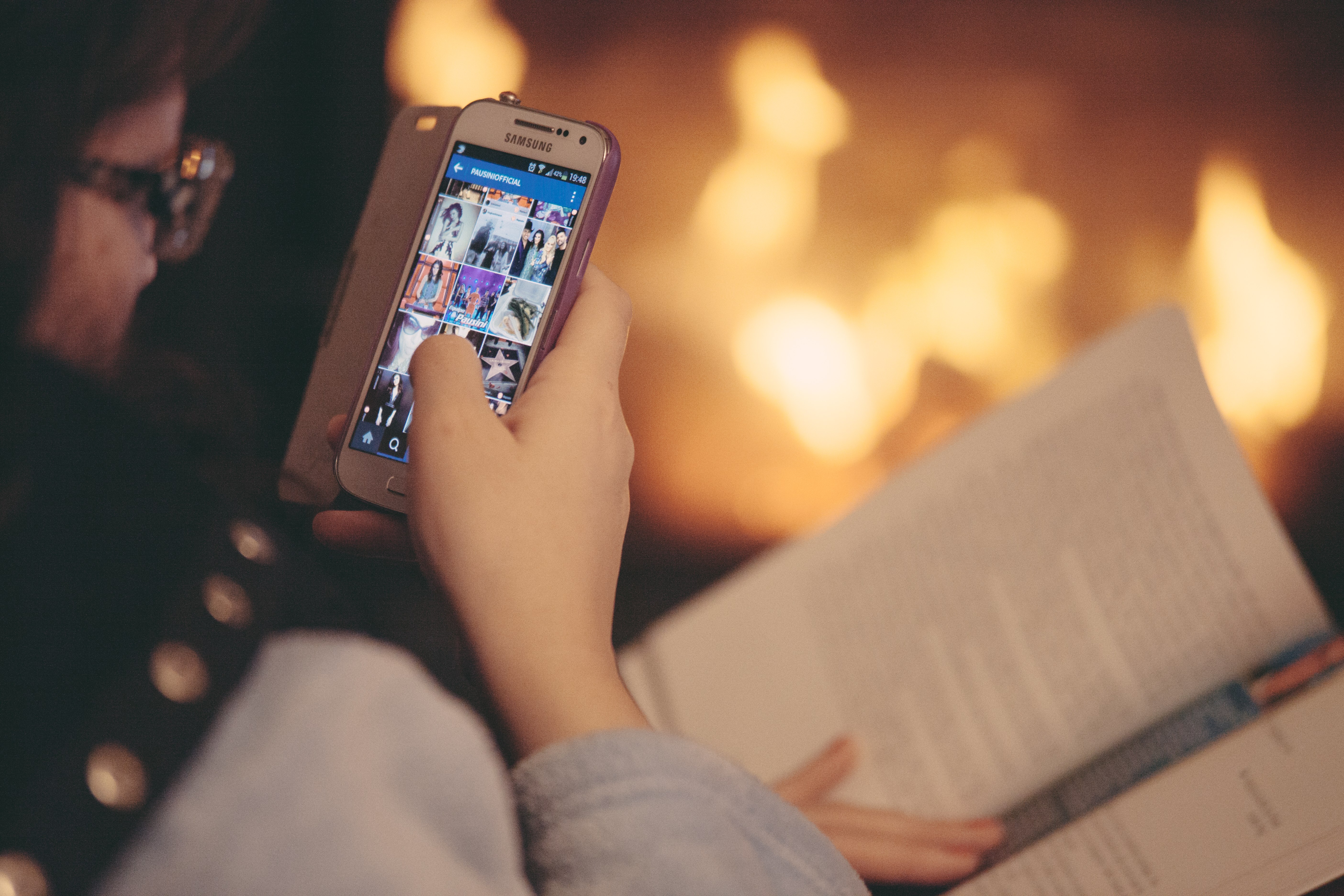 Has a brand commented on one of your posts? Has your content ever been reposted by a brand? As consumers, we enjoy when brands engage with us, and notice our loyalty.
What's UGC?
UGC stands for user-generated content. It refers to the content a user (the consumer) creates and shares. Content can be in the form of blogs, social media posts, images, videos, etc. UGC is often associated with brands when they repost content from users. However, it's not as simple as reposting. There's so much more involved.
In a recent Ipsos' study, it was found that Millennials trust UGC just as much as professional reviews. UGC is 20 percent more influential when it comes to purchasing and 35 percent more memorable than other types of media. In another report, 86 percent of people said UGC is a good indicator of the quality of a brand, service, or product, while 65 percent of consumers said UGC is more honest and genuine than other information found online.
So how can your brand use some of that UGC sauce? Start with these three steps.
Obtain consent.
Whether it's a repost on social media or you want to use a consumer's video in your next online campaign, you need consent. According to The Social Media Rights and User-Generated Content Guide by Chute, there are several layers of consent. In some cases, states require written consent. Other times, brands can take the following actions to obtain consent:
Comment on the post. Brands can reach out directly by commenting on the post they want to use. You can simply ask the user if you can use their photo, video, etc. Like how Rei did here: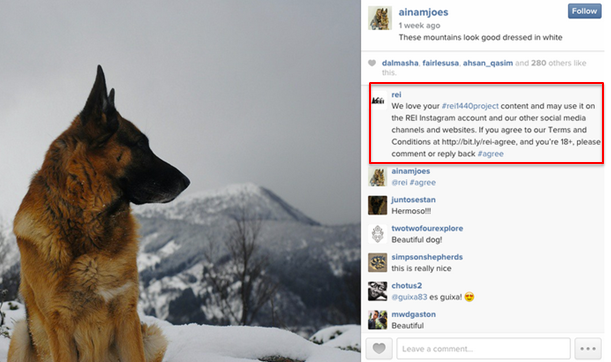 Source: CHUTE.
Terms and conditions. Brands looking to obtain consent this way must create a microsite or landing page to house their terms and conditions. Once this page is created, the brand can put the link within the bio section of the social platform. That way when they refer back to it in posts, their followers can find it easily.
Hashtag. Although users post with hashtags all the time, this does not constitute as a valid form of consent. One way to ensure your brand can repost is to create a unique, branded hashtag based on your campaign or promotion. For example, Ann Taylor, in collaboration with Kate Hudson, launched their new little black dress (LBD) collection with the hashtag #LittleBlackDressed. Users were encouraged to post their pictures using the hashtag for a chance to be featured in Ann Taylor's home page gallery. Ann Taylor's unique hashtag allowed users to generate concentrated content, to promote their campaign.
Clearly disclose intended use. Are you using this content to repost it? Is it going to be part of an online campaign? Clearly disclose how the content will be used. If later down the road you want to use the content in any other way than previously disclosed, it will require another form of consent for its new disclosed use.
Give credit where credit is due. Crediting fans in reposts or other campaigns is a great way to build branded relationships. It honors your brand community and fan base. It encourages others to post their involvement with your brand. But most importantly, consumers trust it; 65 percent say UGC is more honest and genuine than other information found online.
What do UGC campaigns look like?
Need a little inspiration? Here's how Starbucks, Frito-Lay and the ALS Association tapped into UGC to power their campaigns:

Within 48 hours of launching their holiday cups in 2014, a photo of the red cup was posted to Instagram every 14 seconds. With that in mind, Starbucks hosted the #RedCupContest on Instagram, during the launch of their holiday cup this past November. On Instagram alone, the hashtag #RedCupContest has been posted more than 40,300 times. Inspired by their fans, Starbucks created the campaign to build awareness and honor users that posted their most creative photo with the cup and hashtag.

Photo credit: csnews.com.
Inspired by brand conversations that pepper social media, Frito-Lay hosted the Do Us a Flavor campaign. This campaign is centered on UGC, asking fans to submit their ideas for a new chip flavor to their microsite each year. In years past, Cheesy Garlic Bread, Kettle Cooked Wasabi Ginger and Southern Biscuits and Gravy were the winning flavors to stem from this creative UGC campaign.
In efforts to raise awareness and funds for ALS (amyotrophic lateral sclerosis), the neurodegenerative disorder commonly known as Lou Gehrig's disease, celebrities and consumers participated in one of the most viral UGC marketing campaigns in history. The Ice Bucket Challenge shattered fundraising and awareness goals, raising around $220 million to date. Funds were allocated to research, patient and community services, public and professional education and fundraising. All you had to do was post a video of you accepting and taking the challenge or donate to the cause.
Key takeaways.
Looking to get started on a UGC campaign? Here are some fast facts:
86 percent of people say UGC is a good indicator of the quality of a brand, service, or product.
65 percent of consumers say UGC is more honest and genuine than other information found online.
UGC is 20 percent more influential when it comes to purchasing.
UGC is 35 percent more memorable than other types of media.
But before you embark, be sure to:
Create a unique hashtag – A unique, branded hashtag associated with the campaign will increase campaign awareness. It will also generate concentrated content, specific to your campaign.
Obtain consent – No matter if you are simply reposting content on social media or looking to use it as part of a campaign, always obtain consent by the author.
Disclose use – Brands should disclose how they will use UGC when asking for consent. If brands want to use the content again in a different campaign, the brand will have to reach back out to the author and request and disclose use again.
Give credit – Giving credit to fans will strengthen branded relationships and encourage future brand communications.
Have you participated in a UGC campaign? Let us know in the comments below.