I've always been a big fan of cause marketing, especially to reach women. Sure, we all love to get a sale price or cash back, but if the extra bang for our buck is a charitable donation, many of us are all over it. A study by Cone Marketing found that 88 percent of consumers find cause marketing acceptable, and 85 percent have a more positive image of a product or company when it supports a cause they care about. (Incidentally, those already super-high numbers go up to 95 percent and 92 percent when the consumers are mothers.)
Well, I recently discovered an example of cause marketing that gives both a discount and a charitable donation. It's the Refer-a-Friend program offered by the suite of retail sites that includes Soap.com, Diapers.com, Yoyo.com, Wag.com, Casa.com, and Beautybar.com (The sites are operated by the Amazon-owned Quidsi Solutions, LLC.)
Here's how it works: If you go to, say, Yoyo.com's Refer-a-Friend program, you'll get the opportunity (in the form of a referral code) to give a friend 20 percent off his or her first order.
When that friend uses Yoyo, the company donates up to $30 to Save Play/KaBOOM! which builds playgrounds around the country. This, of course, ties neatly into the toy retailer's brand. On the same note, Wag.com's chosen charity is the Best Friends Animal Society and Diapers.com's is the Make-A-Wish Foundation.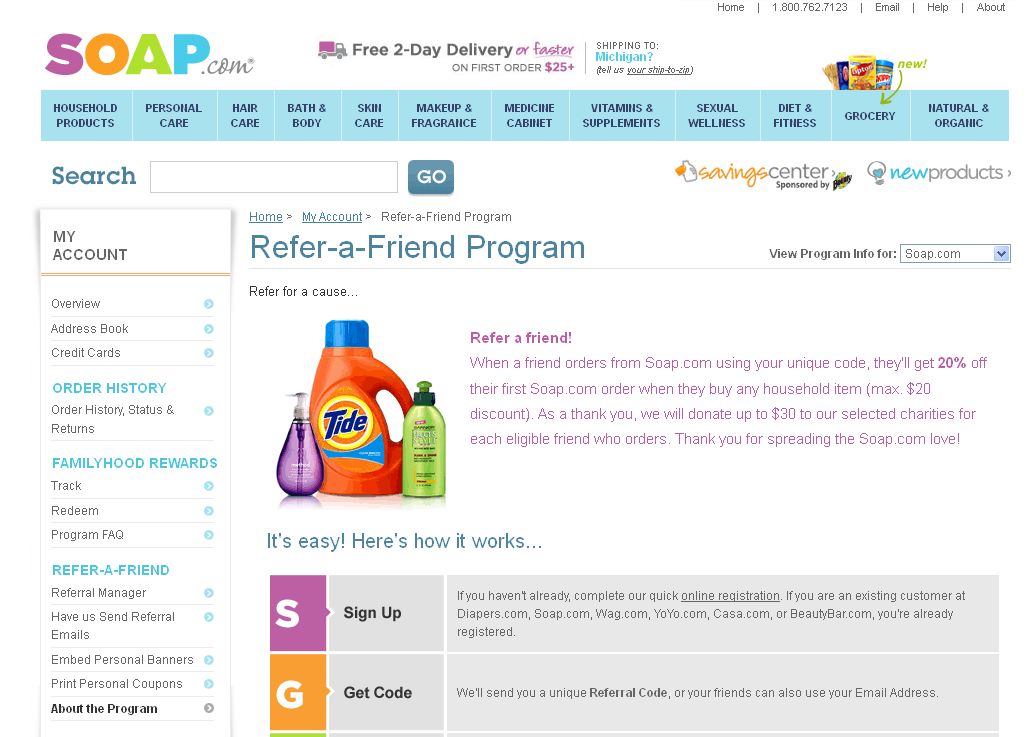 Share the promotion via Twitter, Facebook and other social media, and not only do you help a number of friends save some dough, but the charities get more money.
Here's why I think this promotion is both awesome and innovative:
It's a win-win situation. If I refer a friend, I can do good by prompting a charitable donation and help my friend get a discount.
It's good for the company. While all those donations and discounts will amount to a large outlay of money, it's showing their customers they mean business. This will likely earn them some major customer loyalty.
It uses social media to publicize the promotion. This is savvy. It's the rare person who's going to gush on her Facebook timeline about Soap.com. But when Soap.com gives her friend a discount and donates $30 to The FEED Foundation, she's going to be more willing to shout about it on her social media. Again, this pumps up the brand and shows that Quidzi is serious about its charitable giving.
It adheres to the concept of a "signature charity." The causes these websites support relate to the products they sell. With these donations, the sites are both doing good and supporting their own brands.
I particularly like this idea of a signature cause because, in fact, Brogan & Partners has had one for years: breast cancer awareness. As our CEO Maria Marcotte wrote in 2010, "This cause if very near and dear to us. On a professional level, we have a strong passion for healthcare marketing. And on a personal level, our Managing Partner, Ellyn Davidson, is a breast cancer survivor."
I hope this is something we'll see more and more of: companies incorporating philanthropy into their business models and marketing, and doing it in a way that serves their mission. If a company chooses a charity that's relevant to its product or message, it allows for impactful storytelling. It creates an emotional connection. And that's going to make for more profit and more charitable donations.
It doesn't get more win-win than that.