I've been reading a lot about marketing around the Olympics this year, but the story that keeps coming up is how the non-sponsor brands are usurping the limelight from official sponsors. Here are a few of my favorite examples.
While they've taken a little flack for it, I LOVE the guts that Nike showed in putting their "London" spot out there on YouTube. Great way to skirt the International Olympic Committee rules! Not to mention that, in true Nike style, they managed to find the emotional connection that helps us see that our aspirations for fun, health, and competition are just as important as those that drove the elite to London for the games. Here is a good read from Forbes on this one.
I ran across another awesome example of opportunistic marketing from MarketingWeek. Specsavers, an eyeglasses company in the U.K., has exploited a couple of embarrassing moments (which flag is for North Korea – ennie, meenie, mieny, moe…) and turned them into a great marketing campaign (i.e. buy glasses with us and we are sure you will not embarrass your country infront of the entire world). Check out the Huffington Post article, and be sure not to miss the Durex condoms ad also mentioned – another favorite, but maybe a little less appropriate for work?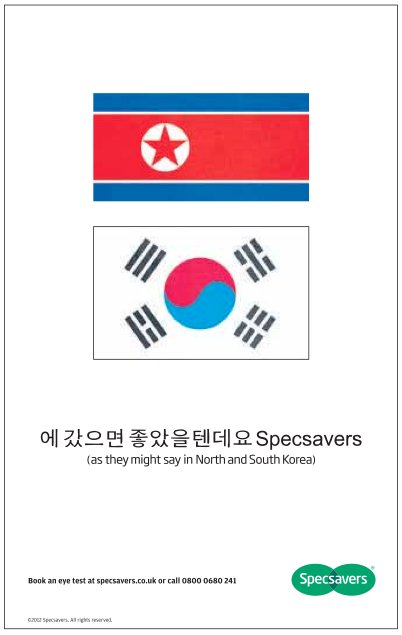 And Beats headphones found a way to get their product in the hands of Olympians as they trained and prepared for the international stage. Who knew Dr. Dre had such marketing chops? OK – maybe we all did. Most of us think this was pretty clever – but I doubt Samsung, official tech sponsor, would agree.
And a final example, a little less desirable perhaps from the "let's not break the law now, people" perspective, but noteworthy all the same, is a movement called "Brandalism" that is making headlines by defacing targeted brands' billboard advertising around London. The group places select artwork featuring a social message over the billboards that companies have paid big bucks for. Yeah, it makes me a little nauseous as a marketer, but hey, they are getting some attention and I have to assume it is a calculated risk on their part.
What's your perspective – are these brands smart or sneaky? If you run across any great examples that I've missed please share them.