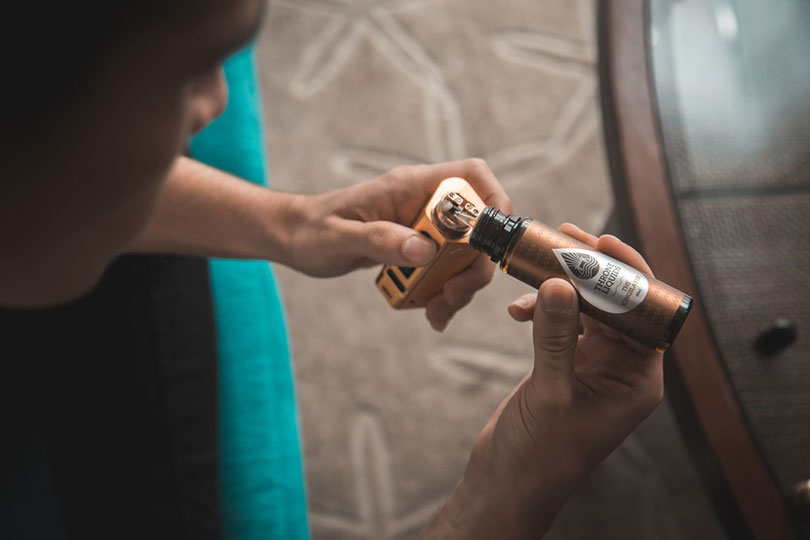 E-cigarettes first caught our attention in the 2014s ("Slim. Charged. Ready to go. Are electronic cigarette ads targeting kids?").
While the product's packaging precluded widespread youth adoption (bulky and unstylish), e-cigarette brands were nonetheless aggressively marketing to young consumers. They lured youth with candy flavors, celebrity influencers and crafty content placed in exclusively young programming and social media channels.
Juul Labs ultimately solved the e-cig packaging problem, replacing conspicuous, cloud-making box mod devices with pods that resemble thumb drives and produce sweet-smelling, subtle plumes. The added benefit of discretion has proven irresistible to young consumers. Brand mentions on Twitter and Reddit are often associated with places frequented by young adults, like "school," "class," "dorm" and include discussions about concealing use in public.
In less than five years, e-cigarettes and vaping products have become the fastest-growing sector of the American tobacco industry. Nationally, e-cigarettes are the most commonly used tobacco product among youth. For the first time in decades, youth tobacco use is on the rise. About 4.9 million middle and high school students used some type of tobacco product in 2018, up from 3.6 million in 2017 (Centers for Disease Control and Prevention).
Flavor is a key reason for vaping's popularity, per studies by the Food and Drug Administration and the U.S. Surgeon General. Among student respondents to the CDC National Youth Tobacco Survey reporting ever using e-cigarettes in 2016, the most commonly selected reasons for use included availability of "flavors such as mint, candy, fruit, or chocolate" (31%) and the belief that "they are less harmful than other forms of tobacco such as cigarettes" (17%).
In the name of public health and safety, Michigan Gov. Gretchen Whitmer is banning flavored e-cigarettes and misleading marketing practices that employ words like "clear," "safe" or "healthy" to promote their products.
"As governor, my number one priority is keeping our kids safe," Whitmer said in a statement. "And right now, companies selling vaping products are using candy flavors to hook children on nicotine and misleading claims to promote the belief that these products are safe. That ends today. Our kids deserve leaders who are going to fight to protect them. These bold steps will finally put an end to these irresponsible and deceptive practices and protect Michiganders' public health."
The ban, imposed by the Michigan Department of Health and Human Services (MDHHS) through direction from Whitmer, prohibits online and retail sales of flavored nicotine vaping products. Michigan is the first state to impose a ban on flavored e-cigarettes.
Meanwhile, expect to see more public health campaigns like My Life My Quit (National Jewish Health) discouraging youth from vaping by confronting the hazardous effects. This creative strategy embraces Gen Z's search for the truth and respects the cohort's digital prowess. According to McKinsey research, Gen Zers make decisions and relate to institutions in a highly analytical and pragmatic way. My Life My Quit fits the bill, presenting key facts (Vaping is Tobacco), dispelling myths (Learn the Truth) and providing free access to personal quitting coaches and other helpful resources.