Creating an inspiring workplace and culture: at Brogan & Partners, this is our passion. And while inspiration comes in many forms, for us it's our clients who make Brogan & Partners an inspiring place to work.
Case in point: Michigan Department of Community Health's MI Healthier Tomorrow Campaign. The challenge? Bring the obesity rate down in Michigan. Using an integrated approach that includes mobile messaging, emails, TV, radio, interactive, a Facebook community and the support of over a dozen partners, we asked Michiganders to take an online pledge to lose 10% of their body weight. Why? Because losing just 10% of one's body weight can reduce the risk of chronic diseases like heart disease, diabetes, stroke and cancer. Obesity is a major issue in Michigan, and beginning with the campaign's launch on January 23, we were ready to tackle it head-on…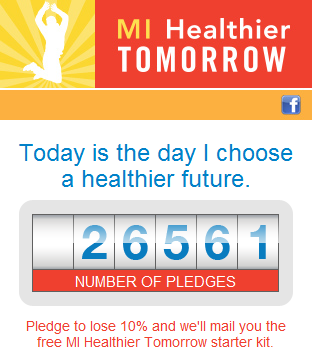 3,928 Facebook followers and 21,394 email subscribers later, we're proud to report that over 26,500 Michigander's have taken the pledge to lose 10%. That's enough people to fill every seat in the Palace of Auburn Hills and still leave over 2,000 standing.
Our client, the Michigan Department of Community Health, has given us the opportunity to open a conversation about an issue that affects millions of people. That's why it's important to us to keep the conversation going, and what better place to start a conversation than Facebook?
The MI Healthier Tomorrow Facebook page has over 3,900 followers. As an agency, we work hard to provide helpful information, tips and inspiration to encourage people to live a healthy lifestyle. The people who have taken the pledge and follow the Facebook page represent communities throughout the entire state of Michigan. These people more than likely will never meet, but the encouragement and support they show one another on a daily basis is truly inspirational.
When we log onto Facebook and check the MI Healthier Tomorrow page we're often greeted with posts like this: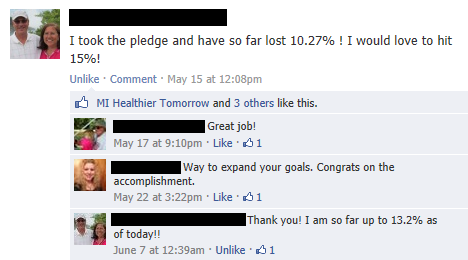 The Michigan Department of Community Health gave us the opportunity to start a conversation with Michigan residents that could save lives. Residents have not only responded, but they've kept the conversation going.
How's that for inspiration?
Will you join us and take the pledge to lose 10%?